by Joe Bollig
joe.bollig@theleaven.org
KANSAS CITY, Kan. — In Mexico City, homeless street children live wherever they can. At one park, they open a manhole cover and shelter in an undergroundspace.
It's not a place most people would want to visit. But archdiocesan seminarian Will Carey went down there, because he wanted to meet the poor where they live.
"We had an opportunity to go down inside one of these manholes where 10 or 12 kids would live at a time," said Carey, who attends Kenrick-Glennon Seminary in St. Louis.
"It was dirty. It was gross. There was a lot of trash, and roaches," he said. "They told us that, at times, certain people or even police would throw [fireworks] down there, with children and pregnant moms [present].
"Sometimes people died. It was a small space for 10 to 12 kids to sleep."
Carey's visit to that underground space and other places where he encountered the poor were transformative, he said. In looking into their eyes, he "looked into the eyes of Jesus."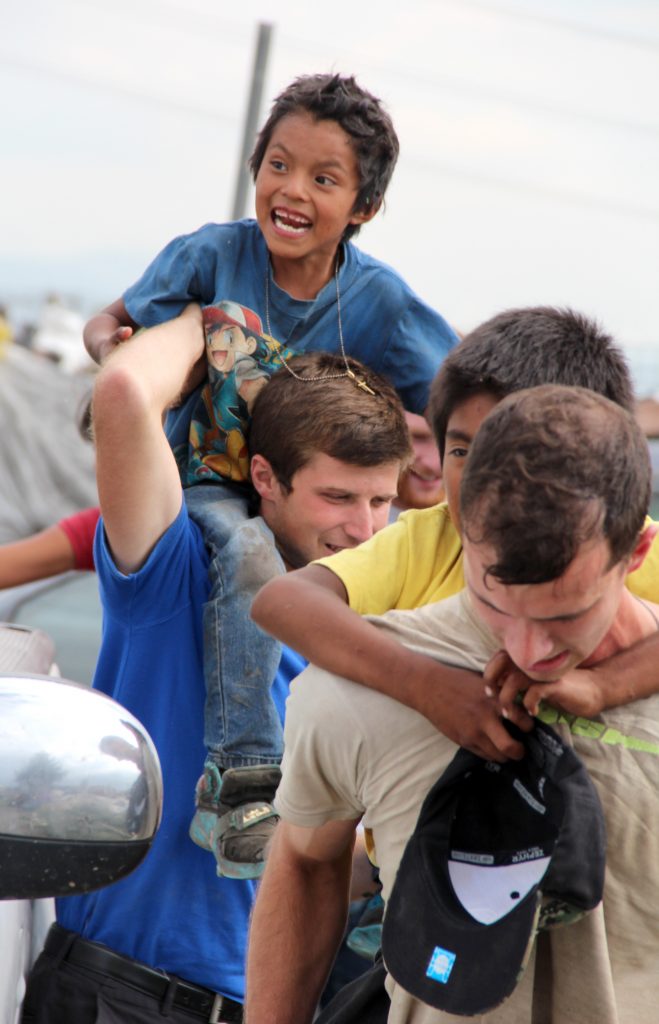 He learned about the harsh realities of poverty — theirs and his.
"We are all poor in one way or another," he said. "As Mother Teresa of Calcutta said, spiritual poverty is the greatest poverty. We're living in a country and time when spiritual poverty is more abundant than it has ever been.
"We need to notice real poverty, because it reminds us of own poverty and the poverty of those around us. I am poor — a poor sinner. I need Jesus, too."
By no means was Carey alone in this realization. It was shared by the other archdiocesan seminarians who, like him, were in Mexico City to encounter God and the poor.
To holy places, holy people
As he has done annually since 2009, Archbishop Joseph F. Naumann led archdiocesan seminarians on a summer pilgrimage from July 21 to Aug. 2, this year to Mexico City.
He was accompanied by vocations director Father Dan Morris, and co-directors of seminarians Father Scott Wallisch and Msgr. Michael Mullen.
These annual seminarian pilgrimages are done for several reasons.
One is for the spiritual benefit to be gained. Another is the building up of fraternity among the seminarians, who go to four different seminaries and don't have many opportunities to interact.
Yet a third is the opportunity for the seminarians and Archbishop Naumann to get to know each other better, so he can be a spiritual father to his spiritual sons.
A final reason is to provide service activities to the seminarians, because there's nothing like hands-on work in a new environment to take you out of your usual routine and encounter people you might not otherwise have met.
In Mexico, the pilgrims visited the Basilica of Our Lady of Guadalupe, sites associated with the apparition and the relics of Blessed Miguel Pro, priest and martyr.
But this pilgrimage was not only to the holy places, but also to the holy people — the poor.
Hosted by the ministry Hope for the Poor, the pilgrims visited a shelter for homeless elderly women, a huge garbage dump where more than 1,000 people live and earn their living, and a park where homeless persons live — including children.
Learning firsthand the power of presence
When Benjamin Reinhart heard that one of the pilgrimage places was a huge garbage dump, he talked to a friend who had been there with the Catholic Medical Association earlier this year.
"She said the dump smelled really bad, and seeing the poverty of the people was really jarring," said Reinhart, who attends St. John Vianney Seminary in Denver.
She was right.
"As you get off the bus, the smell smacks you in the face," he said. "What tugged at our hearts was seeing the kids run around. . . . These kids were really living in poverty."
As Mexico City grows, so do the dumps, which are surrounded by the shacks of the people who make their living scavenging there. In addition to the men, women and children foraging, there are a lot of wild dogs and flies. And the smell of decay was pervasive.
"It was several football fields square," said seminarian Anthony Mersmann, who attends Kenrick-Glennon Seminary in St. Louis. "It was just massive, massive hills of trash. The walkways were about 10 feet wide. It was the rainy season, so they were really sludgy, almost like used car oil. There were people on the hills sorting trash."
Hope for the Poor asked the seminarians to hand out food and drink, and simply exercise the ministry of presence.
"When we got there, [the director] told us, 'Go to it, go out and love people,'" said Reinhart. "I was really proud of the seminarians. They just jumped in. If there was any aversion or repulsion, it wasn't visible. They went out in groups of three or four. They walked up mountains of trash to bring drinks and tell [those scavenging] we were going to have Mass and tacos."
Archbishop Naumann jumped right in, too, as did the other archdiocesan formators.
"There were a lot of people who were open to talking to us," said Reinhart. "I thought they might be closed off, [like,] 'Leave us alone. We're working.'
"But people would stop what they were doing and talk with us."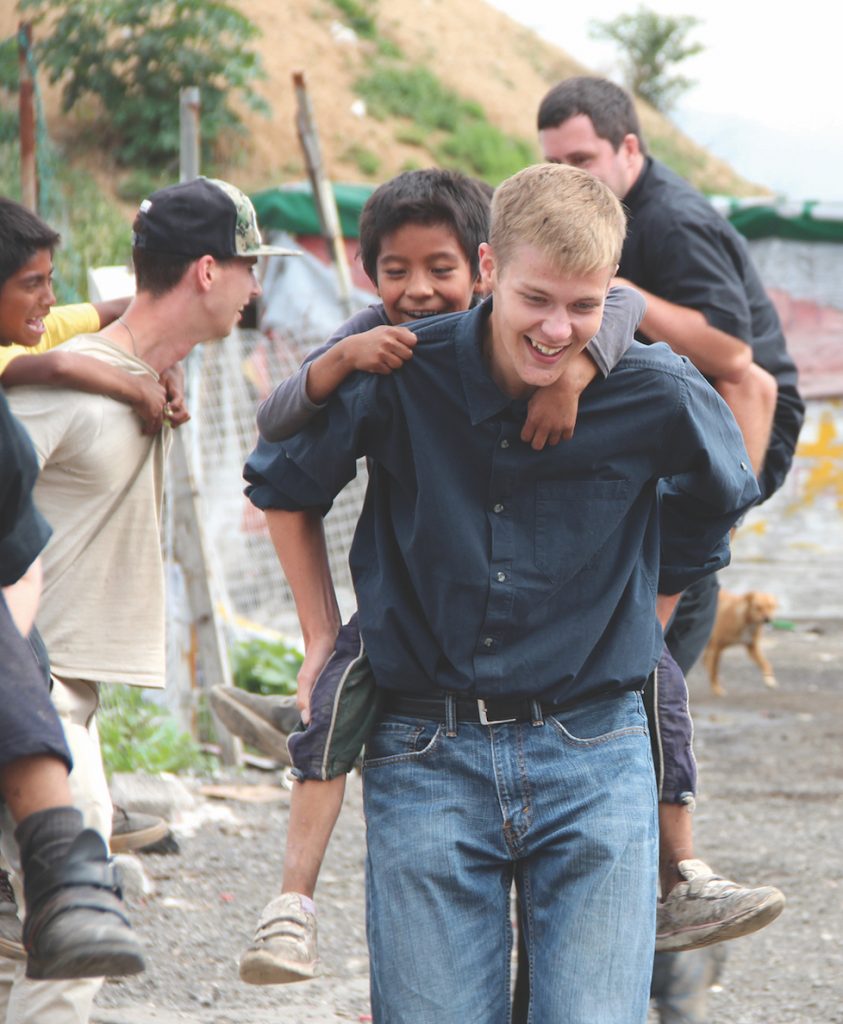 Language was a barrier because most of the seminarians don't speak Spanish. Still, they managed to connect.
"[Seminarian] Cesar Gomez was an incredible translator, [because] he grew up in Mexico. . . . Cesar allowed for a lot of [us] to pray for the homeless so they knew what they were being prayed for," said fellow seminarian Will Carey.
"What I liked best was the intimate encounters with the poor," said seminarian Brian Jacobson, who attends Conception Seminary College in northwest Missouri. "Even though we were unable to have any deep conversations, we realized the power of presence."
Chance encounters
It was at a shelter for homeless women that the seminarians witnessed how faith and love can make a difference at an otherwise joyless place.
The women were elderly and frail. Some were persons with special needs, nonverbal or disabled. Some simply groaned and flailed about.
Mersmann was about to leave when another seminarian said, "You should see this woman."
"This woman's name was Francesca," said Mersmann. "She was so frail and had no meat on her bones. Her arms and legs were drawn up in a fetal position. . . . Her chest was moving up and down, breathing, [but] not responding and her eyes were closed. I let her know that we were there and we cared about her, and we wanted to pray for her."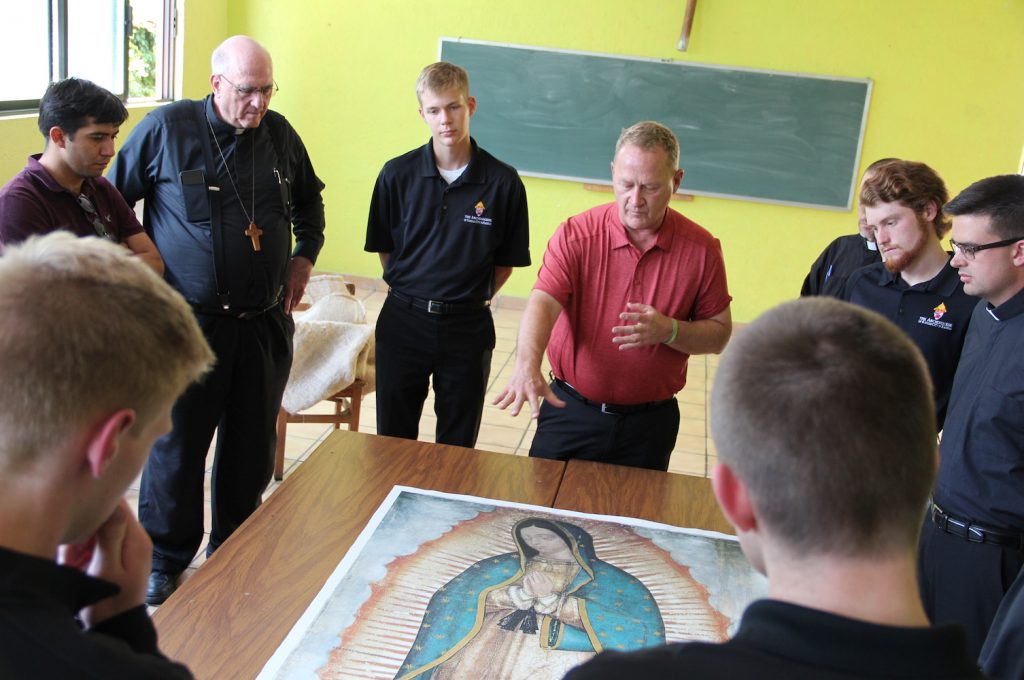 Other powerful moments came when the seminarians visited a park frequented by the homeless — many who were street children, drug addicts or prostitutes.
Again, they served food and drinks, and tried to talk and pray with those in the park.
"That's where we met Ruby, a 31-year- old man who dresses as a woman and prostitutes himself," said Mersmann. "It was really powerful hearing his stories. He's beaten up on a regular basis. He had a lot of makeup to cover his face wounds. He's trying to get housing so he can get off the streets and stop working as a prostitute."
"He was one of the most caring persons we encountered all week," said Jacobson. "He loved being with us."
The seminarians weren't there to tell them what they were doing was wrong, said Mersmann. Rather, they were there to tell them that they were loved, and that the seminarians cared about them.
"One man, Willy, was my age," said Mersmann. "He had only been off the streets for a month and lived at the park, so he knew a lot of people [in the park]. He met his current wife on the streets and they had four children. He was addicted to drugs then, using most drugs available.
"[Hope for the Poor] got him into a [drug treatment] facility and a room. His wife [and their kids] live with her mom. It's hard for them to be apart, but it's necessary for him to get healthy and be able to provide for himself and them."
Echoing St. Francis of Assisi, one seminarian gave something to a homeless man.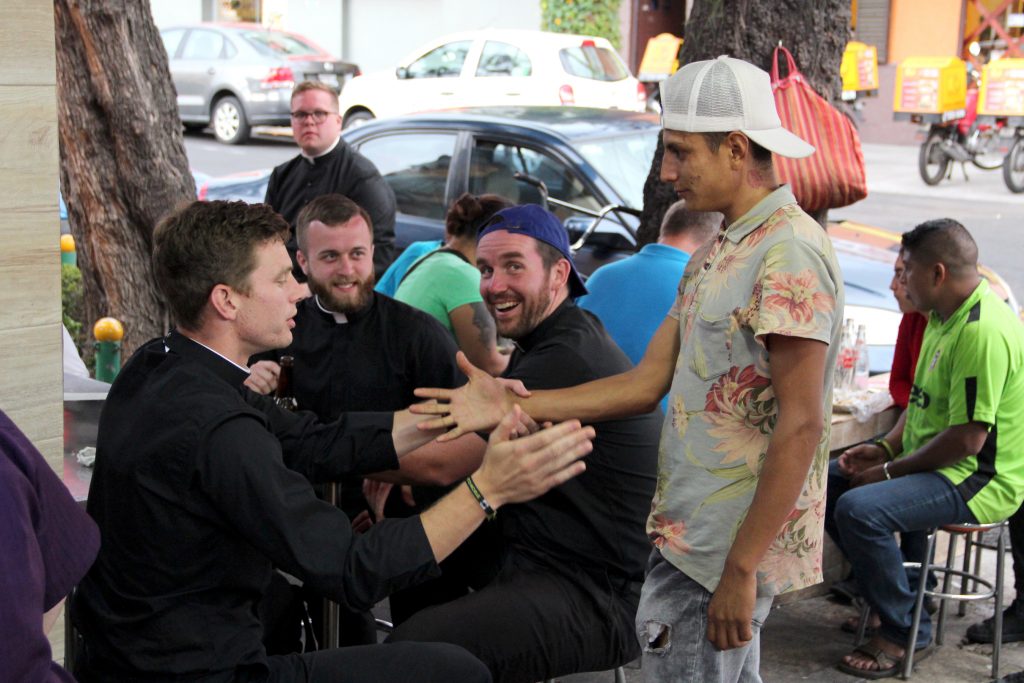 "There was this guy with a really [terrible] shirt with a lot of holes, all beat up, full of dirt," said Jacobson. "It was a shirt he wore a long time without washing."
Moved to give the man his own shirt, Jacobson admits to hesitating at first because he had no way to explain what he was proposing to the man.
But then, using minimal Spanish, he convinced the man to take his gift.
"And then I put on his shirt," he said. "It smelled as bad as the rest of the place. But it was only three more hours until I got back to the convent.
"Although I don't think anyone wanted to sit next to me [on the bus]!"
The things they learned
After the seminarians returned from their pilgrimage, they reflected on their experiences — the kinds of experiences that will inform them in their priesthood.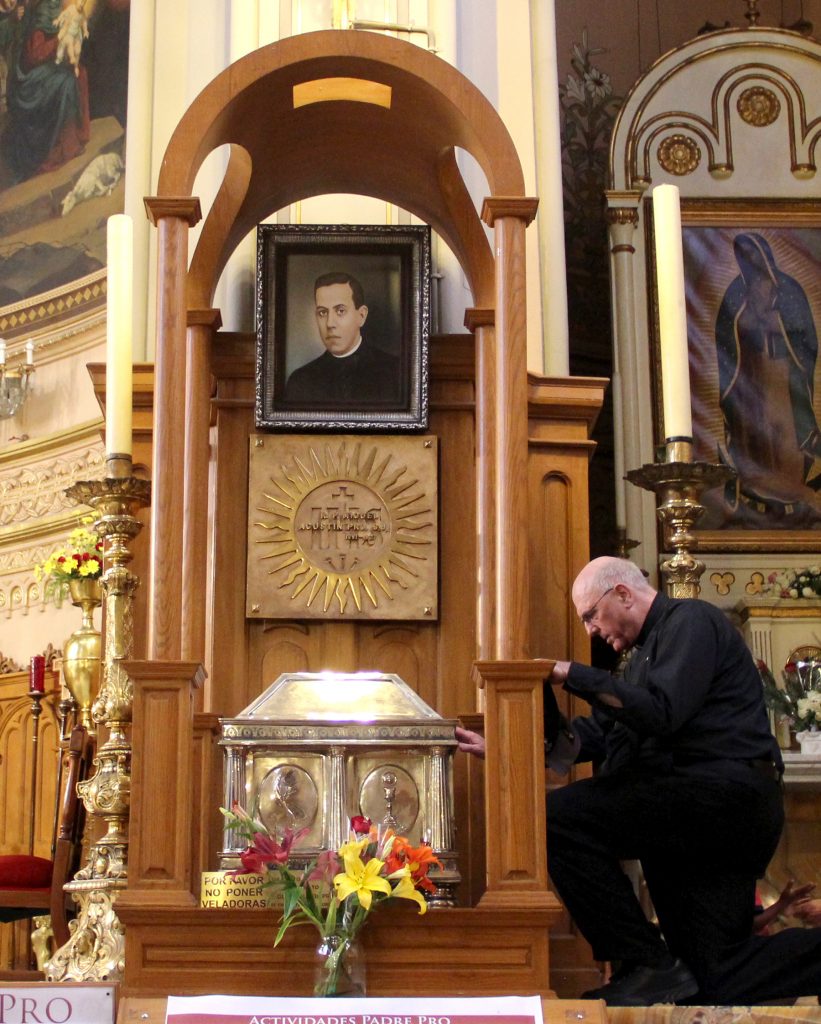 One of the things Reinhart reflected on was language — or rather, communicating when language was a barrier.
"For our brothers who could not speak Spanish, it really became a ministry of presence, to be present with people in their poverty and suffering, and just to be with them," he said.
"Love is a universal language," he continued. "Once you've encountered it, it doesn't matter which language you speak: Everyone's on the same page."
He also learned the importance of having a sense of dignity.
"What these people do [in the dump], they want to know that their work matters," said Reinhart. "There is human dignity. Everyone wants to know that they are valued and what they do matters."
Pope Francis has talked about Christians "going to the peripheries" to meet those who are there, and bring them Christ. To do this as priests, they must see Jesus in those persons.
"[The poor] had compassion and love, and the ability to see past physical appearances," said Jacobson. "We ate lunch with street kids, drug addicts and prostitutes. You would think they would not want to have anything to do with clergy persons wearing collars . . . but they loved on us as we loved on them.
"[We learned] how to encounter people without preconceived judgments."