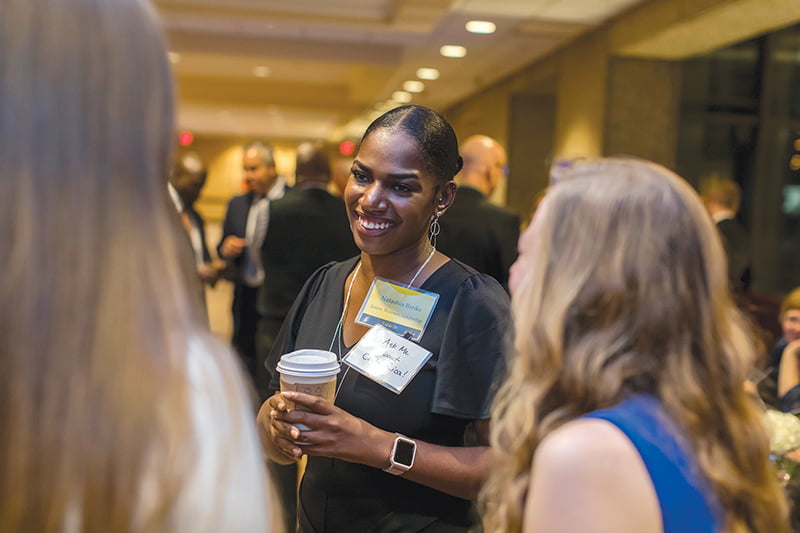 By Jill Ragar Esfeld
jill.esfeld@theleaven.org
KANSAS CITY, Mo. — Though talented and intelligent, Natashia Banks lacked the motivation to complete her college education.
But when this young, single mother saw her daughter losing interest in school, she knew she had to set an example.
So, she applied to college again — and discovered Donnelly College in Kansas City, Kansas.
Banks was one of two scholar speakers featured at Donnelly's annual fundraiser SHINE held on Oct. 10 at the Sheraton Kansas City-Crown Center in Kansas City, Missouri.
"One of the first differences I experienced at Donnelly was the fact that all new students had to meet with their adviser at least twice within that first semester," said Banks. "That was very beneficial."
She was also impressed with the small class sizes and the fact that teachers knew and cared about their students.
Banks completed her associate degree in 2019 and now, with the help of a presidential scholarship, is working on her bachelor's in the business leadership program.
"Being a scholarship recipient here at Donnelly has been very meaningful to me," she said. "I work multiple jobs and not having to worry about how I'm going to pay for classes and books was a weight lifted off my shoulders."
Brother Martin Navarro, SSA, another 2019 Donnelly graduate, fascinated the SHINE audience with his story of being a 19-year-old musician studying at Belmont University in Tennessee.
Though touted as "the next big guitarist in Nashville," Brother Martin was not satisfied with his life.
"I became aware that the dream I had dreamt wasn't exactly the reality," he said. "Something was still missing."
When he decided to give up his music career and devote his life to God, Brother Martin found the community he needed to support his new dream at Donnelly College.
"I entered the Society of St. Augustine in 2014," he said. "And I started taking courses at Donnelly to eventually earn a bachelor's degree and fulfill the philosophy requirements in order to go to seminary and become a priest."
As part of the campus ministry, Brother Martin was instrumental in founding the Donnelly Pro-Life Club and helping fundraise for the first group of Donnelly students to attend the March for Life in Washington.
"The assistance given to me by the faculty and staff gave me the experience to help form me as a leader," he said.
The stories of Banks and Brother Martin demonstrate how today Donnelly College is helping students succeed.
But one of the high points of SHINE is always when past alumni are inducted into its Hall of Fame.
Dr. Brian McKiernan '76 and Judith Van Rest '66 have both become successful businesspeople and community leaders.
Both trace their roots to Donnelly.
McKiernan, the District 2 Commissioner of the Unified Government of Wyandotte County and Kansas City, Kansas, and adjunct instructor at Rockhurst University, met his wife Patty as a freshman at Donnelly.
In his acceptance speech, he said, "I was blessed in my time at Donnelly to be taught by some very competent and very caring faculty."
Van Rest came to the event from Tunisia, North Africa, where she was part of an international election observation team witnessing the country's first parliamentary elections.
"I feel like the luckiest person in the world," she said. "I've had the opportunity to work in journalism, politics and public service.
"And for the last 25 years, I've been part of a bipartisan effort to help people in other nations build their own democratic institutions.
"But I would not have been able to have such experiences without the grounding I received here."
The evening also featured a video presentation on a new academic building which broke ground on May 2.
Event chairs Dr. Paul and Karen Camarata told the audience that every dollar raised that evening would be matched by a generous donor.
"Our mission is to be the most accessible and transformative college in the United States," said Paul Camarata.
At the end of the evening, the Camaratas announced the amount raised and matched totaled $496,000.
Archbishop Joseph F. Naumann closed the evening with a benediction. He thanked Donnelly president Msgr. Stuart Swetland for his "incredible leadership."
"We equip students for success," he said. "And we've heard some of those success stories tonight."