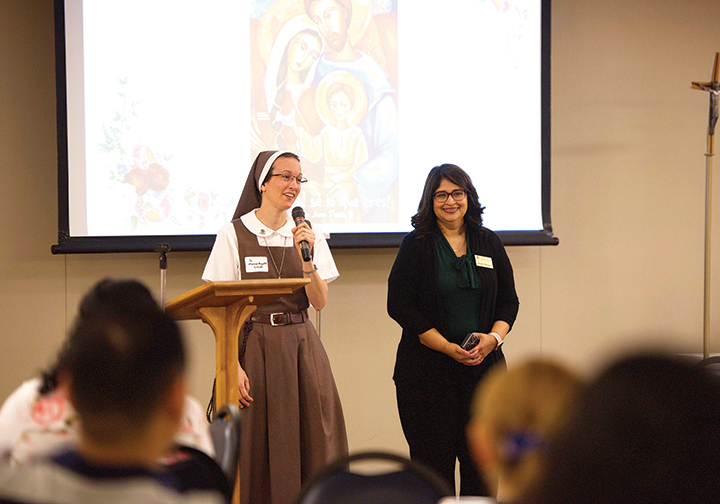 by Moira Cullings
moira.cullings@theleaven.org
KANSAS CITY, Kan. — In five short months, Sister Monica Bernadette Aguello, SCTJM, has taken the archdiocesan office of marriage and family life by storm.
"Sister Monica Bernadette brings a daily joyful and prayerful presence to our office," said lead consultant Brad DuPont.
"We are blessed to work alongside of her," he added. "She brings great zeal for helping families live their mission."
Sister Monica joined the office as a consultant in February.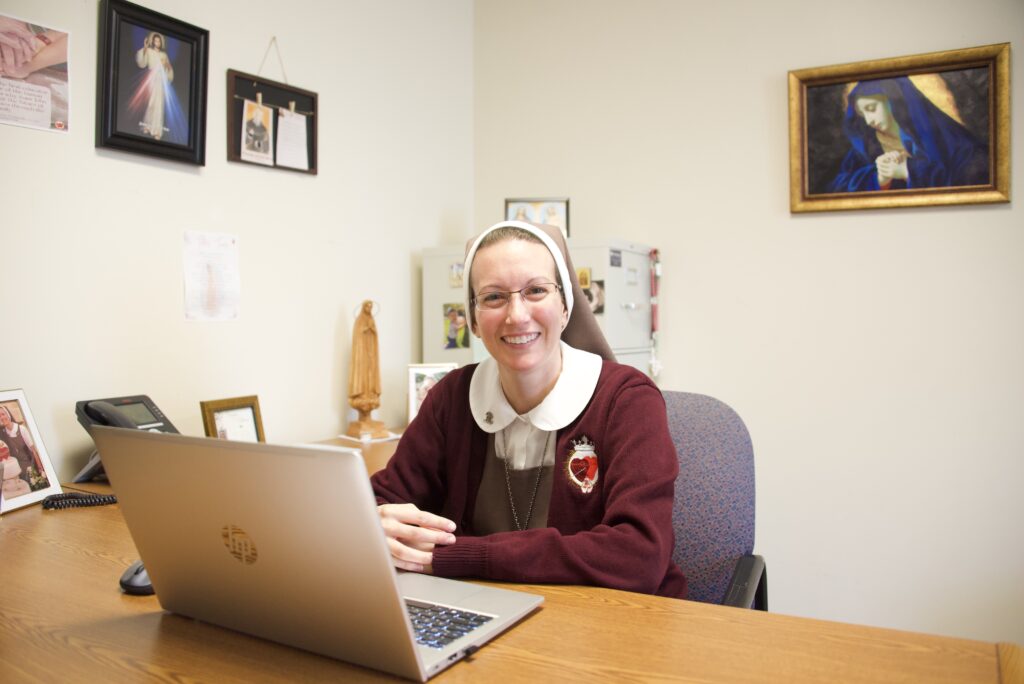 She's one of three Servants of the Pierced Hearts of Jesus and Mary, a religious order based in Miami, currently serving in the archdiocese.
When she's not at the church offices building in Kansas City, Kansas, she's visiting parishes, coordinating events and spending time at St. Michael the Archangel Parish in Leawood, where she and her fellow Sisters are based.
Sister Monica speaks English and Spanish, and a major component of her work is ministering to the Hispanic community.
She collaborates with Father Ramiro Sanchez Chan, CS, director of Hispanic ministry; Father Michael Hermes, vicar for Hispanic ministry; and Karla Melgar, consultant for the archdiocesan evangelization office.
"What will make us very fruitful is that unity among us, our gifts and to help and support each other," said Sister Monica. "Because if we walk alone, it's not going to work."
The group is working on the Hispanic pastoral plan that will incorporate Hispanic outreach into each archdiocesan ministry.
The archdiocese has 12 parishes with significant Spanish-speaking communities, and another key part of the plan is offering more parish-based opportunities.
"With that in mind, I've been making visits to parishes [and] meeting with the pastors because they are the ones who are the shepherds leading the parish," said Sister Monica.
A survey offered to the Hispanic parishes showed that marriage and family life is one of the three most important pastoral priorities.
"In the past, we have collaborated with the office of Hispanic ministry on certain projects," said DuPont, "but were limited in our ability to reach Spanish-speaking couples and families.
"Having Sister Monica Bernadette as part of our office will allow us to reach more families and be more effective at helping them live the great dignity of their vocation in their daily lives."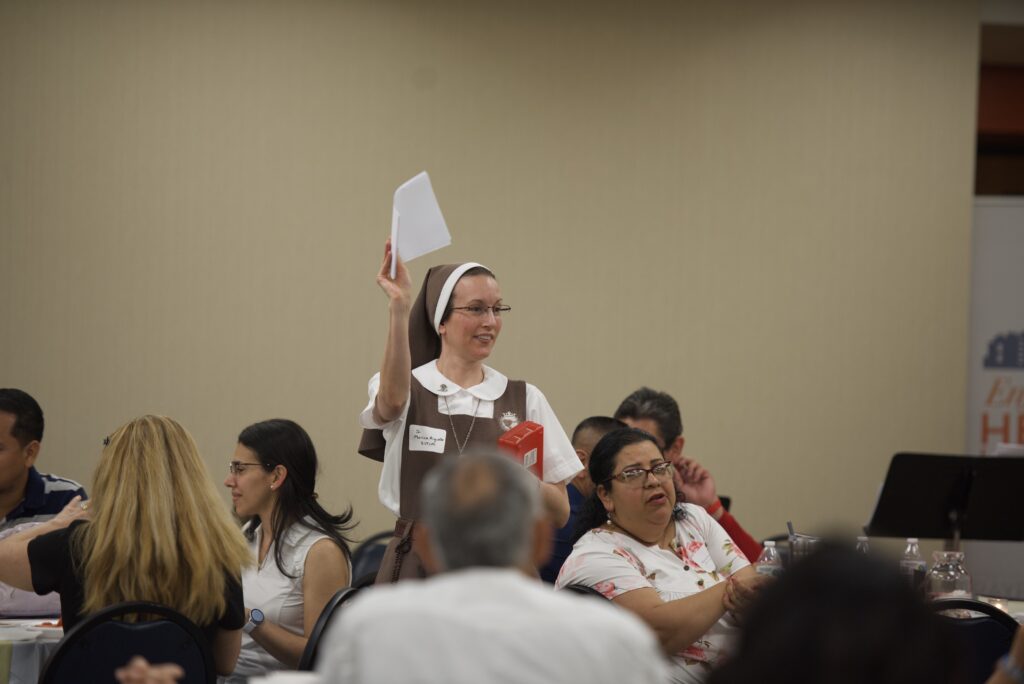 Melgar is also excited to work with Sister Monica on the evangelization side.
"Sister Monica and I can contribute with new ideas or approaches that enable us to serve the Latino community in our ministries," said Melgar.
"The support we can provide will help strengthen the Catholic faith in the Hispanic community," she continued, "which will contribute to forming [missionary] disciples."
Sister Monica's strong work ethic and prior experiences have already proved valuable for her work here.
Growing up in central Florida, she was a talented tennis player who earned a full-ride scholarship to Furman University in Greenville, South Carolina.
She completed a bachelor's degree in education before participating in a graduate program at the University of Pittsburgh, where she became involved in the Newman Center.
Her spiritual director recommended she look into the Servants of the Pierced Hearts of Jesus and Mary.
"There's something about [our foundress], Mother Adela [Galindo], and our charism that I fell in love with — a charism of love and simplicity," said Sister Monica.
Before coming to the archdiocese, she spent six years as a director of religious education in two assignments.
One was a mission dedicated to serving migrant families from Mexico and offering catechesis.
Sister Monica was able to form relationships, "supporting them, loving them, having that openness that they could come to me and to have that love and support and compassion to walk with them and their children," she said.
She also served at a poor parish near downtown Miami, where she worked with immigrants mostly from Central American countries.
Now, she's eager to minister to Hispanic couples and families here.
"It's a family environment," said Sister Monica. "It's not a job that I'm going to sit in an office — it's something more. You want to take the love of Christ toward others.
"I've experienced that great sense of welcoming here."