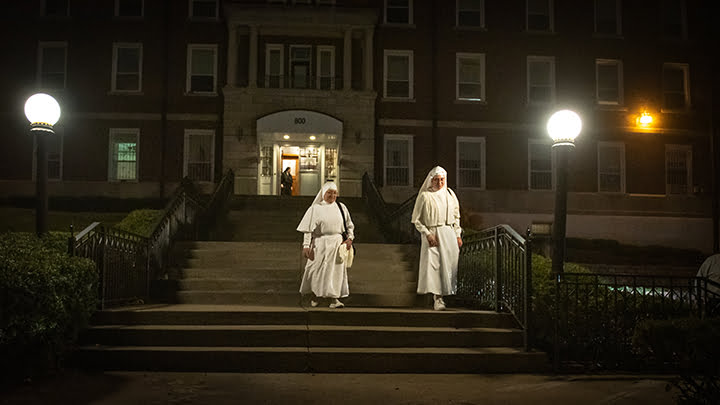 by Joe Bollig
joe.bollig@theleaven.org
KANSAS CITY, Kan. — When it became apparent that the deadly coronavirus had suddenly reached the United States, the family of Jose Ramirez Sr. was very concerned.
That's because Ramirez lives at home alone and is bed-bound — paralyzed from the chest down. He receives care from a caregiver during the day, then from the Sisters, Servants of Mary three nights a week.
Family members were concerned that the coming and going of caregivers would make Ramirez more vulnerable to the highly contagious disease.
"We actually had a meeting at his house to discuss that very thing," said the patient's son, Jose Ramirez Jr., a member of Our Lady of Unity Parish in Kansas City, Kansas. "I think God answered our prayers right away."
The caregiver was so concerned that she offered to move the elder Ramirez into her own home temporarily. So, they did.
"When we called the Sisters and told them because of this pandemic we were moving my father to the caregiver's house," said Jose, "the Sister said, 'OK.'
"They were still willing to come and see him on Wednesdays, Thursdays and Fridays."
Since arriving in Kansas City, Kansas, in 1917 (a year before they nursed patients through the 1918 global flu pandemic that saw some 2,300 deaths in Kansas City alone), the Sisters have gone to the homes of the sick and cared for them there at no charge.
For those who fear what will happen to their frail and ill family members during the worldwide coronavirus pandemic, having the Sisters provide care in the relative isolation of their homes has given them peace of mind and soul.
The Sisters also provide care two nights a week for Estelle Yonkos, the mother of Janet Petit, a member of St. Charles Borromeo Parish in Kansas City, Missouri.
"It means a lot to us and our mother," said Petit. "My mother was a very faithful person. They pray the rosary with her, which is very important to my mom. She has dementia and there are some nights she can't remember the next bead, but the Sisters are very patient with her.
"My mother gets very excited when I tell her I'm going to go get the Sister, and you can see a big smile on her face."
Having the Sisters means Petit and her husband can have at least two good nights of sleep each week.
The Sisters are still doing the work they always have done, the only difference being that they are more vigilant because of the pandemic.
"We are more aware of whether there are any symptoms we can observe in patients, drivers and all the people we come close to," said Sister Lucero Garcia, local superior.
"We [Sisters] live very close to each other," she continued. "We're together all the time — for prayer, meals, recreation, everything. So, it is very easy for us to detect if something isn't going right with any of us. . . . It would not escape our eyes if any one of us gets sick."
So far, none of the patients they see are infected with the coronavirus, and neither are their families. For the most part, their circumstances tend to isolate them anyway.
None of the Sisters has been infected either.
The Sisters are following established, standard practices of nursing. They have cut back on their noncritical outings — only shopping and seeing doctors when necessary.
And social isolation is nothing new to them — it's their lifestyle anyway.
One new thing the Sisters are doing is spending more consecutive nights with patients rather than sending a Sister back and forth between patients on alternating days.
They maintain good hygiene, washing hands and using gloves when called for. When they go back to the convent, they change out of the aprons they wear and their shoes. These are washed. At the time of this interview, there had been no need for additional measures like masks, but as CDC recommendations change, so will the Sisters' practices.
"People are very concerned and nervous about [the coronavirus]," said Sister Silvia Juárez. "They really need to talk about it, even though we can't do much to help out but to listen to them. For us to be there for them is a blessing. . . . Of course, we offer them our prayer and reassurances.
"We keep them in our prayers. I feel like they are more open to their faith and God at this time. There is not one person who doesn't talk about it when we are riding with them from our convent to their home."
The Sisters have always cared for the soul as well as the body. They pray with their patients and the families, but also in their own chapel.
Since the canceling of public Masses, the Sisters are very aware of the pain people experience at not being able to receive Jesus in the Eucharist or participate in eucharistic adoration, said Sister Lucero. The Sisters have responded by increasing the time and intensity of their prayers.
"We don't usually have prayer before the Blessed Sacrament exposed, but we have exposed the Blessed Sacrament for three times a day," she said.
They keep in touch with friends, family and members of their community, reassuring them with their prayers. They are also participating in the various prayer initiatives of Pope Francis.
"We need to pray more intensely for the people who are sick and suffering the consequences of this disease, and for the families, and for the whole world," said Sister Lucero.
"Every time the archdiocese gives us something they want us to pray about, we include extra prayers," she added. "And of course, we have a prayer list for people who call and want us to pray for them.
"People are in great need of someone to pray for them and with them. . . . They need God in their lives."