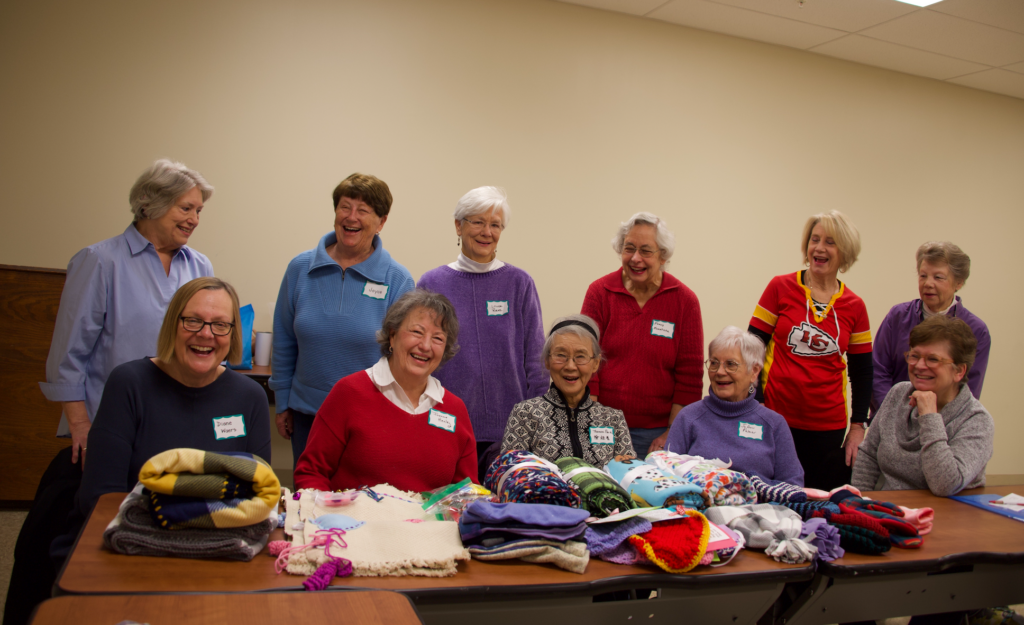 by Moira Cullings
moira.cullings@theleaven.org
PRAIRIE VILLAGE — If there's a need around town, it's likely the St. Ann Makers here have heard about it.
And there's no doubt they've pulled together their time, talents and resources to help fulfill it.
"It's so varied what we can do or will do that [we call ourselves] the Makers group," said Suzanne Mogren. "We make things happen."
Mogren is one of more than a dozen women involved in the St. Ann Makers, a group of St. Ann parishioners who meet monthly.
"We hear of a need, and it might be through somebody who's older that we know or Pat [Centner, minister of caring at St. Ann]," said Joanne Henley.
Then, the women work on the projects from home.
"A lot of people work or have other obligations," said Jo Ann Palmer. "They don't necessarily get to the meetings, but they'll help with projects."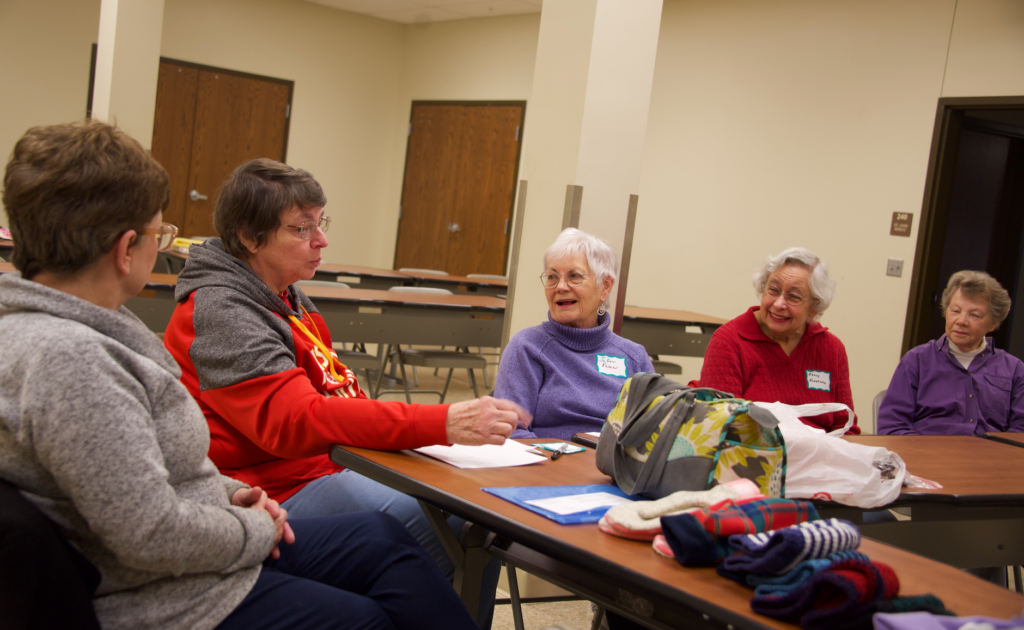 Over the years, the group has taken on a wide range of projects, like making fidget quilts for individuals with dementia and fleece blankets for the homebound.
One of the greatest undertakings the group has been part of is its Halloween candy project, which Mogren started in 2014.
"She found out that this mom was going to throw away Halloween candy because her kids had too much," said Henley.
Mogren asked the mom if she could take the candy and send it to a group of U.S. troops, and she happily agreed. Her child's kindergarten class also contributed.
"It snowballed so quickly," said Mogren. "That first year, we just had it for the troops. But then after that, it just took off."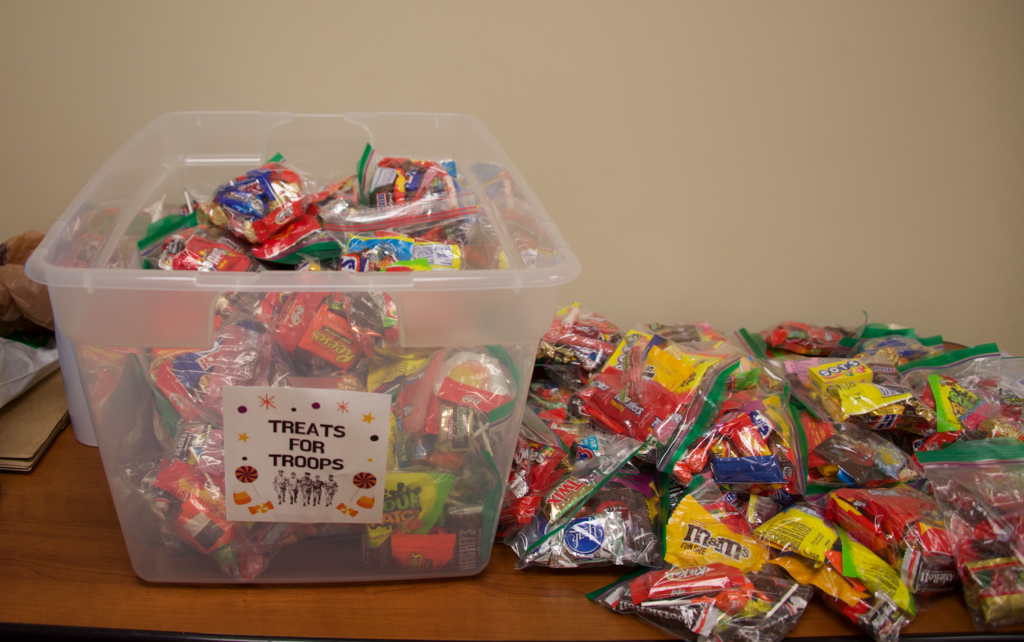 This past October, St. Ann students helped bag the candies into sandwich- size Ziploc bags.
"I think it's great the kids know we have an excess here," said Henley, "and we can share that with people who really would enjoy it.
"In the end, we gave out right at 1,000 bags of candy. We still have two bins left."
The candy went to a variety of groups, including the troops, St. Ann seniors who are homebound or in assisted living, City Union Mission, a Medicaid care center, a grade school, and local fire and police departments.
This year, Henley asked for feedback from recipients.
"They weren't just happy," she said. "They were ecstatic. These are people who just don't get candy very much."
'Busy hands are happy hands'
When the Makers gathered for their monthly meeting on Jan. 27, two new members were eager to lend their skills to its mission.
Terrie Fry was invited to join the group by Palmer after they met at an exercise class.
"I moved here a little over five years ago from a 30-acre farm south of Joplin, [Missouri]," said Fry.
She was interested in making friends at the parish, and because she's been sewing since she was 5 years old, the group seemed like the perfect fit.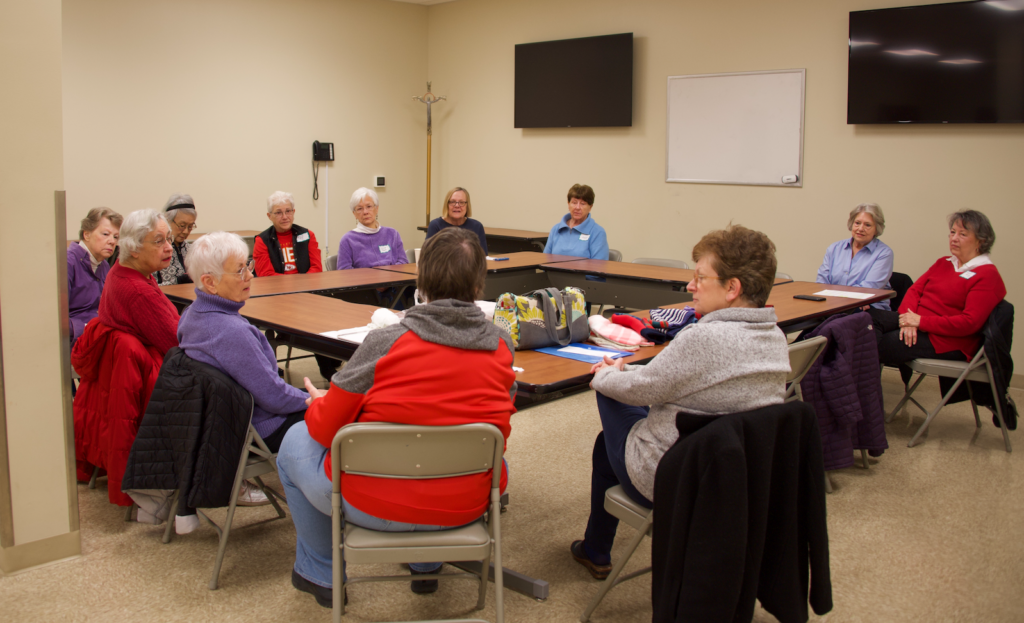 Therese Park, who joined St. Ann this past summer, has also been sewing since childhood.
"It brings me memories of the Korean War time," she said. "Communists came where I lived in Pusan [South Korea]. We were forced to accept refugees in our house.
"My mom was a pretty smart lady. She started a sewing group."
The handful of women would sew any materials they could find, and Park picked up the skill, as well as some life lessons.
"I learned a lot," she said. "In Korea, we say busy hands are happy hands. It's not just to encourage women to work hard. They believe the hand movement [is] involved with your brain activities."
Park, who played cello in the Kansas City Symphony for 30 years, said activities like playing an instrument and sewing can reap major benefits as people age.
"Learning about this group was a very enlightening thing," she said.
'We need to help others'
When it comes to finding causes they can help, the Makers never run short.
The group's next project is crafting fleece gloves. As of their January meeting, they were still deciding where to send them.
"We always know that there are organizations that are more than happy to have donations," said Palmer.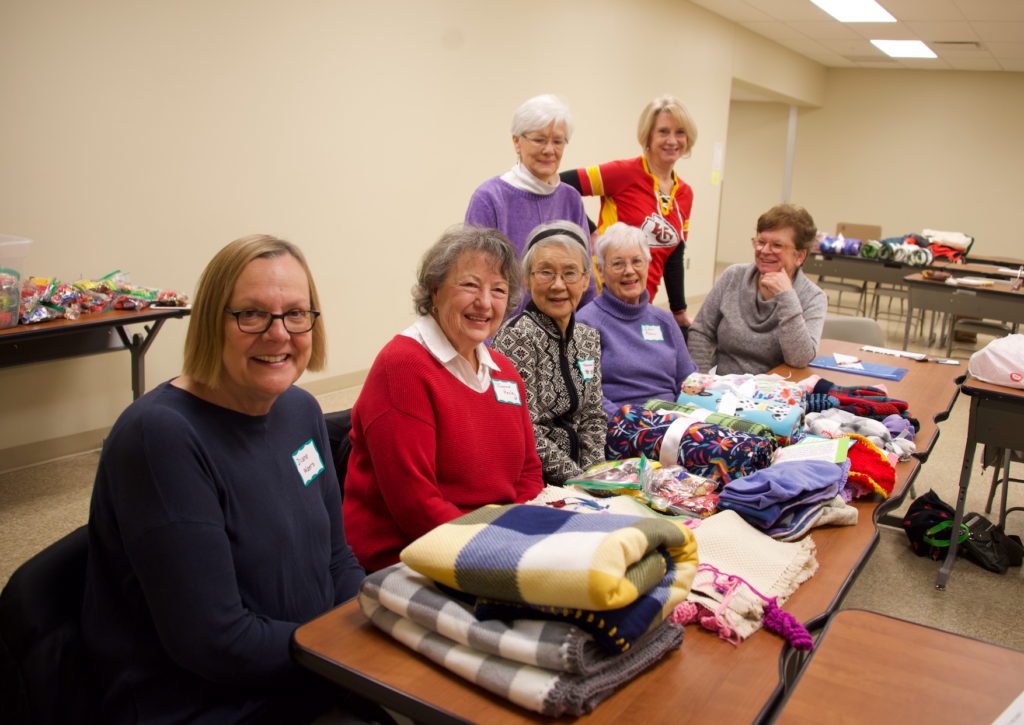 Diane Waers organized making hats for newborn babies at Children's Mercy, and over the years, she's crocheted hundreds of prayer pockets and fidget quilts for people with Alzheimer's.
Joyce Smith took more than a dozen hats to the Johnson County Christmas Bureau for teenagers in need.
Diane Kovich said the group's ingenuity is what makes it special.
"Creativity is a gift from God," she said, "so you want to use those talents to honor him."
For Louise Rieke, one instance of the Makers' impact stands out.
Centner, who has connected the group with many homebound individuals, told them about a woman who received one of their fleece blankets.
"When she passed, she wanted to be buried with her blanket," said Rieke. "It's beyond words."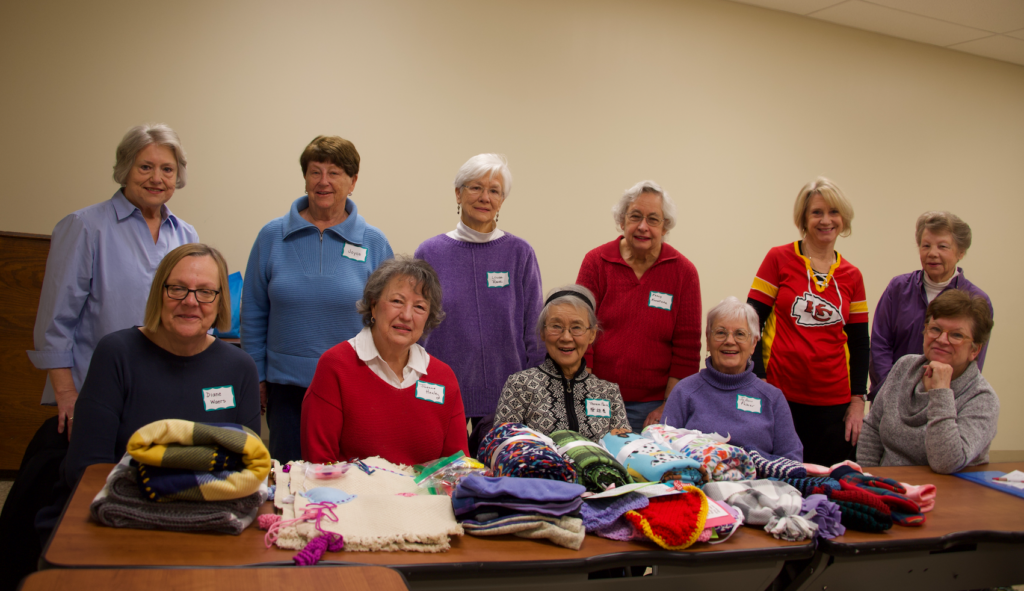 Henley said the Makers' generous spirit comes from their faith.
"It's something we all learned since we were kids, that you help others," she said.
Smith agreed.
"I was hungry and you fed me. I was naked and you clothed me," she said, referencing the Gospel of Matthew. "And you think of those basic principles of your f aith, and you just have to help.
"We've got enough. We need to help others."