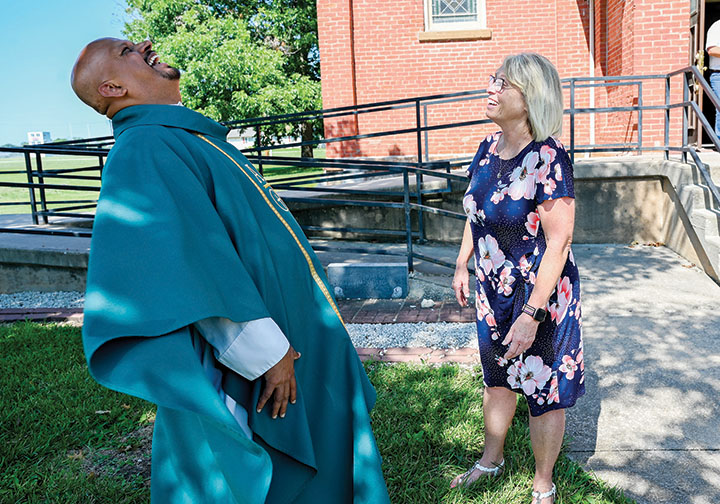 by Joe Bollig
joe.bollig@theleaven.org
HARTFORD — Small? Yes, St. Mary Parish here is small, with only 49 families. The town itself, 19 miles to the southeast of Emporia, has only 355 residents according to the 2020 census.
But there's another number about St. Mary Parish that you need to know — 100%.
Consistently for years, St. Mary Parish has achieved a 100% participation rate in the annual Archbishop's Call to Share campaign. It is the only one of the 120 parishes in the Archdiocese of Kansas City in Kansas that can wear this crown.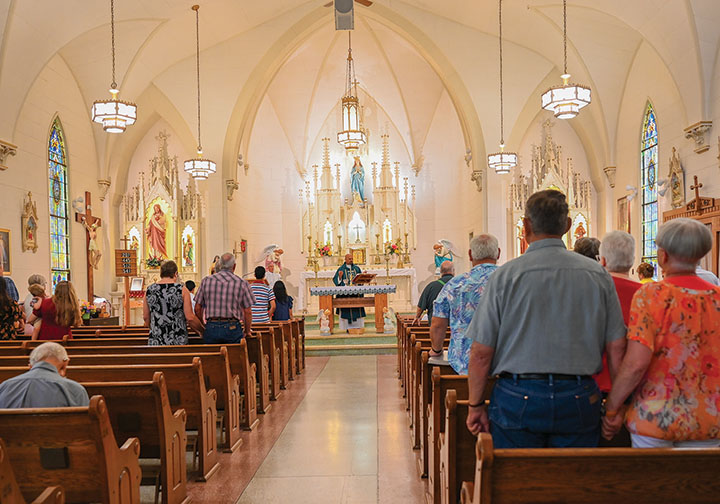 The archbishop's annual appeal raises funds for 43 critical ministries and programs that benefit archdiocesan Catholics. The goal is $7 million.
"St. Mary Parish in Hartford is unique," said Bill Maloney, executive director of the archdiocesan office of stewardship and development and the Catholic Foundation of Northeast Kansas.
"All of their parishioners have made a gift at some level for the past several years," he continued. "The archdiocesan average is 21 percent. In the Southern Pastoral region, average participation is 30 percent, which is also average for all rural regions."
After St. Mary Parish in Hartford, the next highest participation rates are St. Francis of Assisi in Lapeer at 65%; St. Mary in Purcell at 58%; St. Therese in Richmond at 55%; Annunciation in Baldwin at 53%; and St. Joseph in Nortonville at 52%.
Counting St. Mary Parish in Hartford, these are the six archdiocesan parishes whose participation rate is higher than 50%.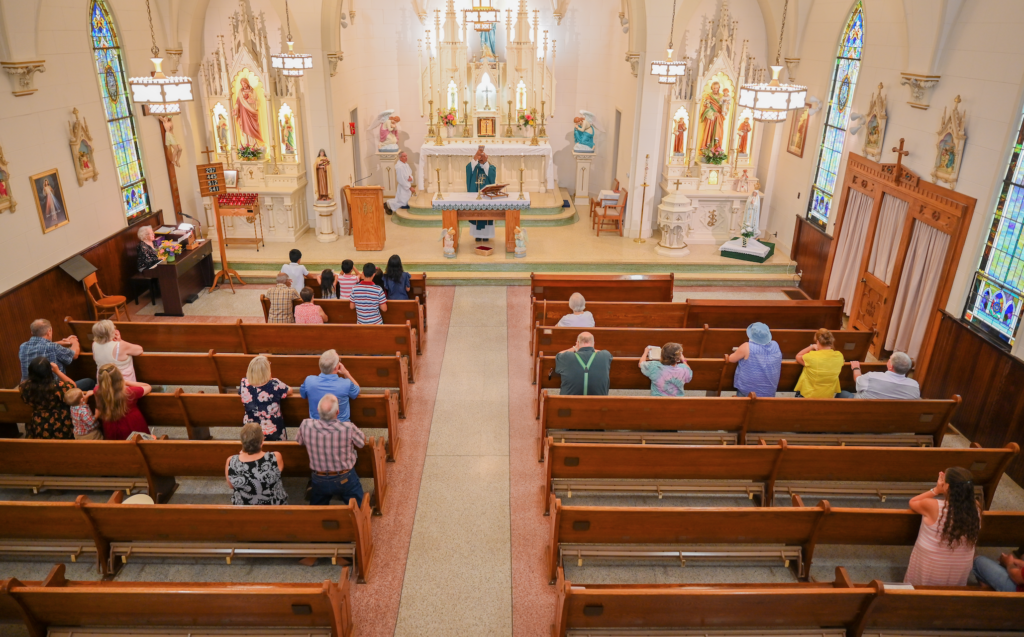 Father Matthew Nagle, pastor of St. Mary Parish in Hartford for the past four years (he was reassigned to a Topeka parish, effective July 1) is very proud of his parish. He also has a few ideas why participation is so high.
"We're a fairly small parish, and that helps," he said. "Parishioners of St. Mary's have a very laudable commitment to their parish and take ownership of their parish in a way that's very admirable. This was already going on before I came here. It's a goal they set for themselves and want to continue doing year after year."
As a small parish, they have no staff to take care of things, so volunteers do everything from maintaining the building and grounds to funeral dinners.
Nobody's a stranger and everyone pitches in to help, he said. Parish families are generational, and they see the Archbishop's Call to Share as a means of maintaining that legacy.
And he does his part, too.
"A point I always make when I talk about [the] Archbishop's Call to Share is that we are not an independent church but part of a universal and Catholic Church," said Father Nagle. "I think that this idea, that we are part of the universal church and the church of the archdiocese, adds to our attitude toward giving. I haven't encountered any resistance to [giving] while I've been in Hartford."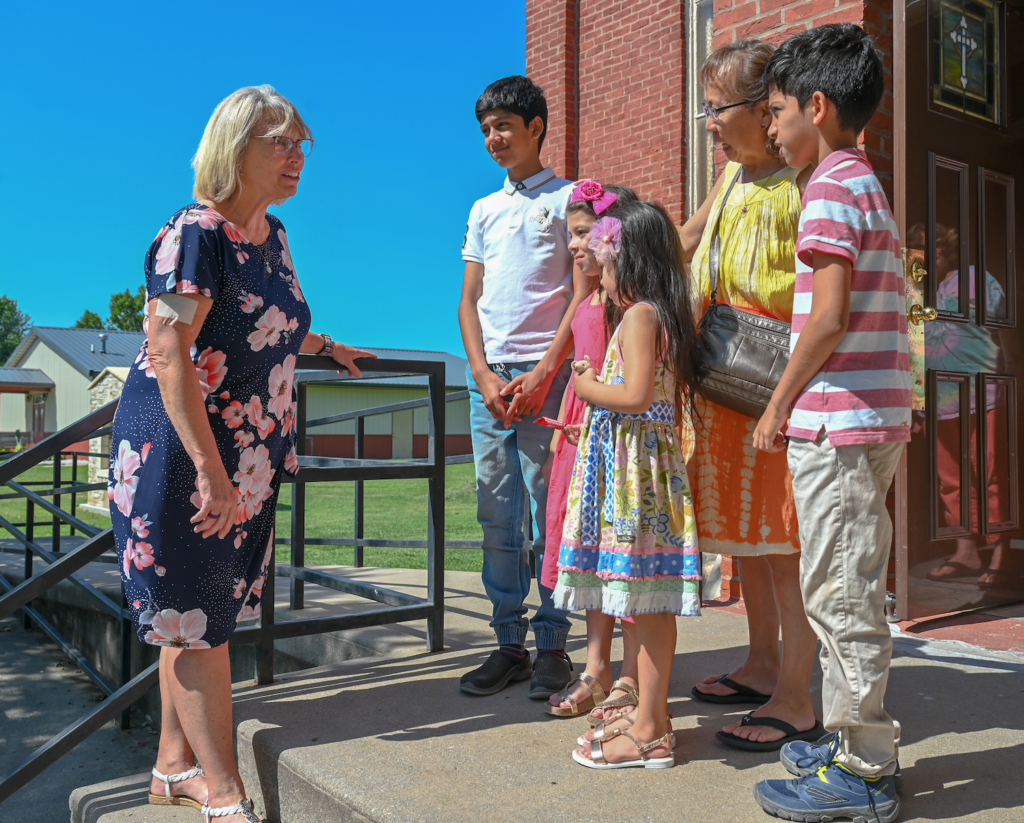 Another reason for St. Mary's success — a big, big reason — is Janel.
That's Janel Wiederholt, the parish bookkeeper, with some help from her husband Pat, who serves on the board of the Catholic Foundation of Northeast Kansas. She's been the appeal chairperson at the parish for 31 years.
"My role is just organizing it," she said modestly. "When it's time for [the] Archbishop's Call to Share, I start the process of getting the information to our parishioners and putting announcements in the bulletin letting them know it's time, and that they will receive their letters in the mail, and everyone knows and are all on board."
She reminds people and simply follows up with phone calls. She's not pushy, but persistent. She finds a friendly, gentle reminder usually brings a response.
And the parish not only has 100% participation rate, but usually surpasses its goal.
St. Ann Parish in Hiawatha isn't quite in the elite six of parish participation in the Archbishop's Call to Share, but they're close — 48%.
"I try to emphasize the archdiocese helps us out with things like marriage preparation," said Father Dan Gardner, pastor of St. Ann Parish and St. Leo Parish in Horton, both in the northeast corner of the archdiocese.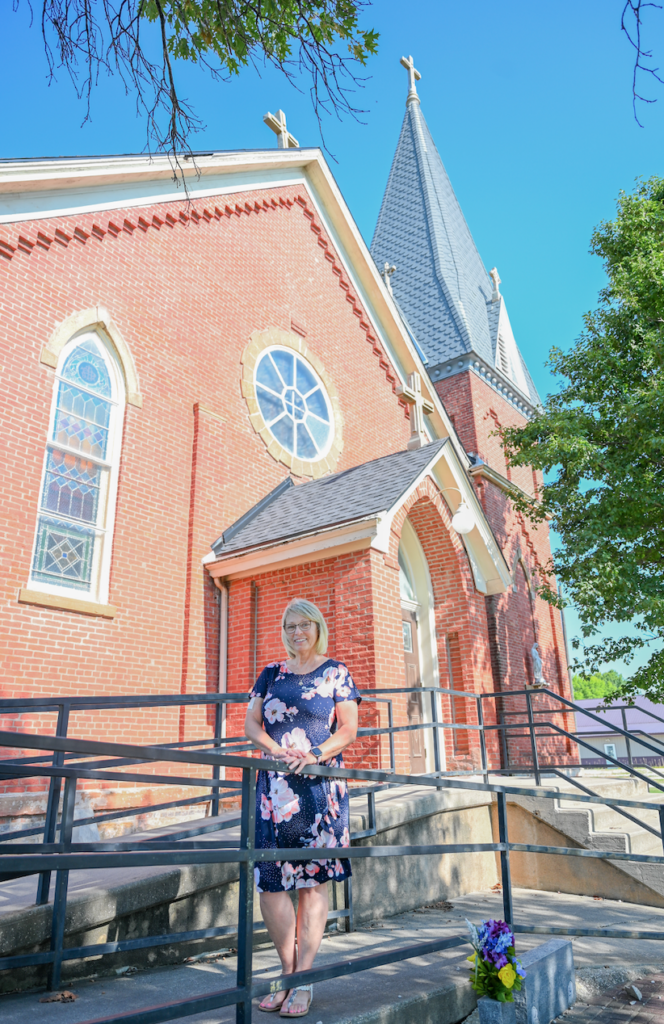 He says the Archbishop's Call to Share helps parishes in ways people may or may not be aware of.
"I think what helped here, is a few years ago," he said, "I told the story of how Archbishop Naumann understands single parent families and the struggles of parents because of his own life. Because he ministered in an African-American parish, [the archbishop] understands culture.
"I tell parishioners that we care for each other and watch out for each other. What little we can do goes a long way. When we go over the target, I publish the archbishop's thank-you letter. It reminds people that we're helping those we don't even know, and God will take that to another level."
Father Gardner has also encouraged the young people of the parish to do something, even a little.
The excellent participation rate of St. Therese Parish in Richmond, 15 miles south of Ottawa, can be summed up in one word: community, said Father Gerald Williams, O.Carm., pastor of St. Therese and St. Boniface Parish in Scipio.
"I think rural parishes, by their very nature, are intertwined so much with the needs of local and nonlocal people, that they do things in a more communal way," said Father Gerald. "It's not a bunch of individuals who are acting on their own, but rather they see themselves as community bound together to bring about some good.
"And so with that as their background, not just for Archbishop's Call to Share, if that's their mindset . . . it naturally increases the participation rate."
Of course, Father Gerald encourages his parishioners in various ways. He places a "thermometer" on the parish website so people can check progress and keeps the parish informed numbers-wise on the appeal through the bulletin
"I think that's helpful," he said. "People are sensitive about transparency."
He reads or plays a recording of the archbishop's appeal and speaks in ways that "affirm them rather than challenge them," as they give not only treasure (money), but also time and talent.
Most of the monies raised through the Archbishop's Call to Share come from the urban and suburban parishes, but there are things they can learn from the rural parishes who have high participation rates and surpass their goals.
"The message is that we should invite everyone to participate in whatever level they can, whether a gift of $10, $10 a month or $10,000. All gifts are meaningful when it comes to [the] Archbishop's Call to Share," said Maloney.
"I encourage everyone to participate in [the] Archbishop's Call to Share," he added, "which serves the entire archdiocese. . . . Not one parish can do it on its own."