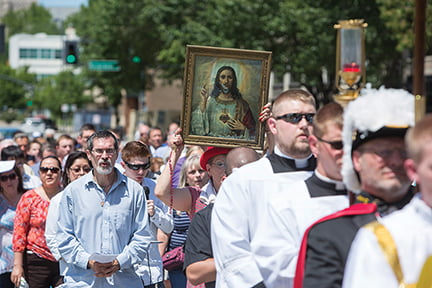 by Joe Bollig
joe.bollig@theleaven.org
KANSAS CITY, Kan. — To be a Christian is to be a witness, and Catholics in and near the metropolitan Kansas City area are encouraged to be eucharistic witnesses by participating in the annual Corpus Christi Mass and procession on June 23.
It has been a tradition since 2007 that the Archdiocese of Kansas City in Kansas and the Diocese of Kansas City-St. Joseph observe the solemnity of Corpus Christi with a joint Mass and procession.
The two dioceses alternate hosting the observance, and this year the Mass will be at 11:30 a.m. at St. Mary-St. Anthony Church, located at 632 Tauromee Ave. in Kansas City, Kansas. Archbishop Joseph F. Naumann will be the main celebrant. The exposition of the Blessed Sacrament will be at 12:30 p.m. and the procession will start at 1 p.m.
Those who can't travel to participate in the joint observance are encouraged to observe the solemnity of Corpus Christi at their own parish.