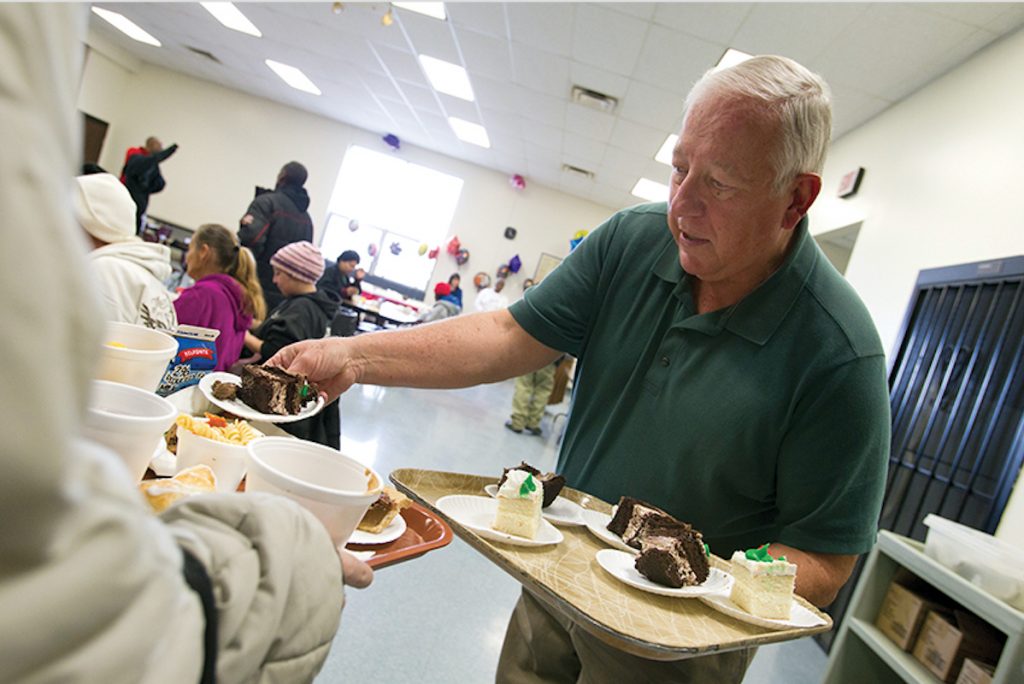 by Joe Bollig
joe.bollig@theleaven.org
KANSAS CITY, Kan. — Nobody knows who it was, but sometime on Monday, Dec. 3, an unknown guest was served the 5 millionth meal here at the St. Mary's Food Kitchen/Hot Lunch Services, Inc.
This milestone was celebrated with cake and balloons by staff, volunteers and guests at the next day's lunch on Dec. 4, at the Wilhelmina Gill Community Center, located at 645 Nebraska Ave.
On hand for the festivities was Frank Franko — a parishioner of St. Michael the Archangel Parish in Leawood and a veteran volunteer and board member.
Franko began volunteering in 1997, the year the community center was built, and the lunch service moved there from the basement of the old St. Mary Church on 5th St., where it served its first meals to 20 guests on Feb. 11, 1982.
The catalyst for the founding of the food service was Gill, who worked for Catholic Social Services and in whose memory the building is named.
"We serve on average 275 a day, and we've had as many as 500," said Franko.
Most of the guests are from the urban core of Kansas City, Kansas. Franko estimates that about 10-15 percent are homeless, 10-15 percent are unemployed, and the remainder are the working poor — those who have jobs, but don't earn enough to cover the cost of living.
On average, the service provides 100,000 meals a year, depending on the state of the economy. This year, the kitchen was right on track: It had served approximately 90,000 by Dec. 3. The meals are provided daily between 11 a.m. and 12:30 p.m.
"About seven percent of total guests are children, except during the holidays and summer months [when there are more]," said Franko. "On some days, we'll serve as many as 60 children."
No one is turned away without being given some kind of food.
One of those clients was Willis, a middle-aged man who lived nearby and had been eating at the lunch service for years.
"All these years I've been coming here — the food must be good," he said with a chuckle. "Are you going to come back for bad food?"
The food has never been better, said Skip, another middle-aged regular.
Willis, Skip and the other guests at this particular table had high praise for Cherri Roith, the kitchen manager since June, and Heidi Fox, a frequent volunteer from St. Joseph Parish in Shawnee.
They all applaud her cheerfulness, high energy and the quality of food served under her direction.
"[Roith] is by far awesome," said Fox, as she handed out slices of cake. "I've heard her called 'Superwoman.' She's our heart and soul down here."
Roith was assistant manager for 12 years before she took over management during the summer.
What's the best part of her job?
"The people — being down here with the people and making their day," said Roith. "They're great people."
Fox, a volunteer for eight years and a board member for six months, feels the same way.
"I love it," said Fox. "My clients are so important to me. They're my second family.
"I'm down here two or three times a week. It's my passion. I'm so grateful to be able to do it. We couldn't do this without our clients . . . and our volunteers."
The lunch service receives no tax dollars, said Franko. The only government support it receives is in the form of food commodities.
He estimates the cost to run the program is $280,000 to $300,000 a year — all donated. Two firms, Panera Bread and HyVee, are particularly strong corporate contributors.
The lunch service runs on the donations and volunteers provided by faith communities: 39 Christian churches (three-fourths of them Catholic parishes, most from the archdiocese) and one synagogue.
On this particular day, the kitchen was mainly staffed by volunteers from Holy Angels Parish in Basehor; Holy Trinity Parish in Paola; and Our Lady & St. Rose and Blessed Sacrament parishes in Kansas City, Kansas.
In terms of personnel, the kitchen is run daily by about 25 volunteers. Sometimes, there are fewer. And in those cases, they "just work twice as hard," said Roith.
The lunch service can get by with a skeleton crew of seven.
One of the greatest challenges the service faces is keeping up its volunteer base. Some churches are very small, and occasionally a church will drop out.
"Right now, I have two days where I do not have churches . . . serving on those days," said Roith. "I have to do the cooking now until I can find a group to take over for me. I take all the volunteers I can to help me cook."
As the day's meal service winds down, workers shut down the serving line, then start cleaning the kitchen. The floors and trash come next.
Finally, volunteers package up the remaining food into box lunches for latecomers.
And tomorrow?
They will do it all again.