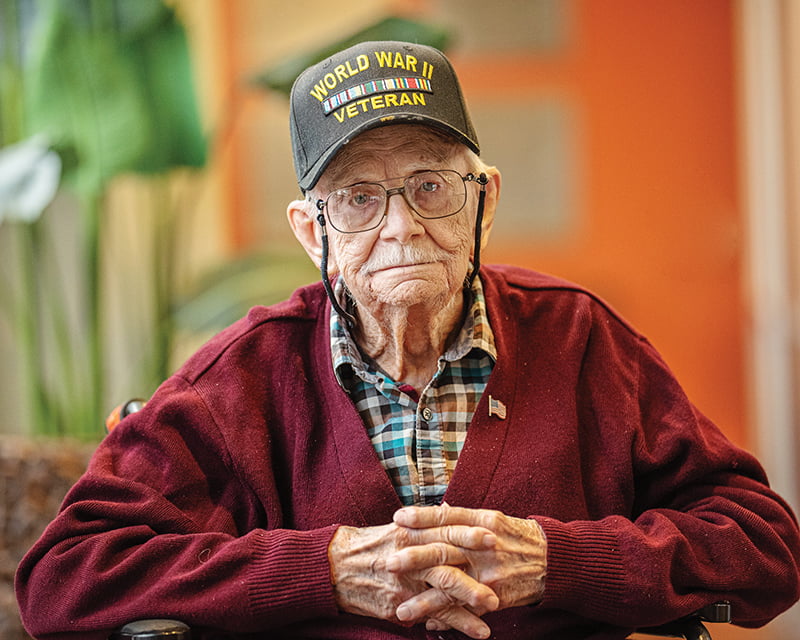 by Jan Dumay
Special to The Leaven
KANSAS CITY, Kan. — As Joseph Trzok celebrates with friends and family at his skilled nursing facility here, he can honestly say he's been blessed with a good life — one in which he's been able to serve honorably his country, community, church, family and friends.
Alert, happy, relatively healthy — and 100 years old on Feb. 21 — the World War II veteran said during an interview attended by three adoring nieces that the years have flown by.
"To me, the last 30 or 40 years went by so fast," said Trzok. "I never worried about being 100 years old. I want to go another 25."
Trzok is in good health, said niece Annette Henderson, with a great range of motion and generally able to care for himself.
His vision, however, is affected by macular degeneration. He eats soft foods because of swallowing issues, and uses a walker, but usually spends most of the time in a wheelchair.
But for 97 years, Trzok lived in the Strawberry Hill house he grew up in. A lifelong member of St. John the Baptist Church in Kansas City, Kansas, until he moved to Ignite Medical Resorts three years ago, Trzok ends each day by mentally going up and down the houses in his old block, saying a prayer for every neighbor who lived there.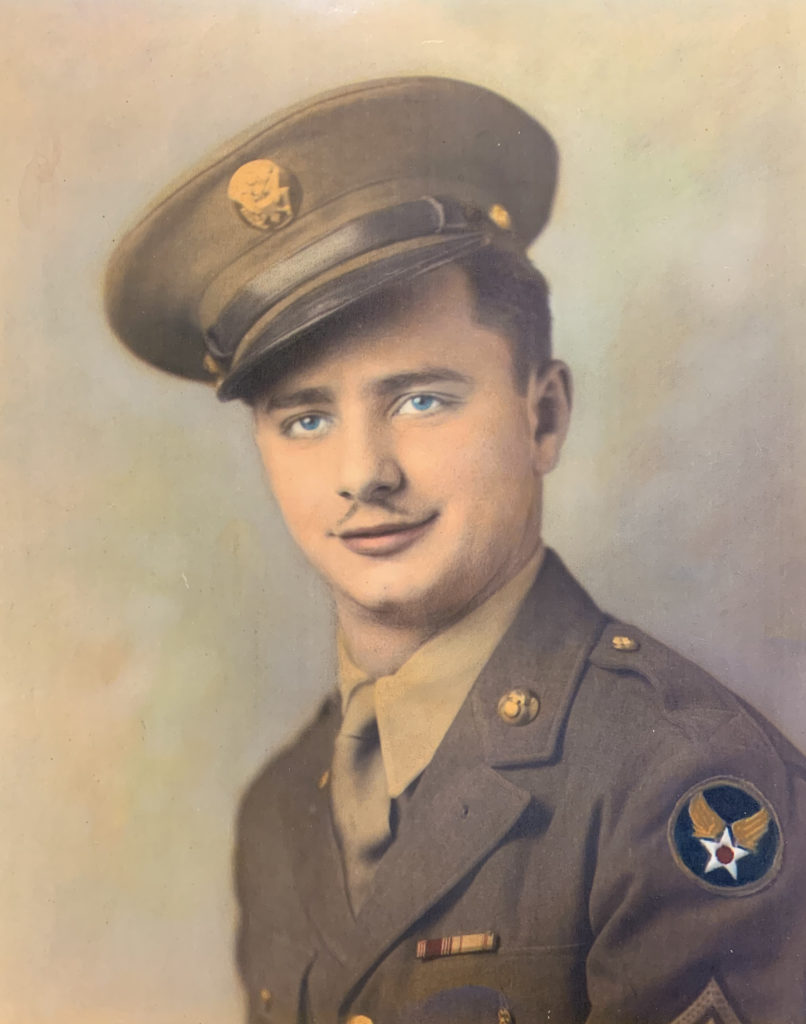 "I've never missed one night in my life," he said of his prayer ritual.
Raised by devout Catholic parents, Trzok's faith has been a common denominator in his long life. Unless he was sick, he never missed Mass and still receives Communion each week from relatives, who also regularly pray the rosary with him.
While serving in the Army, he even attended Mass in the mountains of Italy celebrated by Father Padre Pio, who was canonized in 2002. Trzok even touched the famous stigmata wounds on his hands.
"I was amazed," Trzok said, "but it was just a Mass to me," never realizing that he was looking at an eventual saint.
According to his nieces, who have kept historical records of their uncle's military service, Trzok was called up for World War II in October 1941 and retired as a staff sergeant in January 1946.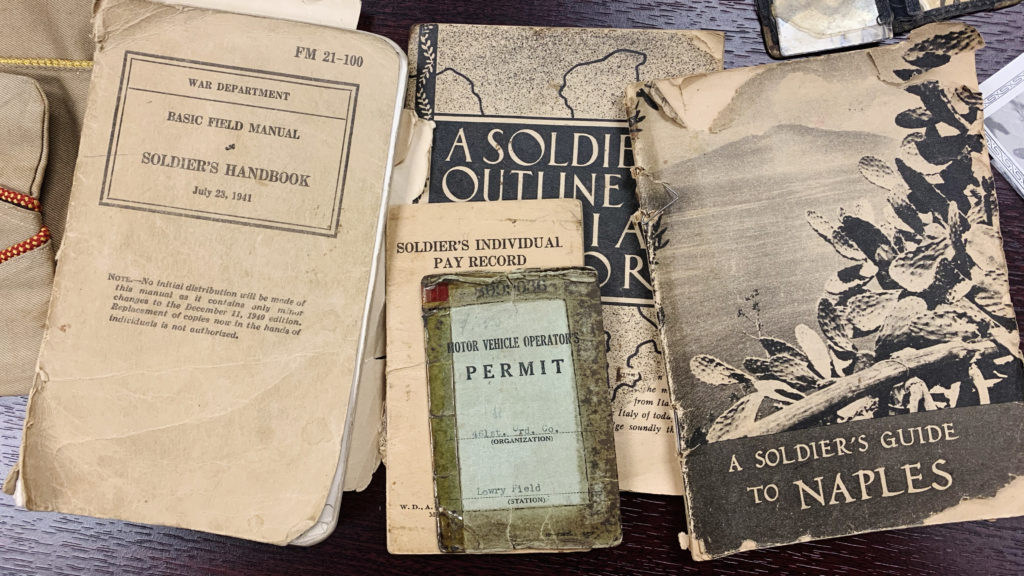 Henderson, in a biography about her beloved uncle, wrote that he was first placed on detached service from the Army to the Air Force and was sent to school for munitions training in Aberdeen, Maryland, working in ordnance. When it was discovered he could type, he was sent to Denver's Lowry Air Force Base to work in payroll, eventually becoming a service records checker.
Eventually, he was sent to a headquarters base in Italy, where he worked in payroll and was also in charge of a firing range.
But his war was easier than that of most of his peers.
For the most part, he had free rein to move around the area and was not subject to many of the normal military restrictions imposed on service members.
"He had a more lax curfew and he was even allowed to maintain his signature mustache," Henderson wrote.
"He had the opportunity to see much of Italy, including attending a performance of 'Carmen,' she noted. "It was there that he developed a lifelong appreciation of the opera."
Of his time in the service, Trzok has said, "I never had a bad day."
Trzok, who never saw combat, spent many days in Naples and made many friends while in Italy.
"I'd go to a beer joint and sit down and drink beer with them," he said with a smile. "I could tell you a lot of stories . . . but I'm not going to."
When he returned home, the lifelong bachelor returned to his Strawberry Hill neighborhood. He worked for many years as a sales associate and repairman for Gorup Brothers Furniture and Appliance, and often serviced and repaired appliances for area churches and the Sisters, Servants of Mary.
He smiled at the memory of repairing a stove that had been damaged when a nun baked a ham still in its can. He also worked as an assistant wine steward at the Hotel Muehlebach in Kansas City, Missouri.
After his retirement at age 62, he loved to go "junking" to neighborhood flea markets and garage sales. There, he often picked up crutches and walkers, then donated them to the Duchesne Clinic in Kansas City, Kansas, which provides primary health care services for uninsured or low-income patients regardless of their ability to pay.
"I don't know how many pairs of crutches I took up there," he said.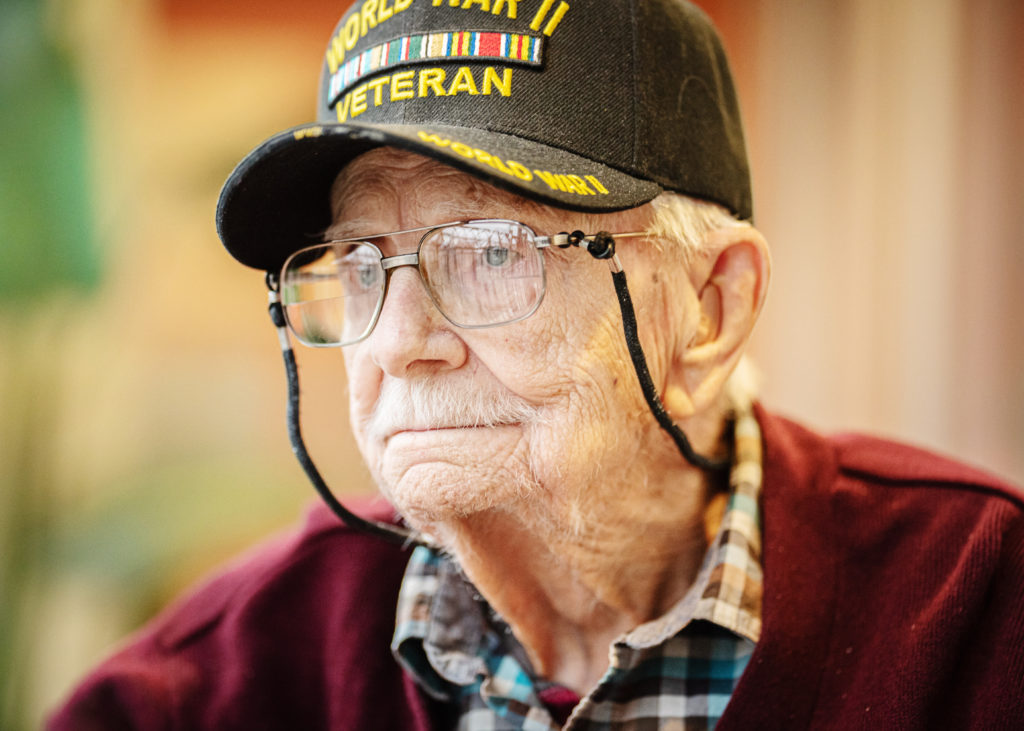 Trzok, who beat colon cancer 28 years ago, said his love of family has also sustained him. He prepared countless Sunday suppers for his family and always hosted Christmas Eve, bringing out boxes of presents into his small living room in the house he shared with his parents until their deaths.
Even when all the grandchildren in the family were grown, he would still give them Christmas envelopes with monetary gifts enclosed.
Every family should be so lucky as to have an Uncle Joe, Henderson said.
"When I was 8, I had my appendix out and when I woke up, my mom was standing there and my Uncle Joe was standing there with a stuffed animal," she recalled.
Her cousin, Joni Hanson, agreed:
"He was always the first one there."