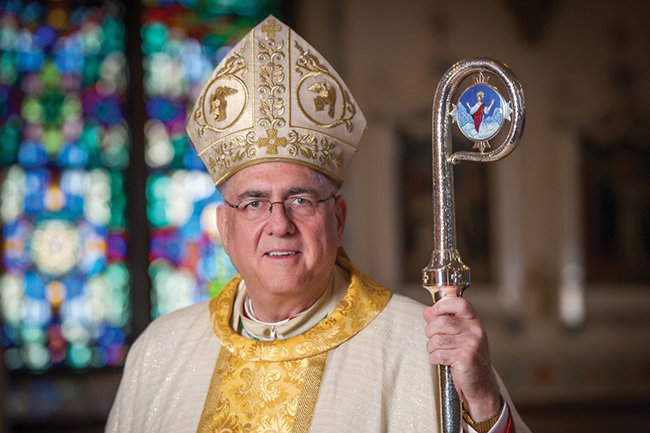 by Archbishop Joseph F. Naumann
I was informed recently about a 16-year-old inner-city young woman who shared that she had never been to a wedding and she did not know a happily married couple.
According to economist Dr. Jennifer Rohrbach Morse: "In 2005, 37 percent of all U.S. children were born to unmarried mothers. This includes 70 percent of African American children, 48 percent of Hispanic children, and 25 percent of non-Hispanic whites."
The impact of the breakdown of the marriage culture has been harmful for adults, but devastating for children. Rohrbach Morse provides the following summary of the sociological data: "In virtually every way, children of intact married couple households do better than children from disrupted or never-formed families. These children are more likely to have physical and mental health problems. Even accounting for income, fatherless boys are more likely to be aggressive and to ultimately be incarcerated. A recent British study offers evidence that the children of single mothers are more likely to become schizophrenic. An extensive study of family structure was done in Sweden, the most generous welfare state in the world, where unmarried parenthood is widely accepted. Accounting for both the mental illness history of the parents as well as socioeconomic status, the study found that children of single parents faced double the risk of psychiatric disease, suicide attempts and substance abuse."
Rohrbach Morse cited the conclusion of another study that measured the statistical impact of nine percent fewer U.S. children in the year 2000 living with their married parents than in 1970. Had we been able to return to the almost 70 percent of children living with their married parents, the impact on our youth would have been:
• 643,000 fewer American adolescents would have failed a grade;
• 1,040,000 fewer would have been suspended from school;
• 531,000 fewer adolescents would have needed therapy;
• 464,000 fewer adolescents would have engaged in delinquent behavior;
• 453,000 fewer youth would have been involved with violence;
• 515,000 fewer youth would have begun smoking cigarettes;
• 179,000 fewer youth would have considered suicide;
• 62,000 fewer youth would have actually attempted suicide.
The effort to redefine the meaning of sexual intimacy as purely recreation for adults has had disastrous consequences on marriage and, in the end, winds up harming children, women and men. Cohabitation replacing the marital commitment and the increased divorce rate of the past 50 years has been devastating to the American family.
Children are the first casualties of a weakening of family life. Women are a close second because they most often bear the brunt of single parenting responsibility. The breakdown of a culture supportive of marriage has led to an increasing feminization of poverty.
Some considered men to be the apparent beneficiaries of changing social morals, gaining the opportunity for sexual privileges without assuming responsibility for the well-being of their female partners or children. In actuality, they, too, have been dramatically harmed. In the past, the commitment and responsibilities that are integral to marriage help to both civilize and mature men.
Sadly, statistically, when you compare everyone who identifies themselves as Catholics with the general population, there is not much difference. However, if you compare Catholics who regularly attend Sunday Mass, their marriages have a significantly higher rate of success.
This coming Sunday, Feb. 12, is World Marriage Day — a day devoted to recognizing and honoring the importance of marriage for our church, nation and culture. In the archdiocese, we are taking advantage of this worldwide celebration of marriage to launch The Joyful Marriage Project.
One of the super priorities for our pastoral vision was to strengthen marriage and family life in the archdiocese. Part of the implementation of this priority is to issue an invitation to every married couple in the archdiocese to make a commitment to do something during the coming year to strengthen and renew their marriage.
Wherever you attend Mass this weekend in northeast Kansas, you should be receiving information about The Joyful Marriage Project and how couples might choose to respond to this invitation. "Living in Love" retreats, Marriage Encounter weekends, Retrouvaille weekends, marriage seminars, days of reflection for couples, date nights and online materials from the School of Love or our archdiocesan marriage and family life office are some of the resources available to couples.
The Joyful Marriage Project is not primarily about programs or activities. First and foremost, we want as an archdiocesan church to communicate to married couples how important your marriages are to our church. We hope The Joyful Marriage Project gives couples permission to focus attention upon their relationship. As a church, we want to encourage and support married couples in building their "dream home" — not consisting of brick and mortar, but in those words and actions that will renew and deepen their love for each other.
For those of us who are not married, we are invited to commit to praying for married couples that we know. Every member of the archdiocese is asked to ponder what concretely each of us can do to encourage and support married couples in living their vocation.
As we embark on this initiative, I hope that those who are single, divorced, single parents, widowed, etc., will not feel neglected. Let me assure you that as church we have a concern for your needs and the significant challenges you face. I have asked our family life office to evaluate how the church might better help and serve you.
However, at this moment, with the confusion about the nature of marriage and the cultural forces that undermine the efforts of couples to live their vows of love, it is necessary to focus resources and attention on strengthening marriage and family life. Whatever we can do to renew marriages in our society will, in turn, strengthen our church, our communities and our nation. We all have a stake in marriage.