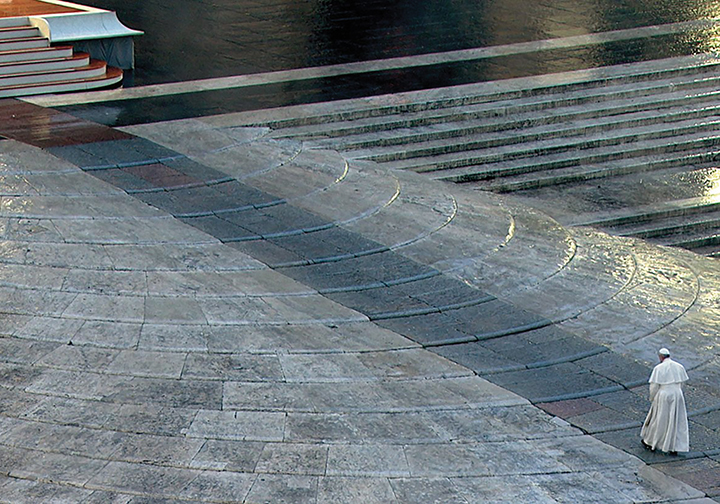 by Jill Ragar Esfeld
jill.esfeld@theleaven.org
LEAVENWORTH — Talk about a mission trip!
The Sisters of Charity of Leavenworth are headed to space with Pope Francis this summer to spread hope around the world.
The 12-year mission named "Spei Satelles" ("Guardian of Hope") will launch from Vandenberg Space Force Base in California aboard a SpaceX Falcon 9 rocket on June 10.
People from all over the world are joining the Spei Satelles flight virtually, and you can, too.
But you'll need a boarding pass, and they're not just giving them away.
This virtual mission trip actually began three years ago, at the height of the coronavirus pandemic, when Pope Francis stood in a deserted, rain-swept St. Peter's Square praying to restore faith and hope to the world.
The pope's words were so profound they became part of a book called "Why Are You Afraid? Have You No Faith?"
To commemorate the third anniversary of that iconic moment, the Vatican has announced that the book will be broadcast around the world, literally, as it travels in a low-earth orbit satellite.
 The satellite is about the size of a football and the "nano" version of Pope Francis' book is about the size of the tip of a pen.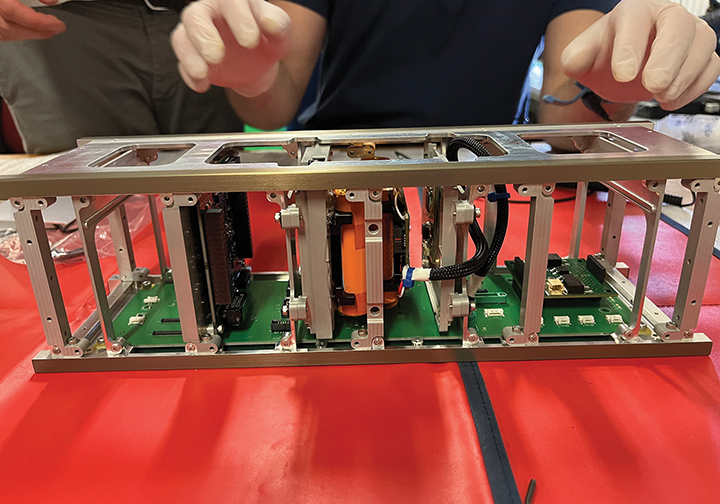 Spei Satelles has its own website (see sidebar). From there, you can follow the mission's progress and even be part of it by signing up to have your name inscribed in a dedicated memory chip on the satellite.
You'll receive a boarding pass to prove you are part of the mission. But to get that pass, you must perform a work of mercy.
The plan is for the pope's satellite to be filled with works of mercy from people of all ages, ethnicities and faiths around the world — a true beacon of hope and unity.
When Margaret Haik, director of communications for the Sisters of Charity of Leavenworth, read about the Spei Satelles she was struck by how it fit with the charism of the Sisters.
"I thought this is exactly the life that the Sisters live," she said. "And wouldn't that be a wonderful way to engage the community?"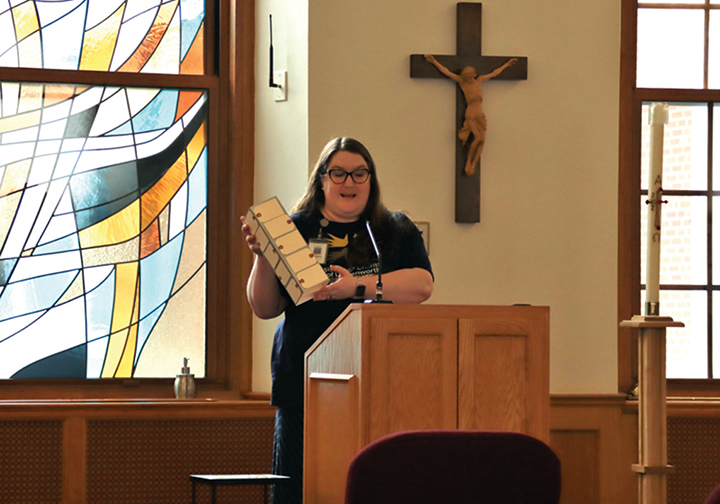 Haik contacted Megan Trout, the pastoral care coordinator of the motherhouse and Ross Hall, the skilled nursing facility for the Sisters.
Trout went to the satellite website to educate herself and determine how to present the information to Sisters who are not all techno-savvy.
She decided to combine the initiative with a prayer service, but realized her audience might need a visual to help them understand the concept of Spei Satelles.
"So I got some poster board and scissors and put together something roughly the same size," she said. "Then I could point to it and say, 'This is what is going to hold the computer, communication, book and everything.'"
During the prayer service, Trout told the Sisters, "We are challenged to embrace [hope] daily, because it is like oxygen to breathe life and give it meaning."
At the service, Sister Rosemary Kolich was captivated by the initiative.
"What a creative way to grow in awareness of the Gospel call to be neighbors to one another," she said.
All the Sisters had the same reaction and were enthusiastic to get on board.
"The project calls us to look outward, upward and beyond ourselves," Sister Rosemary said. "And as we consider the message it will carry into space and to our world, we desire to be a part of that."
Even though works of mercy are part of the Sisters' everyday life, doing them for this mission was special, and they encourage others to join them on board.
"Making a commitment to do a work of mercy on behalf of peace and hope is certainly something we can do," said Sister Rosemary. "And participating in this mission can serve as another reminder of our call to love and care for our neighbor, to live as people of hope."
Haik agreed, saying, "It's a wonderful opportunity to join together knowing that people all over the world are participating in this."
Trout knows how the Sisters suffered during their quarantine and sees this initiative as a sign that hope can come even from such difficulties.
"And this hope reaches far beyond our rooms, our motherhouse, into our communities and into space!" she said.
Join Spei Satelles
Spread the living Gospel by getting on board Spei Satelles. Go online to: www.speisatelles.org to get your virtual boarding pass and follow the mission's progress.
Anyone with an amateur UHF- band radio can hear excerpts from Pope Francis' book in English, Spanish and Italian, as it passes overhead.
The satellite will stay in orbit for 12 years — but the radio transmitter only broadcasts for 6 months to a year, due to battery limitations.