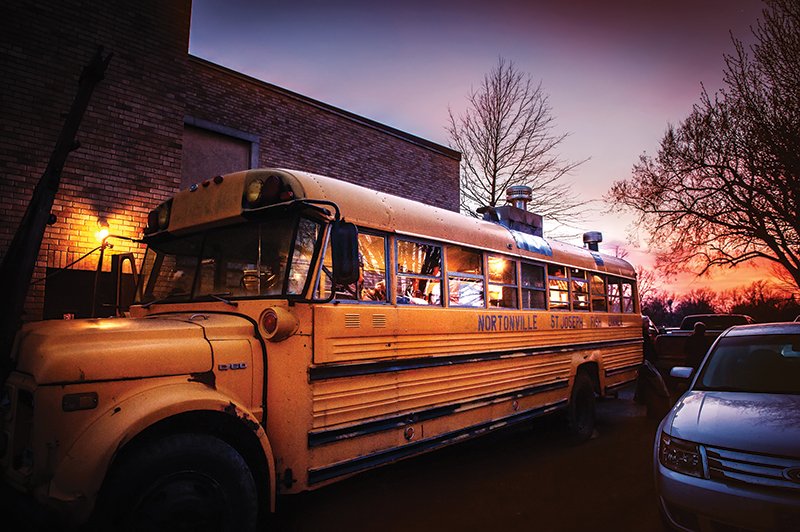 by Todd Habiger
todd.habiger@theleaven.org
People will come, Ann. They'll come to Nortonville for reasons they can't even fathom. They'll turn up in the church parking lot not knowing for sure why they're doing it. They'll arrive as innocent as children, longing for fish.
"'Of course we have fish,' you'll say. 'It's only $10 per person.' They'll pass over the money without even thinking about it, for it's money they have, and fish they crave. People will come, Ann. People will most definitely come."
— The ghost of Bishop Miege to Ann Funk
OK, so maybe that's not quite how it happened. The ghost of Bishop John Baptist Miege didn't appear out of the rolling fields of Nortonville telling Ann Funk to start a fish fry to save St. Joseph Parish.
But there's definitely some divine intervention going on here. How can a town of 600 people host Lenten fish fries and draw anywhere from 600 to 800 people a week?
Well, that's a tale worth telling.
A fish fry is born
St. Joseph School in Nortonville was failing. The year was 1995 and enrollment was dwindling. In a town of this size, the fact that it even had a Catholic school was something of a miracle.
Folks around here tend to hold on tightly to the past. The school had been around since the early 1900s and parishioners wanted to see it continue. But, with declining enrollment, the school needed money to continue to operate.
"We didn't have enough kids attending," said Ann. "We didn't have sports and things like that. We just had religion."
Ann knew that her brother's parish in Omaha, Nebraska, had had great success raising money with Lenten fish fries.
So, the parish decided to give it a go, with Ann at point.
"The first night, I said if we feed 100 people, I'd be happy and we fed 75," Ann said.
In the end, the fish fries couldn't save the school. Although the fish fry numbers were growing each year, the number of students at St. Joseph School in Nortonville was not.
"We had good teachers, but you can't keep a school open for 20 kids," Ann said. "We were one of the smallest schools in the archdiocese."
The school closed in 2007.
But the fish fries lived on.
The legend of St. Joseph
The 75 people that were served at the very first fish fry was the low-water point. Numbers grew every week and every year that followed.
In five years, the fish fries were averaging more than 300 people a week. Within 10 years, anywhere from 700 to 800 people were being served.
"We get regulars from St. Joe, Topeka, Atchison and Leavenworth," said Al Funk, Ann's brother-in-law and fellow volunteer.
"People say they can't go anywhere else to get what they get here," Ann said. "There are a variety of salads. All the pies are homemade. Most of the salads are homemade. The only thing that is bought is the fish. Most of the stuff is made right here."
Father Lazar Carasala, pastor of St. Joseph, said he's never seen anything like it.
"I was really surprised that this small town was getting these types of crowds," he said. "I was in Overland Park for one year at [Church of the] Ascension, but I see the same crowd numbers here."
Dean and Nancy Swafford drove from Savannah, Missouri, to attend this year's opening fish fry.
And they're not even Catholic!
"It's worth every penny," said Nancy.
Dean, who works at Atchison County Community Schools in nearby Effingham, said he loves the camaraderie of the people of Nortonville.
"We live in a town of 5,000 in Missouri and you don't see this type of thing there," he said.
The magic school bus
The kitchen was becoming a mess. As the staging ground for everything at the fish fry, the kitchen was overcrowded in the early years. As the fish fries started serving more and more people, the chaos almost became too much. Something had to be done.
Then the school bus arrived.
St. Joseph parishioner Robbie Weishaar's friend had an old, nonworking school bus that he wanted to get rid of. Weishaar traded him a semi tire for the school bus, and suddenly St. Joseph had a staging area to cook the fish.
They ripped the seats out of the bus and started out with propane burners but quickly found that they couldn't keep up with the demand.
They then converted to restaurant- style fryers. The bus grew from one fryer to the six they use now.
"We were fortunate enough that we had a guy that was acquainted with McDonald's," Al said, "and he helped us find some used cookers.
"That's how we started cooking this way."
Opening night
St. Joseph's fish fry is supposed to start at 5 p.m. As visitors approach old St. Joseph School, where the fish fry is held, they can see the parking lot is full and cars have spilled over onto the grass. It's only 4:30 p.m.
Inside, the gymnasium is already three-quarters filled. Apparently, the townspeople know a secret — if you get there early, you will be served. But you have to wait until Father Carasala says grace. No grace, no food.
By 5 p.m., the line is halfway around the gym and stays that way practically to the end of the evening.
There are many heroes of this event. A few have been named in this story, but the reality is, it's a community effort.
There's 91-years-young Vincent Bertels, greeting people as they enter. Years ago, he had a more active job but, as age crept up, he found a way to continue to contribute.
There's Jim Wolfe, a non-Catholic who nevertheless is very active in the community. He directs traffic downstairs and offers a friendly voice and smile to all who enter.
There's Nancy Balinger, a mail carrier in Atchison, who rushed to the school from work and immediately started busing tables, still in her postal uniform.
One family makes 300-400 dinner rolls each week. Another donates sweet corn from their summer harvest to the cause. Another family makes all the corn bread. The list goes on and on and on.
"It's gotten to the point where everyone has their area of expertise," Al said. "Everybody knows where to go, what needs to be done and what to do."
The word gets out. Despite competing fish fries popping up all around them, St. Joseph's continues to flourish.
Father Carasala put it best: "It's because of the expert hands."
The legacy
Although the fish fry couldn't save the school, it has saved the parish from financial hardship. It put a new roof on the church, the school and the rectory. It bought a new heating and air conditioning unit for the church.
The parish is debt free. None of this would be possible without the fish fry.
"We're a poor parish, but we all know how to work," Ann said. "We are in a farming community. It's one thing that this parish has always done — come together and work to pay our bills."