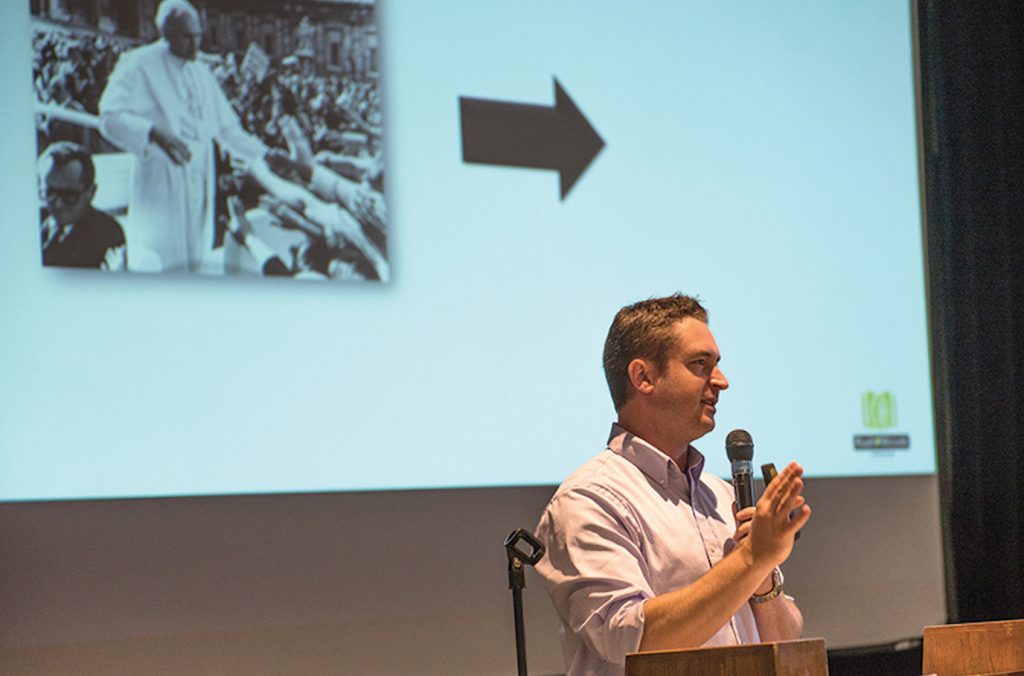 by Joe Bollig
joe.bollig@theleaven.org
KANSAS CITY, Kan. — This fall, some archdiocesan students will be learning about the theology of the body from an exciting new curriculum.
By the fall of 2021, all archdiocesan students at all schools — kindergarten through 12th grade — will be learning it, too.
On Aug. 13, 224 teachers and principals from 26 of the archdiocese's 36 elementary schools gathered for a daylong workshop at the Keleher Conference Center at Savior Pastoral Center in Kansas City, Kansas. It was sponsored by the archdiocesan school office.
The training itself was provided by Ruah Woods, a not-for-profit educational center in Cincinnati.
The push to teach the theology of the body to all students comes from Archbishop Joseph F. Naumann, who learned about the curriculum at the Convocation of Catholic Leaders in 2017 in Orlando, Florida.
"I was shown at that time some of the work [Ruah Woods] had done, and how they engaged some of the very best people in terms of communications, art and artistry . . . to communicate this great gift that St. John Paul II gave to the church," said Archbishop Naumann in his welcome address to the workshop participants.
He went on to say how it had been adapted to every age level, and how he looked forward to seeing this consistent teaching made available throughout the schools.
The theology of the body is already being taught in archdiocesan middle-school grades and in the high schools, said Allison Carney, archdiocesan associate superintendent of schools.
At the heart of the curriculum is that each child is a gift created in the image and likeness of God.
"It's not a sex education course you'd see in a public school," said Carney, who organized the training. "It's about morality and our relationship with God."
The day was divided into two parts: an introduction to the theology of the body and then a session on how to teach it according to various grade levels.
The Ruah Woods presenter was D. J. Hueneman.
Principal Kelli Wolken from St. Rose Philippine Duchesne School in Garnett was at the workshop, and her school will introduce the curriculum this fall.
"We've really enjoyed the day," said Wolken, who attended with some of her teachers. "It's a lot better than we anticipated. I think there are a lot of things we can use in our lives daily in conversations with the students. I saw a lot of the teachers jotting down information about videos they'd like to share and quotes from saints they'd like to use."
David Livingston, who teaches math and religion at Most Pure Heart of Mary School in Topeka, found the training beneficial and sees application of the theology of the body in all subject areas.
"[The theology of the body] is something we [now] allude to, but this training will help us teach it in a more effective way," said Livingston.
"I think I can help my students to understand that math is really a natural language, much like the body itself," he continued. "Although math is created by human beings, it does actually describe truths put into creation by God himself. And so, the more we understand mathematical concepts, that can be a bridge to understanding God better."
The teachers from his school at the training were "very open to it, excited and also challenged," said Livingston.
"Based on the training we've had for the teachers so far, I'm looking forward to it quite a bit," he added. "I'm very enthusiastic about it."
This enthusiasm was shared by many other participants.
"I had some really great responses from people," said Carney. "Teachers were excited to teach it at such a young age . . . and thought it was important [that] there be consistency all the way through — K-8 — and eventually all the way through high school. The program is consistent, and that's why we want everyone to use the same program."
The archdiocesan school office will host another training next year and in subsequent years until all teachers have had an opportunity to attend.