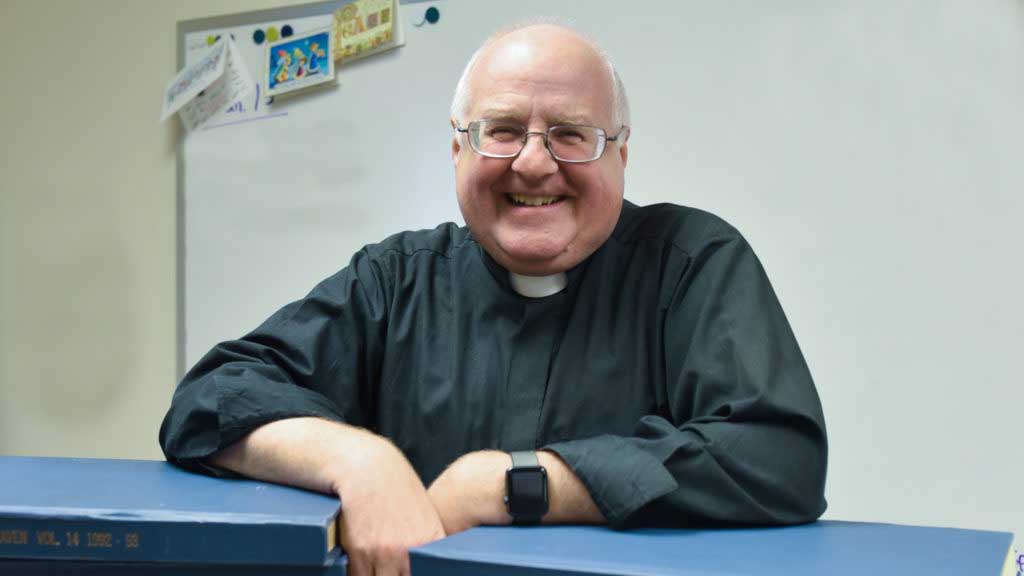 by Father Mark Goldasich
I blame my mom's brother, my Uncle Joe Modrcin, for getting me addicted. It's something that's only gotten worse as the years have gone by. And I couldn't be happier or more grateful.
Before you rush off to do an intervention on me, let me explain. When I was in early grade school, the Kansas City Times had what I remember as a weekly feature on the comics page. It was called the Kids' Jumble®: That Scrambled Word Game.
For those not familiar with a Jumble, its instructions are simple. To solve it, you unscramble the given letters, one letter to each square, to form four ordinary words. Some squares have a circle in them. You then arrange the circled letters to form a surprise answer, suggested by the cartoon for that puzzle. (Google "Jumble" to see one.)
I'd watched my uncle do the daily one for adults and was intrigued. With his help, I started doing the kid version. I loved it. I used to pretend that I was a secret agent and had to solve the puzzle to, I don't know, save the world.
Doing Jumbles led to me trying out crossword puzzles, then cryptograms, crostics, codewords and so many other word games. With my morning coffee now, I do a crossword puzzle and then three Jumbles. (I love Jumbles so much, I have several books of them on hand, but must limit myself to solving just a few at a time!)
Naturally, that love of word puzzles led to a love of reading. My addiction was enabled by Catholic grade school. Every two weeks back then, we received a comic book called "Treasure Chest of Fun and Fact." My heart leapt when those came! I still have several copies.
One from Nov. 16, 1967, had stories of "Father Gabriel Richard: Man of Action — Man of God" and "All Men Are Brothers: The Story of Henri Dunant — Founder of the International Red Cross."
Even the parish fostered my addiction. There was a publication called the "Catholic Twin Circle" and for a time, it included a comic book series "Classics Illustrated," which featured "Stories by the World's Greatest Authors." (These would be called graphic novels today.) I have a whole slew of these still, among them "The Count of Monte Cristo" and "Les Miserables." I never had the whole collection of 166, but I tried my best.
The whole point of these reminiscents is to highlight the power of planting seeds for good habits at a young age. With that in mind, we're starting a new biweekly feature in The Leaven called Kids' Chronicle. Our first one appears on the colorful page 16 of this issue. Its purpose is to plant seeds for a deeper appreciation both of Scripture and of our Catholic traditions, like the lives of the saints. And it's not just for kids.
In fact, many adults could benefit from its content. When I was in Catholic grade school, we had what was called Bible History, but we never actually opened the Bible. These were the days when the English translations of the Scriptures were cumbersome and there was a fear of "individual interpretation." Because we might misunderstand what we were reading, it was best to leave the Bible closed and let the Sunday sermon be our sure guide. So, it remained a book of mystery for the most part for many of my generation. It was certainly not something to be used for prayer or study.
The Scripture references in the Kids' Chronicle can make up for that lack of knowledge of the Old and the New Testaments. So, explore the page with Bible in hand. Have fun with it. Read it with your kids or grandkids. Do the Word Search.
And plant those good seeds early. Who knows? It might just be the start of an entire redwood forest!