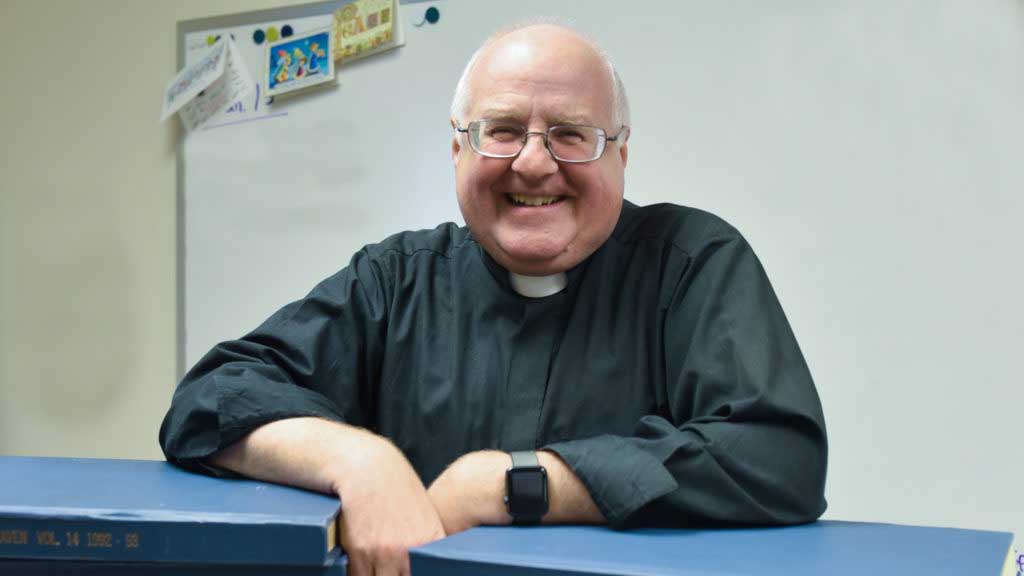 by Father Mark Goldasich
It was definitely a different Ash Wednesday this year — one where I had to avoid a huge temptation.
Due to social distancing — and inclement weather — the numbers were down at church. And then, there was the different way to distribute ashes. As a pandemic precaution, the Vatican directed that ashes be sprinkled on the crown of each person's head rather than tracing a cross on the forehead as we usually do in the United States.
That led me to two questions: Where exactly is the "crown" of the head? And how much ash constitutes a "sprinkle"?
Looking it up, I found that the crown of the head is located at the very top of the skull. What that meant, practically speaking, is that people had to bow to receive the ashes. I smiled at how appropriate a posture that was to begin Lent. We're all coming before God with humility, asking for the grace to acknowledge our sins and weaknesses, and then to seek God's help — through prayer, fasting and almsgiving — to grow in holiness.
And I needn't have worried about how to do the sprinkling; it came naturally. (My huge temptation, however, was wanting to dump the whole bowl of ashes on the last person in line. I resisted, by the grace of God. At both Masses.)
During Lent, we could all use a dose of humility . . . especially if we think we don't really "need" this season. There's no one of us who is perfect, no one of us who knows it all.
I love this story about Tom Brokaw, the now-retired TV journalist, on how easy it can be to lose perspective:
One day, Brokaw was wandering through Bloomingdale's in New York, shortly after being promoted to cohost on the "Today" show. That show was a huge achievement for him after years of hard work — first in Omaha, Nebraska, then for NBC in Los Angeles and Washington. He was feeling really proud about himself and his success.
Brokaw noticed a man who kept staring at him. When the man finally approached, Brokaw was certain he was about to reap the first fruits of being a New York celebrity.
The man pointed at him and said, "Tom Brokaw, right?" "Right," said Brokaw.
"You used to do the morning news on KMTV in Omaha, right?" said the man.
"That's right," said Brokaw, readying himself for the compliments to follow.
"I knew it the minute I spotted you," replied the man. Then he paused and added, "Hey, whatever happened to you?" (Story found in "Illustrations Unlimited," edited by James S. Hewett.)
Sometimes, the only place that we're a legend is in our own minds. That's easy to forget, though, in this age of social media. We can develop an inflated image of ourselves, especially when we're asked constantly to evaluate everything from our shopping experience online to the restaurants we've eaten at to the books we've read.
We can easily be deceived into believing that ours is the only opinion — certainly the only right one. That attitude then oozes into our interactions with one another, whether in person or online.
An attitude of humility teaches us, instead, that there is one God . . . and it's not us. It reminds us that everyone has faults . . . and virtues. Humility guides us to treat one another with respect, to realize that many times it's wiser to be kind than to be right.
As we journey through Lent, may we swallow our pride and seek to live these words of the prophet Micah: "You have been told, O mortal, what is good, and what the Lord requires of you: Only to do justice and to love kindness, and to walk humbly with your God" (6:8).