by Karen Mikols Bonar
Special to The Leaven
WICHITA — Slowly, with military precision, the casket bearing the remains of Servant of God Father Emil Kapaun exited the Mass of Christian Burial as "America the Beautiful" echoed through Hartman Arena here.
Dog tags bearing the name of the U.S. Army chaplain swung gently from the front handle of the casket as fellow POW Sgt. Herbert Miller waved to his fallen friend.
The funeral's conclusion befitted the priest's patriotism and ministry. His nephew, Ray Kapaun, shared how his uncle led the POWs in that song at the conclusion of an Easter service, while in a North Korean prison camp in 1951.
"After the service was over, this chaplain, one single voice, knew a song he wanted to sing. That one song that would bring his soldiers together, no matter what faith, no matter what belief, no matter what. He knew they could stand behind that song," Kapaun said.
"With one voice, he began singing that song," he continued. "Soon, another voice picked it up, and another soldier picked it up. Soon, all across the camp, up and down that valley, everyone was singing 'America the Beautiful.'"
Father Kapaun's funeral was held in the Diocese of Wichita on Sept. 29. It concluded five days of events in Kansas that surrounded the priest's homecoming.
"What remains of him, his earthly temple, is now back among us and for that we give thanks to the Lord," Wichita Bishop Carl Kemme said in his funeral homily.
Kapaun said the service members were an essential part of his uncle's legacy.
"These guys came out of this death camp and came out and told the story of Father Emil, told it to anybody who would listen, told it to anybody who wouldn't listen," he said. "I truly believe that we would not be having this amazing event if it wasn't for these guys continually putting this story out there."
While the vigil service on Sept. 28 and the funeral Mass the next day were open to the public, other events during the weekend were private. Father Kapaun's remains spent two days in St. John Nepomucene Church in Pilsen, where community members had the opportunity to celebrate and remember the town's native son.
Also throughout the weekend were opportunities for fellow POWs, including Sgt. Miller and Col. Mike Dowe, to spend time privately with their friend.
"The guys would sit and talk about Father [Emil], the love that they had for him, the devotion that they had for him," Kapaun said. "It's been amazing because I get to have a part of my uncle with these guys who are still alive."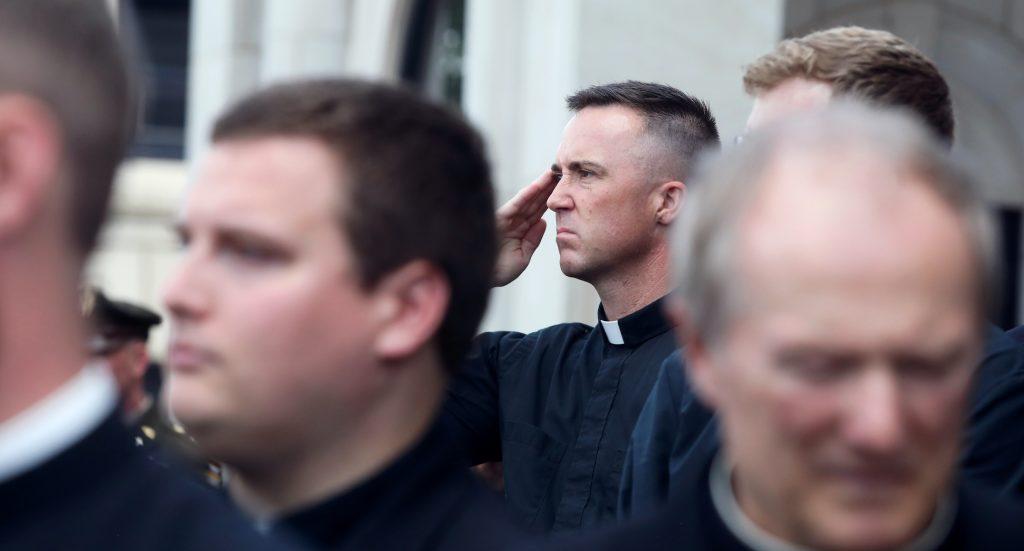 During the funeral Mass, Father Matthew Pawlikowski read a statement composed by Dowe in which he shared how the Catholic chaplain ministered to his fellow soldiers.
"With the food Father would pilfer, he would sneak down the valley in the evening," Dowe wrote. "He would give the GIs a puff on his pipe; talk to them about the importance of maintaining their faith in God, their country and each other; and then, he would move on to the next hut."
While Dowe said there were more than 2,000 soldiers in the POW camps, fewer than 1,000 survived the winter. As Father Kapaun was recovering from pneumonia, his captors removed him from the hut.
"We all knew they were going to kill him," Dowe wrote. "When those around him started to react, Father personally calmed us. I was in tears when he said to me, 'Mike, don't be sad. I'm going where I always wanted to go, and when I get there, I'll be praying for you all.'"
After their chaplain encouraged them to continue the prayer services, he was moved to what the prisoners called the "death house."
"Patients who were incontinent or otherwise difficult to treat were put there to die, without food or water, with vermin, maggots and feces," Dowe wrote. "Once dead, their bodies were thrown into a canyon behind the death house that became a mass grave."
Father Kapaun died in the structure on May 23, 1951, and his fellow POWs assumed he was tossed into the abyss with the other bodies. Yet, Dowe said, the military's Graves Registration team was allowed to access and recover remains there later, and discovered something.
"Amazingly, there was one person buried separately, near the death house, instead of being thrown into the mass grave," Dowe wrote. "The person who is buried in that separate grave has only recently been positively identified as Father Kapaun."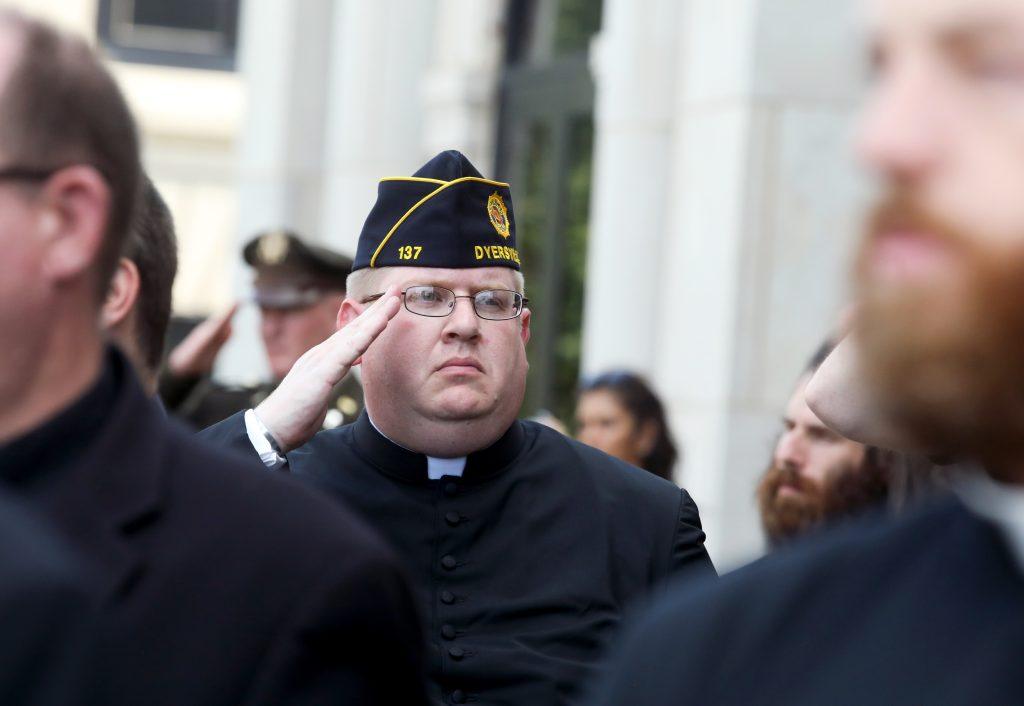 Dowe stayed in the military after his release, and Father Kapaun's example continued to guide him. Dowe pointed out that the survival rate among POWs in the camp where Father Kapaun served was higher than in the other two nearby.
"The example of Father's work and life in the camp became the basis of today's Code of Conduct for our armed forces," Dowe wrote.
"Whether people knew his name or not, Father has been shaping the character of service members in all the branches of our armed forces for the past 70 years," he added.
Thousands gathered in Hartman Arena, near Wichita, for the funeral vigil service and Mass. Among those gathered were several hundred clergy, including Father Jeremy Heppler, OSB, pastor of St. Benedict Church in Atchison. He graduated from Kapaun Mt. Carmel High School in 1996.
"For years, I've known the story of Father Kapaun and have been intrigued by his holiness," Father Jeremy said. "It affected the entire Catholic community in Wichita, including my own formation and desire for holiness. I couldn't help but look at him and think, 'I want that holiness he lived out in very practical ways.'"
In 1993, the Vatican named Father Kapaun a Servant of God, which is the first step in a cause for sainthood. During the canonization process, miracles are required as proof the candidate is with God.
Chase Kear, of Colwich, was a sophomore at Hutchinson Community College and involved in track and field, when on Oct. 2, 2008, he suffered a severe head injury in a pole-vaulting accident. Rapid swelling from the fracture forced the doctors to induce a coma; soon, a quarter of the right frontal lobe of Kear's brain had to be removed.
His family was told to prepare for the worst.
When the accident happened, Kear's family and friends turned in prayer to Father Kapaun, asking for the priest to intercede.
Fifty-one days after the accident, Kear went home.
"The bigger part of the miracle being investigated is not necessarily the fact that I lived, but the speed of the recovery," Kear said.
Kear was present at Dwight D. Eisenhower Airport when the plane bearing Father Kapaun landed.
"The hearse drove past me and I thought that was as close as I would ever get to him," Kear said.
He attended the public events but was surprised when he was invited to privately visit the remains.
"I bowed over his casket in humility and thanks and said some prayers and cried some tears," Kear said. "It was one of the best moments of my life, being able to give thanks to the man who saved me and to welcome him home."
Following the funeral Mass, Father Kapaun's casket was taken to Veterans Memorial Park near downtown Wichita. There, it was loaded onto a horse-drawn funeral caisson. The flag-draped casket processed east, past more than 1,800 students from 25 of the diocese's Catholic schools.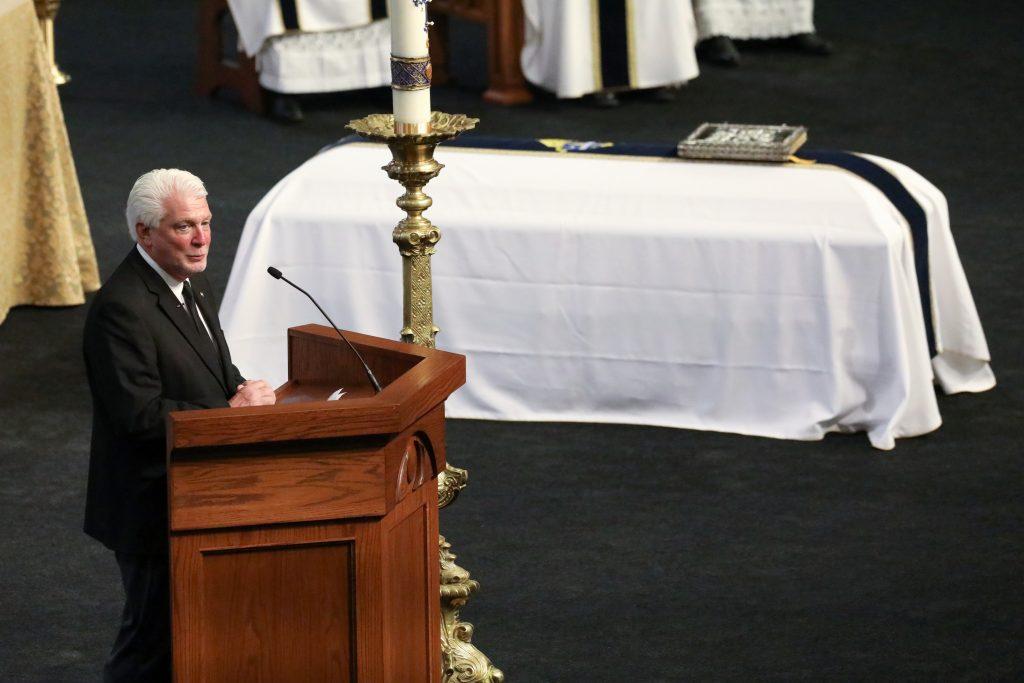 With military precision, the casket was carried into the Cathedral of the Immaculate Conception, where family and clergy said their final goodbye.
"At the end, two by two, the priests and family went up, put their hand on the casket and spent 10 to 15 seconds praying," Father Jeremy said. "It was powerful. I said a quick prayer of thanksgiving for God allowing Father Kapaun to be such a great witness, and also prayers for me to continue to be a good and holy priest, for other priests, for the Wichita community and for my parish."
The tomb of Father Kapaun resides inside the cathedral and all are invited to visit (see below for more information).
"We now have a place to be in the company of his mortal remains and to pray for his intercession, especially when for us life is dark and lonely and when we are hopeless and afraid," Bishop Kemme said. "Let us all continue to pray for his cause so that one day soon we will be able to call him the saint we are confident he truly is."
Learn more about Father Kapaun
Father Kapaun's Childhood Museum is located at St. John Nepomucene Church, Pilsen.
Hours: Tuesday, Friday, 1-4 p.m.*
Contact Rose Davidson in advance at Holy Family Parish office by email at: hfpmarion@yahoo.com.
* Other times are available, but advance reservation is required.
St. John Nepomucene Church, Pilsen, is open daily from 6 a.m. to 10 p.m. Mass is celebrated at 8 a.m. on Thursday and 10:30 a.m. on Sunday.
Visit the tomb
Father Kapaun's Tomb is located at the Cathedral of the Immaculate Conception, 430 N. Broadway St., Wichita.
The tomb will be available for visitors beginning Nov. 1. For groups with more than 10, advance reservations are required.
Group visiting hours:
Monday: 1-8 p.m.
Tuesday: 1-8 p.m.
Wednesday: CLOSED
Thursday: 1-6 p.m.
Friday: 1-4:30 p.m.
Saturday: 8-10:30 a.m.
Sunday: 2-8 p.m.
Private visiting hours (families or groups of less than 10):
Monday: 9-11:30 a.m.; 1-8 p.m.
Tuesday: 9-11:30 a.m.; 1-8 p.m.
Wednesday: CLOSED
Thursday: 9-11:30 a.m.; 1-6 p.m.
Friday: 9-11:30 a.m.; 1-4:30 p.m.
Saturday: 8-10:30 a.m.; 4-5 p.m.
Sunday: 2-8 p.m.
Visit online at: frkapaun.org/visit-us/.
Timeline of Father Kapaun's life
April 20, 1916 — Emil Joseph Kapaun is born on Holy Thursday to Bessie (Hajek) and Enos Kapaun in the couple's remote farmhouse.
May 9, 1916 — Emil is baptized at St. John Nepomucene Church in Pilsen.
1930 — Emil enters Conception Seminary in Conception, Missouri.
1936 — Begins theological studies at Kenrick Seminary in St. Louis.
June 9, 1940 — Emil is ordained a priest for the Diocese of Wichita.
November 1943 — Father Kapaun is appointed pastor of St. John Nepomucene in Pilsen.
July 12, 1944 — Father Kapaun enters the U.S. Army Chaplain Corps.
March 1945 — Father Kapaun is deployed to Burma (Myanmar) and India.
Jan. 3, 1946 — He is promoted to the rank of captain by the U.S. Army.
May 1946 — He returns from deployment.
1946-48 — Father Kapaun attends The Catholic University of America in Washington, D.C., and earns a master's in education.
1948 — He is granted permission to return to chaplaincy, rejoins the Army, and is assigned to the Anti-Aircraft Artillery Corps.
Dec. 12-16, 1949 — Father Kapaun makes his final visit to Pilsen.
July 11, 1950 — The 8th Cavalry Regiment, 1st Cavalry Division, where Father Kapaun served as chaplain, is deployed to South Korea.
Aug. 2, 1950 — Father Kapaun rescues a wounded soldier amid a barrage of machine-gun fire near Kumchon, South Korea, and receives the Bronze Star Medal for bravery in action.
Nov. 2, 1950 — Father Kapaun and soldiers he was with are captured by the Communists.
March 1951 — Father Kapaun leads an Easter service for his fellow prisoners, despite having been forbidden to do so.
April 1951 — In addition to a blood clot forming in his leg, Father Kapaun contracts pneumonia.
May 1951 — Chinese guards realize Father Kapaun is beginning to recover and move him to the camp "hospital," where prisoners were taken to die. As he departed, Father Kapaun asked forgiveness of the guards and gave them a blessing.
May 23, 1951 — Father Kapaun dies in the "death house" from malnutrition and starvation. He was 35 years old.
August 1951 — Chaplain Kapaun is awarded the Distinguished Service Cross.
1993 — The Archdiocese for the Military Services opens the cause for Father Kapaun's canonization, and he is given the title Servant of God.
2008 — His cause for canonization is transferred to the Diocese of Wichita.
November 2015 — Bishop Carl Kemme presents a summary of the documentation of Father Kapaun's life to the Congregation for Saints' Causes in Rome.
April 11, 2013 — The Medal of Honor is posthumously awarded to Chaplain Kapaun by President Barack Obama for his actions during the Battle of Unsan. It is the highest award given to members of the military. Only five chaplains have received the honor since the Civil War; all were Catholic priests.
July 2021 — The government of South Korea inducts Father Kapaun into the Order of Military Merit and bestows upon him its highest military award, the Taegeuk Service Medal.
March 4, 2021 — It is announced that the remains of Father Kapaun have been identified.
Karen Mikols Bonar is a freelance writer and photographer based in Salina. She is a graduate of Kapaun Mt. Carmel High School in Wichita.