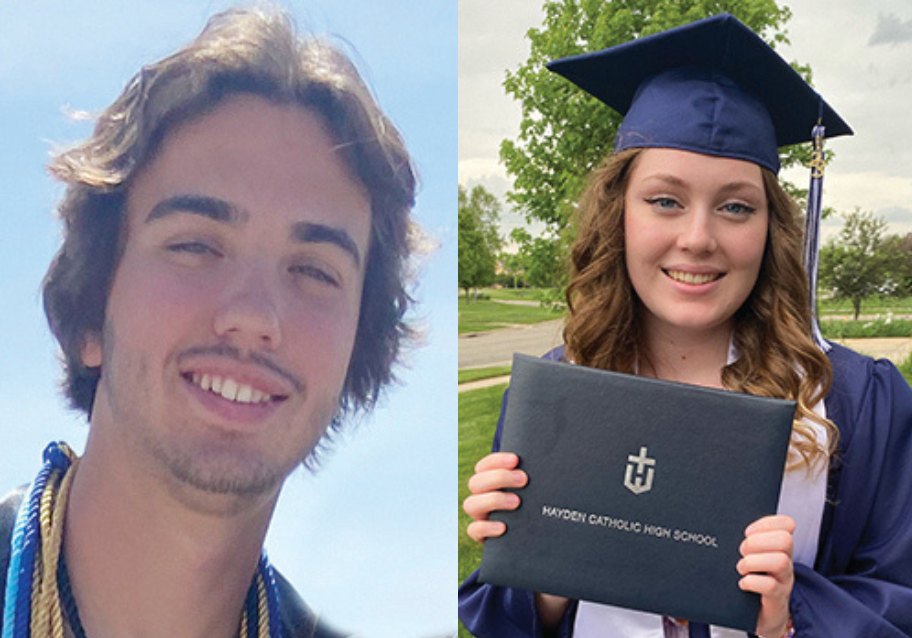 by Marc and Julie Anderson
mjanderson@theleaven.org
TOPEKA — It was an email that Claire Brown, a member of Sacred Heart-St. Joseph Parish here, said she was almost afraid to open.
The email came from Shelly Buhler, president of Hayden High School.
At home just two days before graduation, Brown said she didn't expect much more communication from the school, so she didn't open it immediately.
Once she did, though, she read that she was one of the first seven recipients of a scholarship from the recently established Walter J. and Geraldine N. Michaelis Scholarship Fund.
The fund was the dying wish of Walter Michaelis and Gerri, his wife of 65 years. With no children of their own, the couple had lived a quiet life in Topeka. Walter had owned a Western Auto store, worked at Clemmons Engineering and for the city of Topeka, and served as an administrative assistant for Capper Publications.
Meanwhile, Gerri had worked for more than 40 years as a railway clerk for the Santa Fe Railway Company (now known as BNSF Railway). Although Walter had been able to earn a business degree from the University of Kansas on the GI Bill, Gerri never went to college, a fact the couple never forgot.
More than 15 years ago, the couple started talking with Hayden's administration about setting up an endowment "to help the most needy Topeka area high school graduates obtain a higher education." The end goal would be to equip them "to responsibly raise families, provide for them, support their church, support Catholic education and Catholic schools, and realize home ownership."
There was just one catch. The fund could not be announced until after their deaths and the finalization of their estate.
The two died just two weeks apart, Walter in late December 2020; Gerri in early January 2021. They had hoped to leave behind a gift of $1 million.
By the time the scholarship fund was formally announced this past February, the endowment had grown to nearly $9 million.
To be considered, students must, among other criteria, be graduating from one of the city's high schools; be a registered and active member of their parish; and demonstrate both academic ability and financial need.
For Brown, it's that last part — financial need — that means the most.
While six other graduates from five different parishes received scholarships with a four-year total expected award amount of $175,400, the amount she received, she said, is absolutely "life-changing" and reduces her anticipated cost to less than half.
"I was not prepared for how much college is going to cost," she said.
She'd experienced sticker shock, in fact, when she saw the high cost of tuition, books, fees, and room and board, not to mention transportation to and from the University of Kansas where she plans to major in journalism.
To this day, she said her parents have sacrificed a lot to keep her enrolled in a Catholic school. Her dad even took on a second job. Still, with limited funds, the dream of college seemed almost unattainable. So, she'll forever be grateful to Walter and Gerri.
"I'd want to tell them that they are amazing for donating that much money so that other kids have the opportunity to go to school and get a higher education. It's amazing that they did that for the Topeka students and that they gave others a chance to go and learn more and get a degree. Because nowadays you have to have a degree to have a really good paying job. It's just incredible."
Andrew Storrer, a member of Mater Dei Parish and a recent graduate of Topeka High School, agreed, and said the amount he received should cover 60% of his expenses.
Storrer, who plans to major in nursing at Washburn University, said his parents told him years ago they couldn't help him with college expenses. So, he's extremely grateful to the Michaelis family.
"First off, I'd like to thank them and recognize their generosity," he said. "Putting all that money in a scholarship fund was really generous and thoughtful of them. It's helping a lot of kids like myself. I'd also like to tell them that it inspires me that when I'm older to give back to the community."