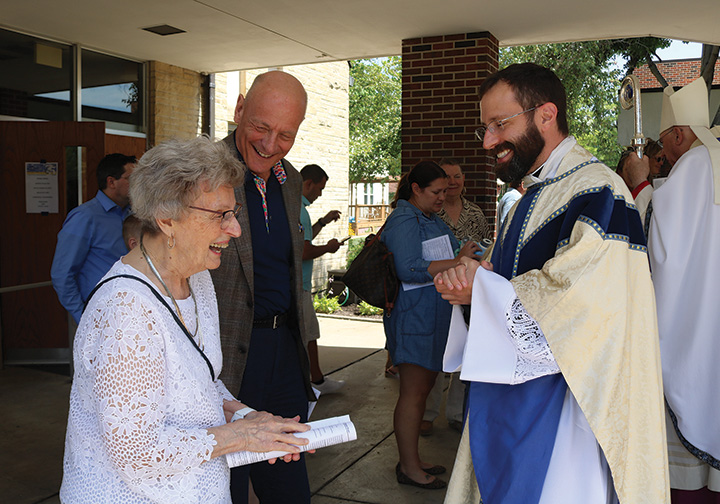 by Marc and Julie Anderson
mjanderson@theleaven.org
TOPEKA — She walked in right on cue.
That's how Father Nathan Haverland, pastor of Most Pure Heart of Mary Parish in Topeka, described Lillian Faught's entrance.
At 97, Faught is the parish's oldest founding member. She was recognized at a Mass celebrated by Archbishop Joseph F. Naumann on Aug. 15, the solemnity of the Assumption of the Blessed Virgin Mary, to mark the parish's 75th anniversary.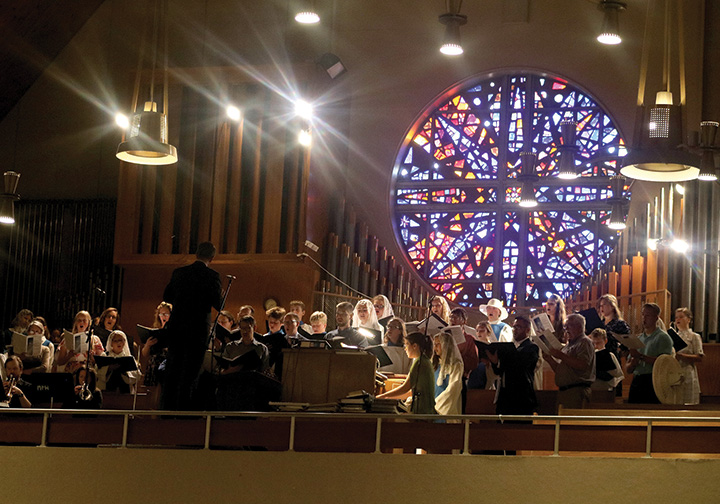 After Communion, Father Haverland expressed his gratitude to the archbishop for his attendance and to parishioners for their longtime support.
"It's taken 75 years, and that's a long time. Seventy-five years is twice my age, and I'm getting old," Father Haverland joked. "So, our parish has been around for quite a while."
Father Haverland referenced the many happy memories the parish has created in the community over the decades.
Then, he turned his attention to Faught.
"We are blessed to have the last founding member here among us, walking in on cue at the moment," he said.
Faught, who had left her reserved pew for just a minute or two, walked rather quickly back into the church and took her seat at that exact moment, resulting in an unplanned grand entrance.
"She's been with us from the very beginning," Father Haverland continued after applause rang out, "and there have been many others who have been with us for 70 years, 60 years, 50 years.
"So, we have such a great legacy here in our community and [are] happy that Lillian is here to be a part of [our celebration] with us."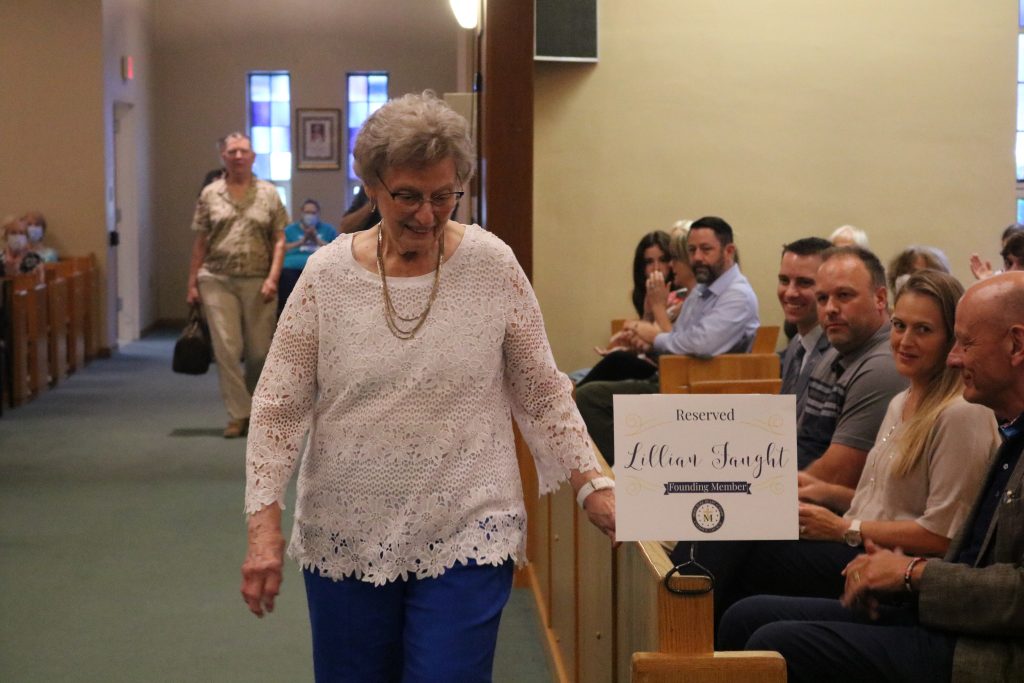 The weekend's activities also included a rosary procession, luncheon and outdoor games and activities.
Concelebrating the Mass with Father Haverland were Father Joseph Sellas, associate pastor of Most Pure Heart, and Father Phil Winkelbauer, retired priest in residence.
Additionally, Father Anthony Saiki, rector of the Cathedral of St. Peter in Kansas City, Kansas, served as master of ceremonies — a homecoming of sorts, because his first assignment after his May 2014 ordination was at the parish.
Deacon Dan Ondracek assisted at the Mass.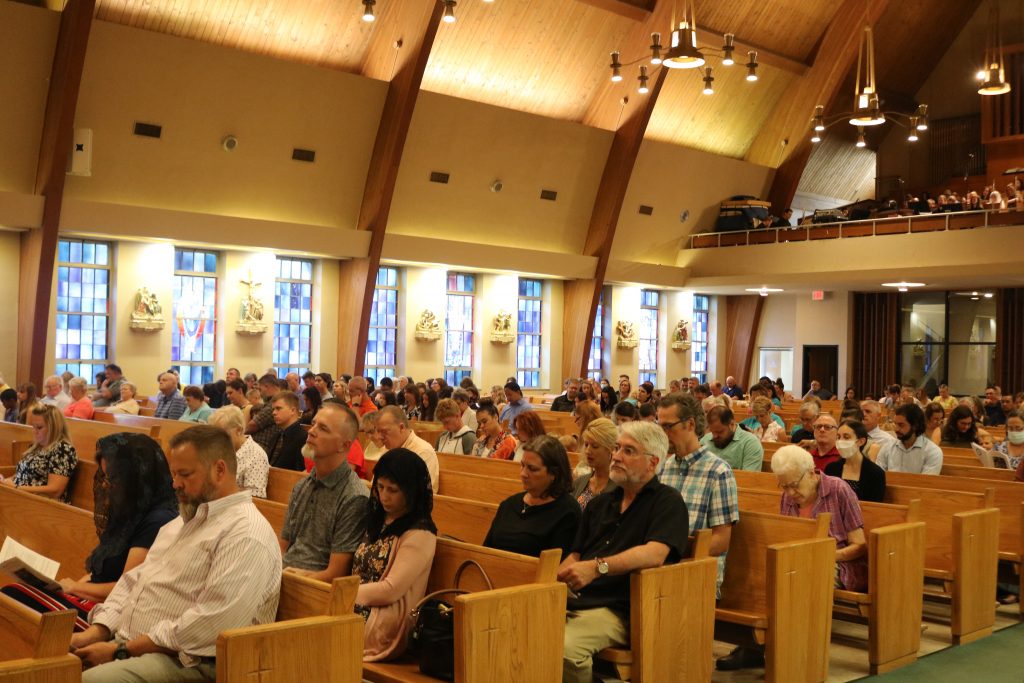 After Mass, Faught's eldest son, Bob, said he'd not seen his mother move that quickly in a long time and added that he found it somewhat hilarious how the situation played out.
During the luncheon, Faught reminisced about the parish's beginnings.
"When we first came here, we went to Holy Name. I didn't know where to go to church," she said, adding that she was unaware of Most Pure Heart of Mary, which had been established in 1946 with 136 families.
"I think they announced over at Holy Name that Most Pure Heart was going to build a church," she added.
The new church was being built closer to the family's home, so they switched parishes and are considered among the founding families because they belonged to the parish prior to the church's construction.
One of the couple's regular Sunday afternoon activities was visiting the homes of parishioners located within the parish boundaries, speaking to them about plans for the new church and soliciting donations.
"Because we didn't have all the  computer stuff [back then]," Faught said, "they gave us the names of parishioners, and we had to walk to their homes. Each of us took so many names."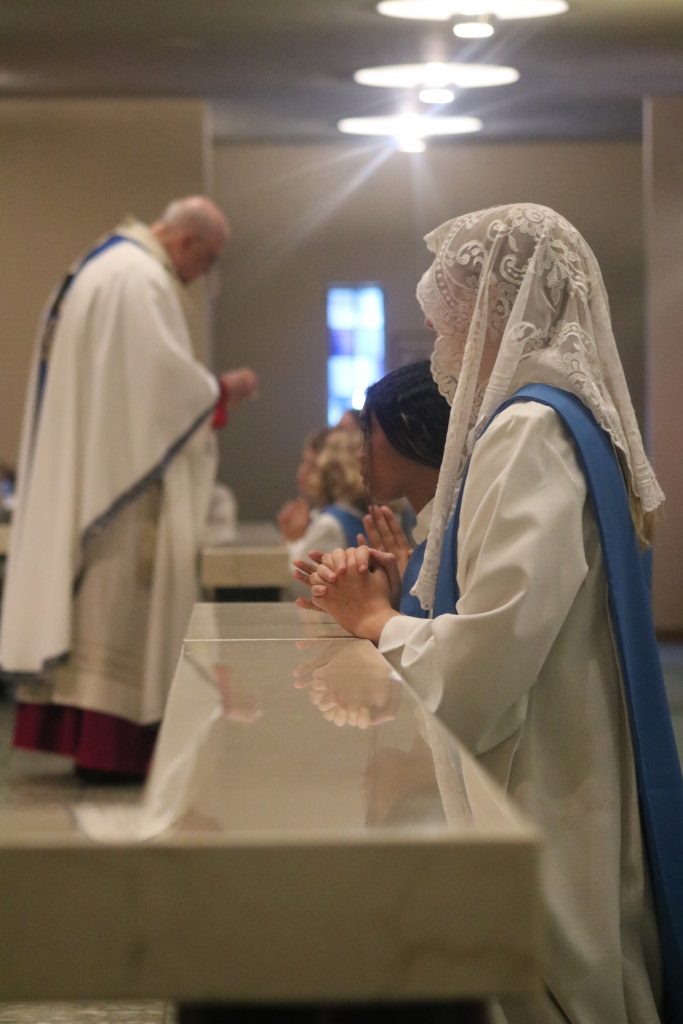 Bob said watching his parents go door-to-door to solicit contributions made quite an impression, as did the first Mass celebrated in the new church in 1961 on Easter Sunday, when he was just 12 years old.
He remembers thinking about "all of the work my parents and all the other volunteers did to collect money to get the church started."
"To me, as a young kid, that was amazing," he said. It really set an example for the children.
"My mother, my father and all the other volunteers didn't realize they were evangelists in their own way," he continued. "They were doing it to get this church built, but it was more than building a church.
"It was forming a parish family, too."