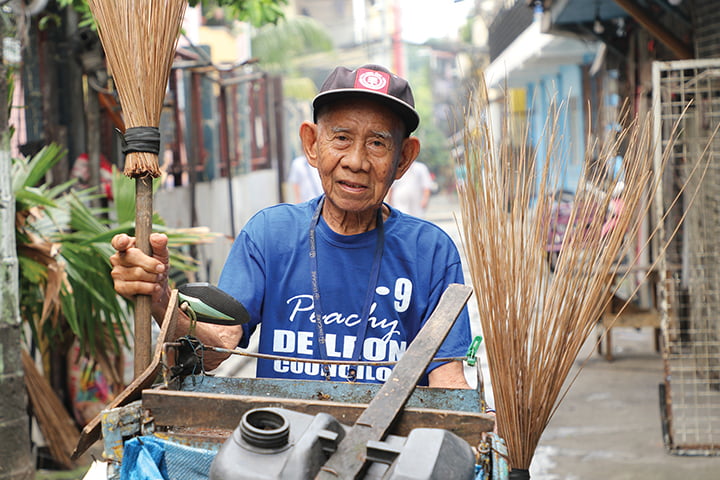 by Jill Ragar Esfeld
jill.esfeld@theleaven.org
KANSAS CITY, Kan. — Almost 40 years ago, when the Catholic founders of Unbound here embarked on a plan to unite the world through a sponsorship program, they had no idea they were laying the groundwork to cope with a global pandemic.
But they were.
Now that the devastation of COVID-19 is gripping the world, Unbound is making a difference to the most vulnerable in its path.
"Of course, our mission is to walk with the poor and marginalized," said Melissa Velazquez, international program director. "The elderly are one of our most significantly marginalized populations in the world."
Unbound, unlike other sponsorship programs, includes the elderly in its mission.
"And we're seeing the virus has a greater impact on them," said Velazquez.
In each area where Unbound operates, participants are organized into community groups consisting of parents and guardians of sponsored children or sponsored elderly.
These groups meet often and are extremely supportive of one another.
Shelter-in-place orders have ended the meetings, but not the support.
"They've already established that network," said Velazquez. "They're able to check in on one another and make sure everyone is doing OK."
Unique to Unbound, staff members supervising these communities and running local programs are from the area. Some were even sponsored themselves by Unbound as children.
"In a situation like this," said Andrew Kling, director of community outreach and media relations, "a lot of nonprofits and government agencies had to bring [staff] back to the United States.
"Our folks are on the ground in the midst of it. When they have to shelter in place, they're in the communities.
"It's a massive advantage."
Staff members may not be able to physically do home visits, but they stay connected through community group leaders.
"Sometimes our elders don't have a cellphone," said Velazquez. "But that mother leader from the community group who lives two doors down does, and she's able to check in."
Leaders are connecting with program coordinators, who in turn report to Unbound that people are well and benefits are being received.
In Ecuador, one of the hardest hit regions for the pandemic, the overwhelmed system is unable to keep up with people needing help, especially the elderly who are often isolated.
But those sponsored through Unbound are not falling through the cracks.
"We just got a report from our coordinator there," said Velazquez. "And she was able to talk about who had been checked on and how everyone was doing.
"Each of these elders is known by name. They're counted, they're cared for. It's huge."
In many areas, parent groups are doing grocery runs on behalf of the elders in their communities.
"In Peru and Columbia," said Kling, "if the families are running into difficulties or low on supplies, they will hang a flag outside their home to let neighbors know they need help."
As Unbound communities around the world are caring for each other, the sponsors and their sponsored friends are reaching across the miles to offer support.
Every week, thousands of letters are exchanged between sponsors and the elders and children they help.
"It's really been beautiful," said Kling. "Sponsors are stepping up and asking after their sponsored friends. And sponsored families have been calling us and asking, 'How is my sponsor doing?'"
Even though they feel the stress of living through a pandemic, the Unbound connection is helping people cope.
"Having someone across the world thinking of you, praying for you, caring for you is a very powerful motivator," said Velazquez. "It can lift us out of anxiety and fear."
Velazquez is proud to be part of an organization that's making such a difference in these difficult times.
"It's an opportunity for me to care about what God cares about," she said. "And I believe he passionately cares about the poor and the marginalized and working toward justice in our world."