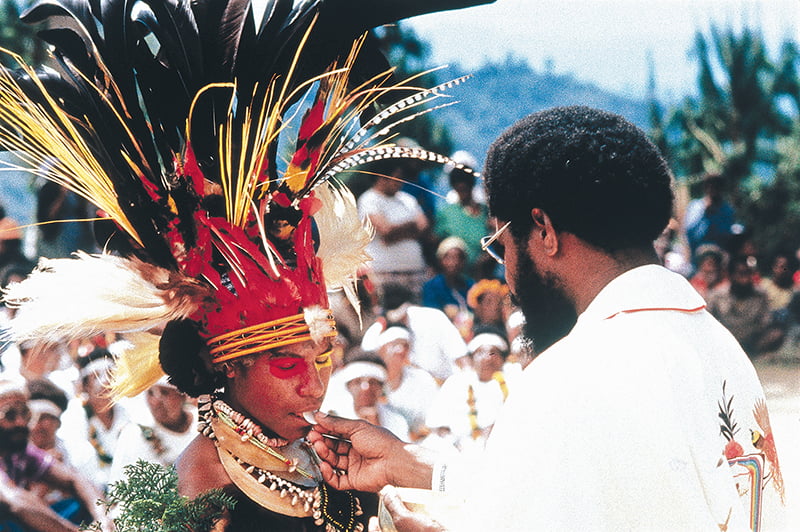 by Olivia Martin
olivia.martin@theleaven.org
KANSAS CITY, Kan. — Want a fast and easy way to have a Mass said for a friend?
Get a mission priest to say it — and support his mission work while you're at it.
After decades of sharing the offerings of the Catholic faithful in the United States with mission priests around the world to celebrate Masses for their intentions, the Pontifical Mission Societies are now providing a more direct, simple and easy-to-use method to have Mass offered for your private intention through Facebook Messenger.
Easy and accessible
In many cases, requesting a Mass intention for oneself, a loved one or someone recently deceased is not always as simple as it sounds.
Arranging for a Mass has to be done during a parish's office hours, and finding a date with no intentions yet scheduled can be difficult.
"Normally, a priest can only say one intention per Mass," said Father Andrew Small, OMI, the national director of the Pontifical Mission Societies.
So, in some parishes in the United States, "the whole year is filled with Mass intention requests very quickly."
Then, the wait begins.
"There's a real scarcity of opportunity," he said.
"People should have a legitimate expectation of having a Mass offered when they need it," he added.
That's where the Pontifical Mission Societies' new Mass intention program can help.
In November 2018, the Societies developed a new system, through their MISSIO USA Facebook Messenger, that enables users to request Mass intentions through Messenger and simultaneously support a foreign mission with their donations.
Desktop users need only to have access to Messenger to join the program; mobile users need both Facebook and Messenger.
The service makes requesting a Mass easier while maintaining a connection with the celebrant. The petitioner knows within 24 hours precisely who will offer the Mass, when and in what part of the world.
Father Small said he hopes this new method of requesting Masses online will enable the church's ancient traditions to reach people — even when they're online.
"In the context of the mission church," said Father Small, "those intentions accompanied by an offering or donation actually help build up the local church."
This means a donation could help fund eye surgeries in Nigeria or support the children of imprisoned mothers in Rwanda.
Lani Gonzales, a parishioner of St. Joseph Parish in Danbury, Connecticut, is a user of the new Mass intention request platform and has been impacted by its accessibility.
"Everyone needs blessings and graces all the time," said Gonzales, "and if I can give [Mass requests] as a gift, even better!"
Gonzales also said that being able to simultaneously support foreign missions has brought peace to her life.
The online request form also allows users to send an e-card to the person they are requesting the Mass for, if he or she is in their Facebook Messenger contact list.
"It's like buying a card, but done in a digital way," said Father Small. "It might not be as tactile . . . but it does allow you to show love and concern in a holistic way that is linked to the sacrifice of the Mass."
Launched in 2013 as a crowdfunding tool for Pope Francis' Pontifical Mission Societies, MISSIO USA also hosts a website (MISSIO.org) that enables users to learn about mission projects worldwide, donate safely, communicate with project leaders and fundraise for projects users choose or create.
Several U.S. parishes with twinned projects in the missions have raised support for those efforts on MISSIO.
As the Mass intention request platform on Facebook Messenger is still new, Father Small said loading times might not always be the fastest.
"But if there's a passion and a desire there,," he said, "I think people will be patient enough to follow through.
"We hope they want Masses celebrated as badly as they want Springsteen tickets!"