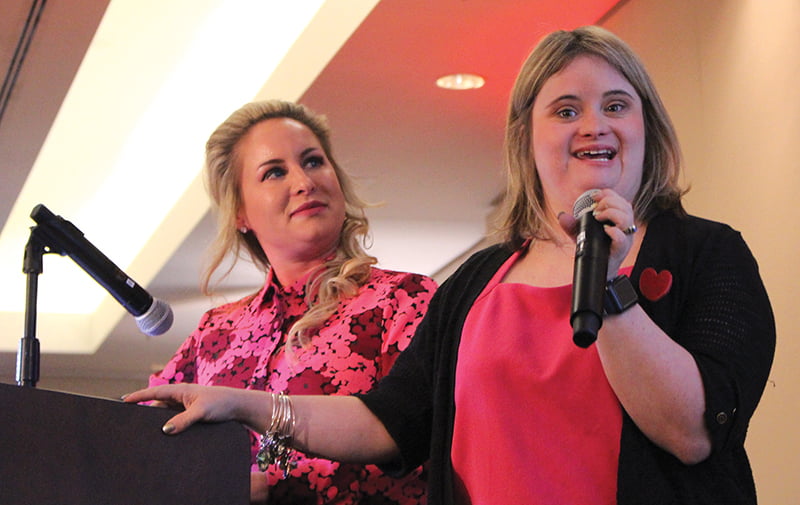 by Marc and Julie Anderson
mjanderson@theleaven.org
OVERLAND PARK — The lily in the swamp.
That's the name Steve Hartman of "CBS Evening News" gave to 31-year-old Kayla McKeon. And it just might be a fitting one.
A Catholic from Syracuse, New York, McKeon is the first person with Down syndrome to serve as a congressional lobbyist. As grassroots advocacy manager for the National Down Syndrome Society (NDSS), she regularly roams the halls of the U.S. Capitol, meeting with congressional representatives, as well as senators.
McKeon was one of two keynote speakers at the annual Valentine's Day banquet held by Kansans for Life on Feb. 12 at the DoubleTree in Overland Park. Joined by Sara Hart Weir, an Olathe native and the president and CEO of NDSS, McKeon educated and entertained an audience of more than 600.
"Tonight," said Weir, "we educate, advocate and celebrate that all life has value that all life has purpose and that all life has meaning."
"I stand with you tonight," she said, "as a CEO, as an advocate and, most importantly, as someone who cares that a baby diagnosed with a disability should never be aborted. And I stand with you in the crusade of the sanctity of life and all human beings."
McKeon, introducing herself, was met with applause when she explained, "I am the first registered lobbyist with Down syndrome."
Weir described her advocacy position as her dream job, and credited McKeon and people like her for her enthusiasm.
"Kayla is brave," she said. "She's daring. She's courageous, and she works harder than every single one of us in this room."
Weir also said McKeon has earned her spot in the arena.
"She's in the arena fighting for her peers with Down syndrome and fighting for future generations of people with Down syndrome so that they have the same rights as every other American," said Weir. "She's fighting to ensure people with Down syndrome have a fair shot at the American dream. She's making people with Down syndrome count."
Describing her educational experience, McKeon said the keys to her success were being in an inclusive academic setting and her parents pushing her to reach her full potential.
"I've read since I was four years old," McKeon said. She still averages a book a week.
As McKeon grew, she excelled in reading, math and science. In fact, she earned a 93 percent on her math regents' exam. She also became involved with Special Olympics as an athlete and ambassador.
"Most of my success was [due to] being included with my classmates," she said. "I was not in a segregated setting or in a basement of the school.
"I also attend Onondaga Community College. I started taking some noncredit courses. But I thought to myself, 'It doesn't make sense I'm doing all this work and taking noncredits.'"
Currently, she is enrolled in an online course and has completed half of the work toward an associate's degree.
McKeon's advocacy started with speeches she'd give at elementary schools.
The rest is history.
"My message to kids is to persevere," McKeon said. "I tell them about my friends that are thriving and that own businesses today."
Her message regarding parents is even more poignant.
"We are exceeding expectations every single day," she said. "Please don't let the parents limit their children."
McKeon also believes it's important to be part of an organization when advocating for public policy changes.
"All our voices are stronger together than one voice alone," she said.
It's important, too, said Weir, to understand the debate.
In 2017, for example, when CBS News reported Iceland has "eradicated Down syndrome," a debate ensued because the reality is countries are not actually eradicating it, said Weir. Instead, women who receive a positive prenatal screening test for Down syndrome terminate their pregnancies with rates as high as nearly 100 percent in Iceland, 98 percent in Denmark, 77 percent in France and 67 percent in the United States.
Calling NDSS an organization that "knows that people with Down syndrome make this world a better place," Weir promised she, McKeon and others "will continue to stand up and condemn the societal threat to Down syndrome, to our families, caregivers and, most importantly, people with Down syndrome, and we stand before you to thank you for being part of our army."
People with disabilities, concluded Weir, deserve the same opportunities as everyone else.
"When I walk out of the doors at NDSS," she said, "I know my proudest accomplishment will be ensuring individuals with Down syndrome were not only part of our incredible team, but they were at every table where key decisions about their future are made — Capitol Hill, the White House, the United Nations and in state Capitols across the country."
"They were listened to," Weir added. "Kayla's voice mattered."