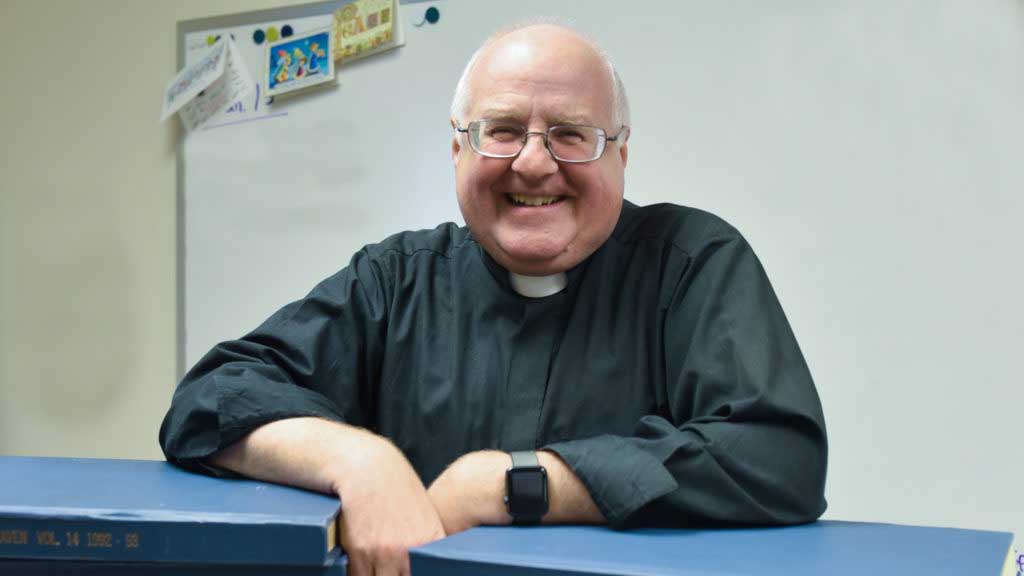 by Father Mark Goldasich
I'm embarrassed because I'll never learn.
After Mass this past Saturday evening, I was visiting with one of our youth ministers in the parish office. As we were preparing to leave, I noticed a man standing outside the locked church door. The guy looked rough — tired, and with wrinkled clothes.
"I'll handle this," I said to the youth minister, knowing that the man was going to ask for food or gas money.
Opening the door, I said, "Hi, can I help you?"
As soon as the man introduced himself, I mentally slapped myself. Although I'd never met him in person, I knew exactly who he was. We'd hired him to do some work for the parish off-site.
That project was labor-intensive and hours-long, so it was no wonder he looked so beat. He'd come by to pick up a check for his work, but it was at my house. After visiting for several minutes, he followed me home.
Knowing how hard he'd worked, I wrote out the check, adding a generous tip in cash. He started to refuse the tip, but I insisted.
At that point, he suddenly grabbed my hands and began to pray . . . right there in my driveway! He thanked God for the work, for his helpers and for the strength to do it. He went on to pray for God's blessing on me, my ministry and the parish.
All I could do was say a hearty "Amen!" as he concluded.
After he drove off, I berated myself for my rash judgment of this faith-filled and hardworking man. I was so sure that I knew exactly what he wanted at the church door, even though I had no information to base that on. I judged him on appearance alone . . . and how wrong I was.
Pope Francis is so wise in encouraging us to simply interact with one another, to open our minds and hearts to listen to each other.
I love the story about a first grader who went to a newly integrated school at the height of the integration era. At the end of the first day, her anxious mother met her at the door and asked, "How did everything go, honey?"
"Oh, Mother!" said the little girl. "You know what? A little Black girl sat next to me!"
With trepidation, the mother asked calmly, "And what happened?"
The little girl said, "Well, we were both so scared that we held hands all day!" (Story found in "Illustrations Unlimited," edited by James S. Hewett.)
Out of the mouths of babes, right?
I suspect the church and the world would be far better if we stopped judging one another and just held hands for a while. Imagine political opponents discussing contentious issues while holding hands. Or suppose different races or nationalities faced off with one another, but while holding hands? I bet a lot of the fears we carry about "the other" would vanish in an instant.
How fitting are these words of the prophet Isaiah: "For I am the Lord, your God, who grasp your right hand; It is I who say to you, 'Do not fear, I will help you'" (41:13).
Yes, this says it all . . . hands down.