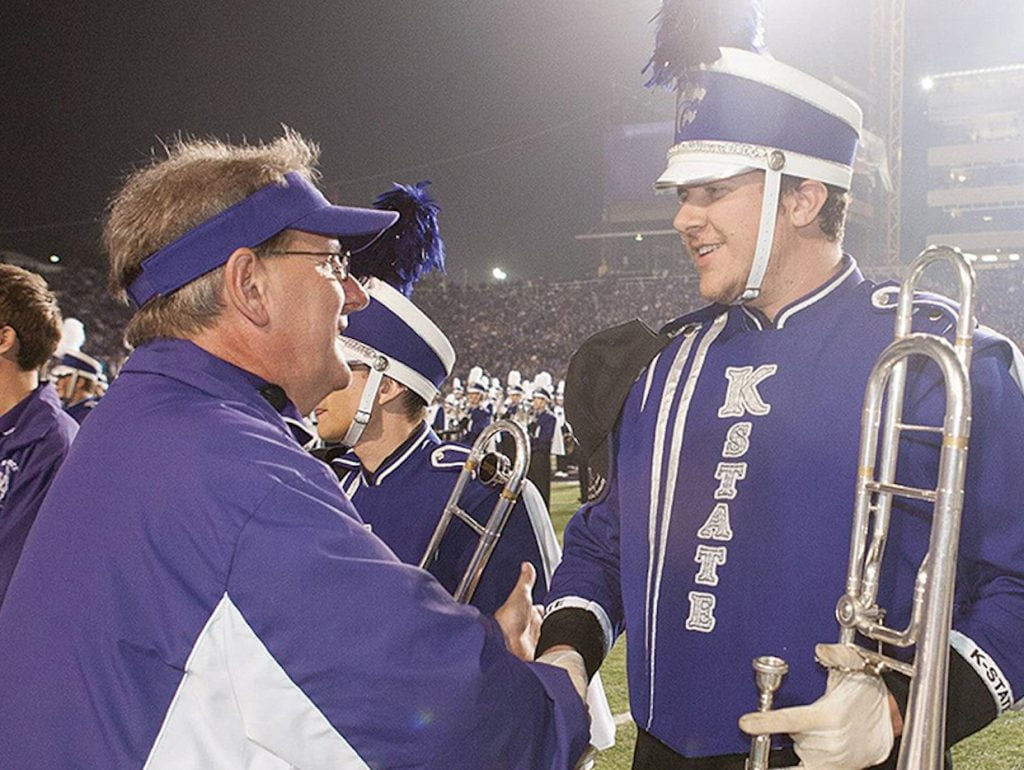 by Joe Bollig
joe.bollig@theleaven.org
KANSAS CITY, Kan. — When he was at a major crossroads in his life, Deacon Daniel Edward Weger asked God to show him what he should do.
God did, and the answer was a surprise: Go to the seminary.
"It wasn't something I had thought of before or wanted to do, so I ignored it," said Deacon Weger. "I continued praying and asked God to be more OK with what I wanted than with me doing what he wanted.
"But it never really changed. It was constant. All sorts of signs and people talking to me, prayer and Scripture, all leading to: 'No, you need to go to [the] seminary.'
"So, I signed up for [the] seminary, not knowing how that worked or what to do."
After years of discernment and study, he will be ordained a priest for the Archdiocese of Kansas City in Kansas this month.
Deacon Weger, 28, is one of three children of Matthew and Joann Weger, members of Holy Trinity Parish in Lenexa. His father is a master planner for Hallmark in Kansas City, Missouri. His mother is a physical therapist for Saint Luke's Hospital in Kansas City, Missouri.
Although he didn't see it at the time, it was his parents who planted the seeds of his priestly vocation.
"[My parents weren't] 'uber Catholics' by any means, but they were always very loyal and consistent in the faith," he said. "They were very consistent in bringing us to church and making sure we went to classes. We prayed before meals.
"By no means was faith foreign to my life. I distinctly remember in high school waking up early to go to band practice beforehand, and my dad would be sitting in the front room reading Scripture by himself. There were little, subtle reinforcements that [the faith] was important for us."
Since he attended public grade school, he received his formal religious education on Wednesday nights at the parish. He went to Camp Tekakwitha during the summer and participated in the Holy Trinity youth group.
"Once I got to the high school youth group, the youth ministers were extremely helpful," said Deacon Weger. "They led me into a deeper relationship with Christ so I could be in a position where I'd be willing to accept what God wanted for me, rather than just what I wanted. They were hugely important for me [going to] college and retaining my faith while a lot of my classmates fell away."
After graduating from St. Thomas Aquinas High School in 2008, he went to Kansas State University in Manhattan to study electrical engineering.
While there, he became involved with the St. Isidore's Catholic Student Center. He met Father Jarett Konrade, who was not only the center's chaplain and director, but also the vocations director for the Diocese of Salina.
"He never pushed vocations to the priesthood on anyone, although he mentioned it," said Deacon Weger. "The way he celebrated Mass was extremely reverent. It was obvious by the way he celebrated Mass that there was something special going on here . . . and that inspired me to deeply consider what exactly was happening with the Mass."
This reverence also led him to connect the Mass on Sundays to his life Mondays through Saturdays.
While at K-State, he was dating a young woman who he thought he might marry. She suggested they pray the rosary together every day for a month for clarity about their vocations in life.
"By the end of that month, I knew I wasn't supposed to marry her," said Deacon Weger. "So, I spent some time asking God, 'If not her, then who?' I had an amazing woman who I'd be blessed to marry, so I didn't want to [end] that without strong assurances I wasn't doing something stupid."
He asked God for an irrefutable sign. God gave him two. He realized, while buying a crucifix for a priest, that he was more willing to do something for the church than for a girlfriend. While he was paying for it, he noticed some Miraculous Medals commemorating the Year for Priests: June 19, 2009 – June 19, 2010.
"It started and ended on June 19, my birthday," he said. "I felt a very personal connection. . . . So, all right, fine. That's a pretty straight-up sign. I'll take it."
After graduating from KSU with a bachelor's in electrical engineering in 2013, he entered St. Mary of the Lake, Mundelein Seminary. He was ordained a deacon by Archbishop Joseph F. Naumann on May 19, 2018, at Holy Trinity Parish in Lenexa. He will be ordained a priest by Archbishop Naumann on May 25 at the Church of the Ascension in Overland Park.
Deacon Weger's advice to men who think they might have a vocation to the priesthood is to "be open.""Be open to God speaking to you," he said. "If you think he might be, talk with your spiritual director or priest."
Name: Deacon Daniel Edward Weger
Age: 28
Born: Kansas City, Missouri
Raised: Lenexa
Parents: Matthew and Joann Weger
Siblings: Hillary and Alyssa
Home parish: Holy Trinity, Lenexa
Education:
• St. Thomas Aquinas High School, Overland Park, 2008
• Kansas State University, Manhattan, bachelor's in electrical engineering, 2013
• The University of Mary of the Lake, Mundelein Seminary, master's in philosophy and religion in 2015; Master of Divinity and a Sacred Theology Bachelor degree, 2019
Favorite TV, Netflix, YouTube or other show: House, M.D.
Tech I can't live without: My phone
Favorite musical style/band/performer: Electronic swing
My most notable encounter with the famous/infamous: Katy Perry pointed me out in a crowd during one of her early concerts.
Most inspirational Christian(s) I've ever met: Bishop Robert Barron
Favorite saint: St. Sebastian, because he healed quickly and didn't let the opposition of others keep him from proclaiming the Gospel.
Favorite devotion: The rosary, because Mary has been a huge part of my faith and vocation.
Book to recommend: "Voyage to Alpha Centauri," by Michael O'Brien
Favorite food: Tacos
Least favorite food: Seafood
Favorite childhood toy: Beanie Babies
Favorite place: Anywhere with friends
Dream vacation: Backpacking through Europe
Worst job I've ever had: Refereeing U16 soccer. They kept trying to hurt each other and the parents kept yelling.
Best job I've ever had: Working Prayer and Action for the archdiocese
Hobbies/things I like to do: Board games, movies, writing stories and chopping wood
Guilty pleasure: Cringy YouTube videos
My hidden talent/party trick: Can solve a Rubik's Cube
My final four saints: St. Joseph of Cupertino, St. Padre Pio, St. Sebastian, St. Pier Giorgio Frassati
Best advice I've received seeking my vocation: Ask the Lord for what he wants for you, and then actually listen when he answers.
What I'm looking forward to: Confecting the Eucharist and being back in the Archdiocese of Kansas City in Kansas.