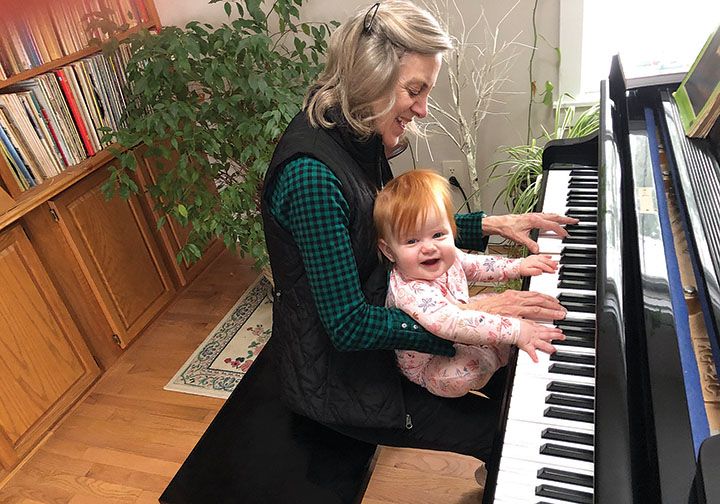 by Dean Backes
Special to The Leaven
While paging through a copy of her treasured Diocese of Davenport (Iowa) newspaper, The Catholic Messenger, last January, Benedictine College, Atchison, alum Diane Mahoney spotted a story that struck a chord with her.
Catholic composers, poets and songwriters were being called on to create and submit original compositions for entry into the first-ever Eucharistic Revival music competition sponsored by the U.S. Conference of Catholic Bishops.
As she read deeper, Mahoney's thoughts veered toward a piece she had been working on since before the pandemic. A parishioner at Divine Mercy Parish in Burlington, Iowa, and the accompanist for a community choir called Bel Canto, Mahoney dusted off her latest melody and went to work.
Five months later, the writer of dozens of other unforgettable pieces was informed through an email from Marilyn Santos, associate director of the USCCB's Secretariat of Evangelization and Catechesis, that her entry "We Do Believe, O Lord," was selected over 177 other compositions as the winner of the theme song category of the competition.
"The deadline made me finish it," Mahoney said of completing the project despite struggling at times. "I need a deadline to finish some things. But I never expected that I'd win. There is always that glimmer of hope that you can, I guess. It's like buying a lottery ticket."
After startling her granddaughter Kate by her reaction to the exciting announcement, the news slowly began to sink in. Eventually, Mahoney was able to sleep through the night.
"I am extremely humbled by the honor," Mahoney said of the win, which allows her composition to be recorded professionally and played throughout the 2024 National Eucharistic Congress. "Music for me is always a prayer. And I hope that the song will bring people closer to God and closer to the real meaning of the Eucharist at Mass and beyond."
Music has always been a part of Mahoney's life. Growing up in Carroll, Iowa, the Franciscan Sisters of Perpetual Adoration of Wisconsin put together a wonderful music program for their schools. Mahoney's family is also gifted musically. Her sister Gail Johll is the director of music at the basilica in Des Moines, Iowa.
Eventually, Mahoney's fancy for pounding the keys and singing landed her at Benedictine College, where she earned her bachelor's degree in music education before attaining her master's in voice from the University of Nebraska in Lincoln.
"She has a wonderful voice and was a wonderful cantor," said longtime friend and fellow BC music student Father Francis Hund, who is now senior associate pastor at Prince of Peace Parish in Olathe and minister to priests in the archdiocese. "She is a person of many musical gifts. She has a sense for the liturgy as a prayer from the heart. She is a prayer-filled person."
Upon completing her education, Mahoney took a position as liturgist and music director at Holy Trinity Parish in Lenexa. There, she met and worked with Fran Sheehan, who soon became a lifelong friend.
"We did a few things in our days at Holy Trinity that Diane composed," Sheehan recalled. "They were all beautiful. They were all moving. They were often eucharistic, but not always. She composed and performed from deep within. Deep in her soul. Deep in her heart.
"She hits the nail on the head. She says so beautifully with words, with music, what we'd all like to say. I'm a huge fan."
Judges from Oregon Catholic Press, the Society for Catholic Liturgy, Source and Summit, the Federation of Diocesan Liturgical Commissions, GIA Publications/World Library Publications and the National Association of Pastoral Musicians arrived in Washington in May to go over more than 350 entries in the competition's two categories for hymns and theme songs.
Entries were judged for poetry, musicality, creativity, theological and doctrinal soundness, beauty, appropriateness for liturgical use and expression of the mission of the Eucharistic Revival. Following an initial review, judges convened for a second more thorough analysis before coming together for live performances of the three finalists in each category.
Mahoney, who incorporated the Gospel of Mark and Psalm 1 into her piece, and hymn-writing winner Kathleen Pluth of Phoenix, stood alone in the end.
With the win, "We Do Believe, O Lord," joins the elite company of, "Gift of Finest Wheat," a song written by Omer Westendorf and composed by Robert Kreutz in 1976 for the International Eucharistic Congress.
"Only really fine music will last for years," Mahoney said. "I'm hoping this piece . . . inspires for years to come."