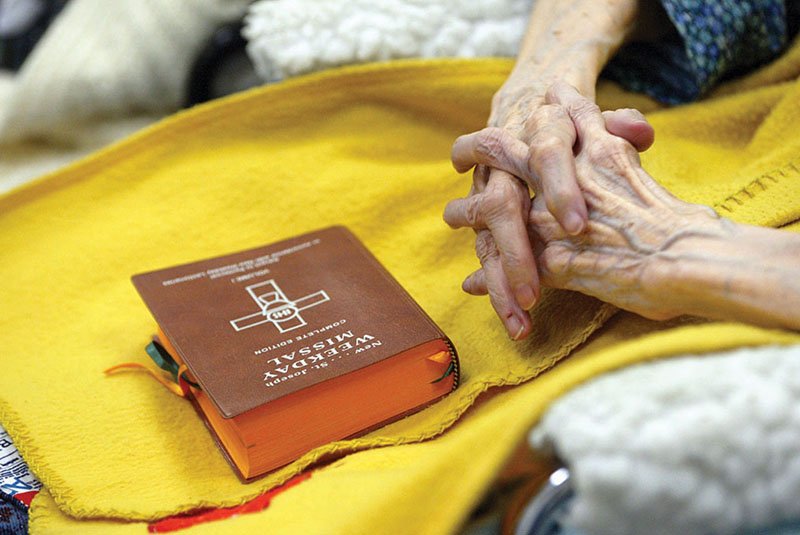 The Villa St. Francis Catholic Care Center in Olathe gives hope to families, and families give back to the Villa!
When a parent or family member is no longer able to live on their own, their loved ones face difficult decisions. Add to that the cost for care, and sometimes the burden can be too great, or even impossible.
The Villa offers compassionate care for those with limited financial resources. With 170 beds, it is one of the largest Medicaid providers in the state. This Catholic nonprofit skilled nursing community is sponsored by the Archdiocese of Kansas City in Kansas.
The Villa is a unique place, with a long history of care. In its first 50 years, St. Joseph Care Center, as it was known, fulfilled Pope John Paul II's proclamation: "When the sick, the aged or the dying are abandoned in loneliness, we will stand up and proclaim that they are worthy of love, care and respect." This tradition of love, care and respect continues today, offered without regard to the residents' creed, race or ability to pay.
The Medical Sisters of St. Joseph and the Sisters of St. Ann are the anchor of the Villa. Their daily sacrifices and loving care inspire the staff, volunteers, families of the residents and, of course, the residents themselves. Mass is the highlight of every day. Families and friends of the residents are drawn into the life of Jesus, both in the Eucharist and through his caring presence at the Villa, truly supporting the mission to make disciples for Jesus.
The annual Archbishop's Call to Share appeal helps support Villa St. Francis — not only financially, but also by spreading the word and witness about this remarkable place. It is part of the mission of the Catholic community in northeast Kansas to give witness to the tenderness and love of Jesus. The Villa is a clear indication of God's abundant love.
The strong spiritual life and loving presence provided by the Sisters, the excellent, five-star quality care, and the generous support of people in our parishes through the Archbishop's Call to Share appeal combine to create this "miracle of mercy."
One staff member calls her job a vocation. For her, it is a calling. And the people she cares for are not merely residents but, rather, they are a part of her family.