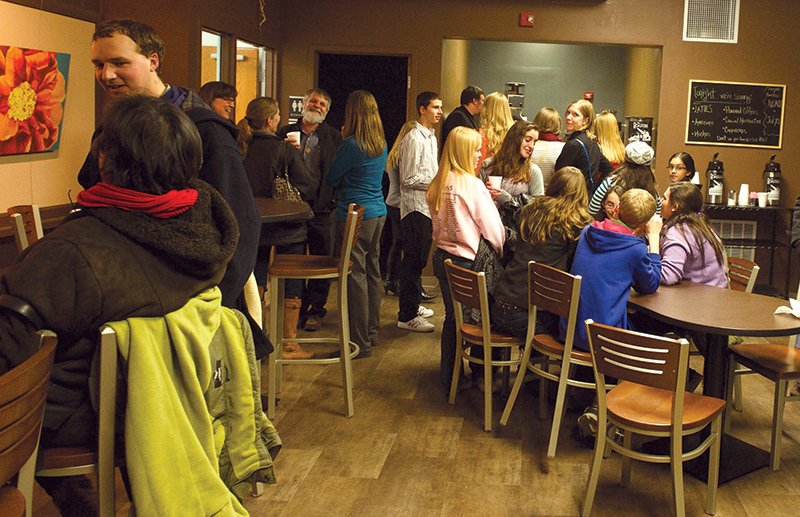 "Meeting Teens on Their Turf" will be the theme of an upcoming workshop at ReachKCK (Blessed Sacrament campus) in Kansas City, Kan., on June 28. It is open to youth ministers and those who might be interested in become one.
---
by Jessica Langdon
jessica.langdon@theleaven.org
KANSAS CITY, Kan. — Adults who work with teens carry out an important role in the relationships they form.
"(Teenagers) view them as a trusted adult," said Liz Miller, director of ReachKCK in Kansas City, Kan. They are often "someone they can go to when things are great — and when things get hard."
It's a big but beautiful responsibility, she believes, and looks forward to a training session this June geared toward adults already involved in youth ministry — and those who would like to become involved.
Michael Havercamp, Young Life's national liaison to the Catholic Church and an expert in relational ministry, will speak at a workshop on June 28 at ReachKCK (Blessed Sacrament campus) in Kansas City, Kan.
"He's a really down-to-earth, realistic, dynamic, funny guy who tells it like it is," said Miller. "I hope he brings an excitement and a vigor that I think is within all of us — it just needs to be drawn out a little bit."
Today's youth have much in common with adults, said Havercamp, and one area of common ground is that they don't like to be told what to do.
"They want a model that inspires them, that shows them a better way," said Havercamp, who is also the director of evangelization at St. Paul the Apostle Parish in Davenport, Iowa.
"They aren't just looking for answers," he continued. "They're looking for authentic witnesses of the irresistible love of Jesus Christ. Pope Francis explains that presenting the Gospel isn't about 'imposing new obligations' but rather to 'point to a horizon of beauty and inviting others to a delicious banquet' ("Evangelii Gaudium," 14)."
That idea fits with the title of the gathering: "Incarnational Ministry Workshop: Meeting Teens on Their Turf."
"It's ministry that is based on the incarnation of Christ," said Miller.
"And what we mean by that," she continued, "is just in the way that Jesus came to us as a human — in a way that we could recognize, in a way that we could understand — so we are called in our ministry to reach the people we're serving right where they are."
It's about connecting through talents, strengths and interests, building relationships and then building discipleship through those relationships.
Havercamp pointed to a quote from Pope Francis saying, "We cannot passively and calmly wait in our church buildings."
It takes connecting with teens through their interests, whether through events they're involved in or social media, he said.
"When we show up in kids' lives, over and over, we earn real trust and 'earn the right to be heard' about the greatest love story ever told: God's love for us in Jesus Christ," he said.
And adults are needed, said Miller.
At ReachKCK alone, a lot is happening, and adults have a key part in that.
The workshop aims to help adults — whether they're teaching confirmation, working with middle or high school students, volunteers, or just want to learn more about youth ministry — gain confidence in their role with youth.
As much as the archdiocese wants to support teens, it wants to support the people who work with them as well, said Miller.
Havercamp hopes the workshop will place practical tools in people's hands to help them enter the lives of teens in Wyandotte County and build relationships of trust — and share Christ's love.
"Jesus tells us, 'As the Father sent me, I am sending you,'" said Havercamp. "This workshop will help participants prepare to be sent into the lives of kids in desperate need of friendship, care, consistency and, ultimately, Jesus Christ."
The workshop, which runs from 8:30 a.m. to 12:30 p.m. on June 28, will also give participants a chance to see and learn more about ReachKCK.
Coffee will be offered in the morning, and lunch will also be provided.
"We're offering this free of charge — all we ask for is an RSVP for lunch," said Miller.
She asked anyone interested in attending to send her an email at: urban youth@archkck.org.
"We don't want there to be any barrier to people getting the training and the confidence that they deserve," she said.