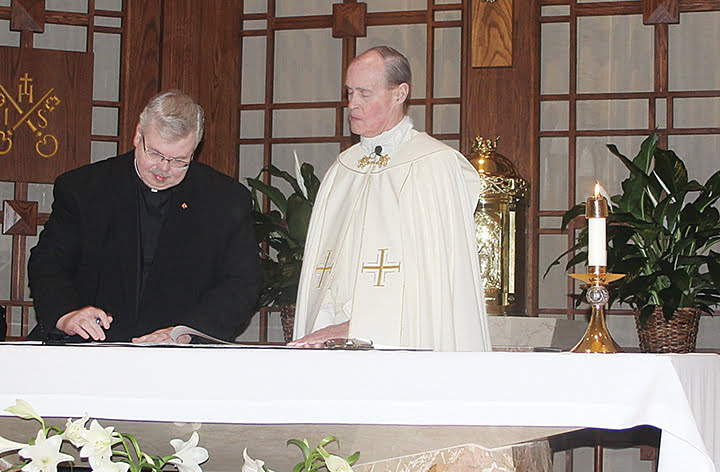 by Joe Bollig
joe.bollig@theleaven.org
KANSAS CITY, Kan. — When a boy tells his parents he wants to be a Catholic priest when he grows up, the usual reaction is not something like, "When hell freezes over."
But that's what happened to Deacon Travis Wade Mecum when he was 11 years old. He was so impressed with Father Ultan Murphy, pastor of St. Ann Parish in Olmitz, that he wanted to be just like him.
His parents' harsh reaction makes sense when one takes into account that, at the time, the Mecums were Lutheran.
The old saying "God writes straight with crooked lines" was never so true as in the story of how Deacon Mecum, a Lutheran boy, followed a path that led to a Catholic altar.
He grew up in Olmitz, a town of slightly more than 100 people in Barton County. His parents are Gary and Clara Mecum, and they went to Trinity Lutheran Church (Evangelical Lutheran Church in America).
"When I was growing up, my dad was mayor and a deputy sheriff," said Deacon Mecum. "[Ours was] the only family in town that was not Catholic. When I was 10 . . . they brought in Father Murphy, from Ireland.
"Because my dad was mayor, we were expected to attend the installation Mass. And that was my first exposure to the Catholic liturgy — the smells and bells, and the reverence — and I fell head over heels in love."
It so happened that the school bus stop was at St. Ann Church and, every morning and afternoon, he would cut through the rectory garden going to and from the bus. There, he would often meet Father Murphy, and they developed a strong friendship.
"Through his example and through our conversations, you could say he began my formation as a Catholic when I was age 10," said Deacon Mecum. "By the time I was age 11, seeing how he responded to things going on in our small community and life in general, I knew I wanted to be just like Father Murphy."
After his parents put the kibosh on that idea, Deacon Mecum reluctantly settled on being Lutheran, and maybe a minister, although he would occasionally sneak over to the Catholic church to catch a Saturday evening Mass.
Still, that idea of serving God and people in ministry wouldn't go away. His family began attending a Lutheran church in Great Bend.
"At the age of 15, I went to my [Lutheran] bishop," said Deacon Mecum, "and I told him I wanted to go to [the] seminary and become a pastor.
"He looked me in the eye and he said, 'Travis, you haven't even experienced life yet. You're 15. My advice to you is to go out and do everything you can possibly think of first, and if you still feel called, maybe it's meant to be.'
"I was really disappointed."
Deacon Mecum graduated from Otis High School in 1987. He and his family moved to Overland Park. He continued his education at various institutions while he also worked for an engineering firm, a real estate company and various firms and hospitals doing "sleep medicine" for people with sleep disorders.
"When I turned 25, I approached my pastor and told him I wanted to go to [the] seminary," said Deacon Mecum. "He looked at me and asked, 'Do you have a degree in Hebrew and Greek?' I said no.
"He said, 'They won't even look at you, so why don't you focus on being Jesus with skin on him. You can reach a lot more people without a collar.'
"So, I was rejected twice. It was really disheartening."
Deacon Mecum spend a few years "church hopping," but wasn't satisfied. Then one day during dinner, he told his mother of his deepest longing to become a Catholic priest, and she gave him her blessing.
Next, he went to see then-archdiocesan vocations director Father Mitchel Zimmerman.
At that first meeting, Father Zimmerman leaned back in his chair, threw his pen on his desk and said, "Let me see if I've got this straight. You're a Protestant, and you want to become a Catholic priest?"
Yes, said Deacon Mecum.
"I just don't get you Protestants!" said Father Zimmerman.
He gave Deacon Mecum a list of requirements — beginning with actually becoming Catholic. The Catholic wannabe entered the Rite of Christian Initiation of Adults program and became a Catholic in 2013. Then, he fervently threw himself into the life of St. Ann Parish in Prairie Village.
He began to influence others around him to revert or convert to the Catholic faith, including his mother in 2014, and his father in 2015.
The archdiocese sent Deacon Mecum to St. John XXIII National Seminary in Massachusetts, which specializes in "later in life" vocations. He began his formation in 2015.
"The moment I walked in, I felt a warm embrace by the Holy Spirit," said Deacon Mecum. "I felt like 'I'm home, this is where I need to be.'"
He was ordained a deacon by Archbishop Joseph F. Naumann on May 18, 2019, at Holy Spirit Parish in Overland Park.
Now, Deacon Mecum will be ordained a priest by Archbishop Naumann at 10:30 a.m. on May 23 at the Cathedral of St. Peter in Kansas City, Kansas. Because of restrictions due to the COVID-19 pandemic, people are invited to view the liturgy livestream via the archdiocesan website here.
Personally speaking
Name: Deacon Travis Wade Mecum
Age: 51
Hometown: Olmitz
Parents: Gary and Clara Mecum
Siblings: Julie, Tammy, Ellie, Vic
Home parish: St. Ann, Prairie Village
Higher education:
• Bethany College, Lindsborg; studied vocal performance 1987-1988
• Johnson County Community College, Overland Park; music education 1990-1993
• Kansas City Kansas Community College, Kansas City, Kansas; certification as a Certified Nursing Assistant 2003
• MidAmerica Nazarene University, Olathe; Associate of Arts in applied organizational leadership, May 2015
• Pope John XXIII National Seminary, Weston, Massachusetts; Master of Divinity, 2020
Best binge-worthy movie or TV series discovered during lockdown: "Midsomer Murders"
New skill learned during lockdown: Zoom conferencing
My most notable encounter with the famous/infamous: Within my first 30 days of seminary life, I got to go to Washington, D.C., for the canonization of St. Junipero Serra, and was in the upper church of the National Basilica when Pope Francis entered and gave us his blessing before the Mass.
Favorite devotion: Chaplet of Divine Mercy
Favorite saint and why: St. Augustine, because he came to his vocation later in life, and the way he expresses himself inspires me. I feel as though he is a kindred spirit.
Food you missed most during lockdown: Guinness Irish Beef Stew
Food you learned to make for yourself during lockdown: Braised short ribs
Favorite childhood toy: Trains
Worst job you've ever had: Working for National Video
Best job you've ever had: Working in health care
Hobbies/leisure pursuits: Reading, writing, casual astronomy, photography
Guilty pleasure: I like to take long road trips.
My hidden talent/party trick: I know a pretty cool card trick!
In the movie about my life, I would hope to be played by: Anthony Hopkins
Best advice I've received seeking my vocation: It sounds counterintuitive, but when I was 15 and told my Lutheran bishop I wanted to enter the ministry, he told me that I should gain some life experience first. "Try everything else that you can possibly think of. . . . Then, if you still feel called, it is meant to be." The experiences I have gained in my life have prepared me well for the ministry, as I can relate to the situation of life much easier.