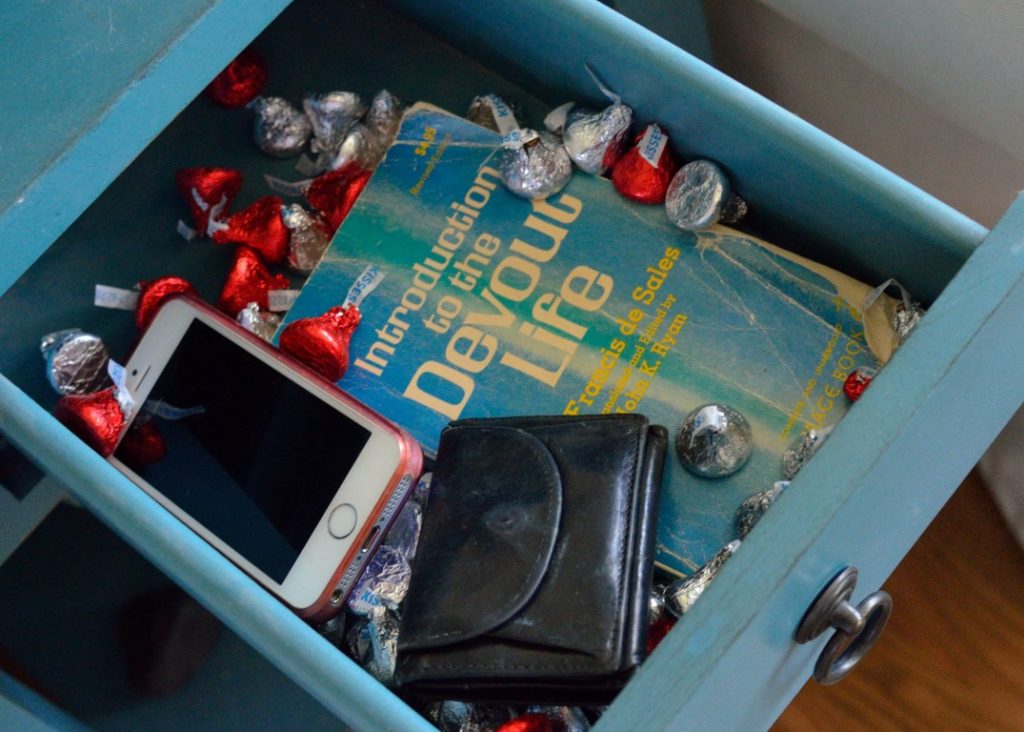 by Jill Ragar Esfeld
jill.esfeld@theleaven.org
Someone once asked me if I were stranded on a desert island and could have only one book, what would it be?
I'm sure they were surprised by my immediate answer – "Introduction to the Devout Life" by Saint Francis De Sales.
I've got to admit the title is boring, and I will never forgive St. Francis for that. But the book itself is a keeper.
I have a copy in my bedside drawer along with my phone, my wallet and my stash of chocolate — because those are the things I'm taking with me if disaster strikes and I have to run out.
I read "Introduction to the Devout Life" for the first time in Ccollege. I was a writing student and St. Francis is the patron of Catholic writers. So even though the title was unappealing, I felt I should read something he had written.
And, as you can see from the picture above, I have read it many times since.
I'm not alone in my obsession with the book. It was published in 1609 and has not gone out of print in four centuries.
That's because it gives those of us in the secular world a treasure, a roadmap, to heaven we thought only available to religious in cloistered monasteries.
When you think of "the devout life," it denotes a high level of intimacy with God. Here, St. Francis has written a simple manual of devotion for laypeople, showing how that intimacy does not require withdrawal from the world.
St. Francis served the church during the Reformation, in Calvinist areas of France, when celebrating Mass was punishable by death.
He was a popular speaker and a prolific writer with a timeless gift for spiritual direction that he often gave through letters.
This book is a collection of passages from those letters organized as one message and addressed to Philothea, which means "lover of God."
St. Francis said, "I address my words to Philothea, since I wish to direct what was first written to one person alone to the general benefit of many souls."
"Introduction to the Devout Life" is a book you'll want to read with a pen and pad in hand. But despite the many notes you'll take to remind yourself of St. Francis' golden counsels, I guarantee you'll end up reading this book all over again.
And again.
Saint Francis de Sales is the patron of writers, but he's also known as the saint of cheerfulness and hope.
This comes across in his book more than anything else.
His writing is simple yet beautifully flowing, with an underlying wit and humor.
St. Francis charms his readers as he gently guides them into an intimate relationship with a truly loving God.
Today, Jan. 24, is the Feast of St. Francis de Sales. I recommend you look into this book as a tribute to him.
If you read it, you'll find yourself falling in love with the author as well as his message.
One of my favorite quotes from St. Francis is "If you are faithful to God, he will never fail you; even if he has to stop the sun and the moon."
St. Francis really believes this. And when you practice what he preaches, you learn to believe it, too.