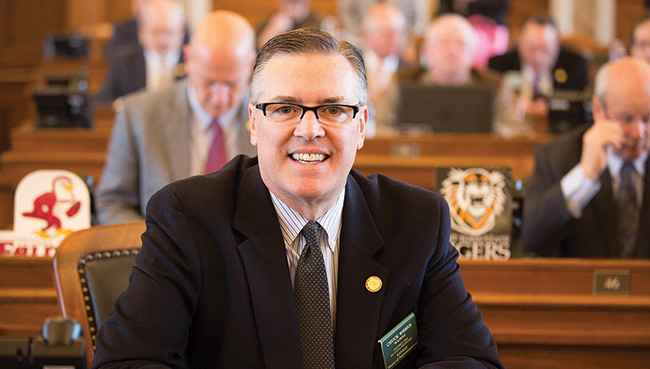 by Chuck Weber
A leaked document draft indicating the U.S. Supreme Court may overturn the infamous Roe v. Wade decision that legalized abortion in America has the Twitter universe on fire.  
As events unfold, it is important to note the impact of any such decision on Kansas.
No matter what the U.S. Supreme Court decides on abortion, Kansas will remain a destination for painful late-term abortions and clinics with no health and safety standards — among the most extreme in the nation. If Kansans want to stop this, they must vote YES on the "Value Them Both" state constitutional amendment.
How can this be? Part of the explanation lies in the fact that one of the most consequential legal and cultural events in Kansas history — the abortion case decision rendered by the Kansas Supreme Court known as Hodes & Nauser v. Schmidt — has received little attention and explanation from the secular press.
This Kansas Supreme Court decision coldly hijacked public policy decisions on abortion away from citizens. The undeniable result is that Kansas is becoming increasingly dangerous for women and preborn babies.
Here's some of what you may not know about the notorious Hodes court decision and its impact.
The ruling discovered and created a virtually unlimited "right" to abortion in Kansas. According to data from the Kansas Department of Health and Environment (KDHE), in the three years since the ruling:
• The overall number of abortions in Kansas has climbed dramatically, up 13%.
• Brutal live dismemberment abortions (in medical parlance, "dilation and evacuation") are up 17%. An average of more than nine such procedures are performed each week in Kansas.
• Kansas is becoming an abortion destination in the Midwest, with the number of abortions performed on women from surrounding states up 16%.
Kansas laws or regulations touching on abortion are now, in the words of the high court, "presumed unconstitutional." For all intents and purposes, we now have an unlimited and unregulated abortion industry operating in Kansas.
Popular bipartisan laws banning live dismemberment abortions (April 2021), and a straightforward clinic safety, sanitation and inspection law (December 2021) have already been overturned. Legal scholars say other Kansas laws protecting and valuing women and babies will almost certainly fall.
Taxpayer-funded abortions, teen abortions without parental consent and painful late-term abortions will almost assuredly become a gruesome everyday reality in Kansas. This is the very definition of extreme.
Fortunately, Kansans are empowered to pull themselves back from the precipice of cultural radicalism. A YES vote on the "Value Them Both" state constitutional amendment reverses this legal zealotry while restoring common sense and the will of the people. Now is the time to pray, knock on doors and make phone calls.
As we await definitive word on the fate of Roe v. Wade, it is absolutely crucial for Kansans to understand that no matter how the U.S. Supreme Court rules on Roe, Kansas will still be a place of unlimited and unregulated abortion unless Kansans vote YES for "Value Them Both."