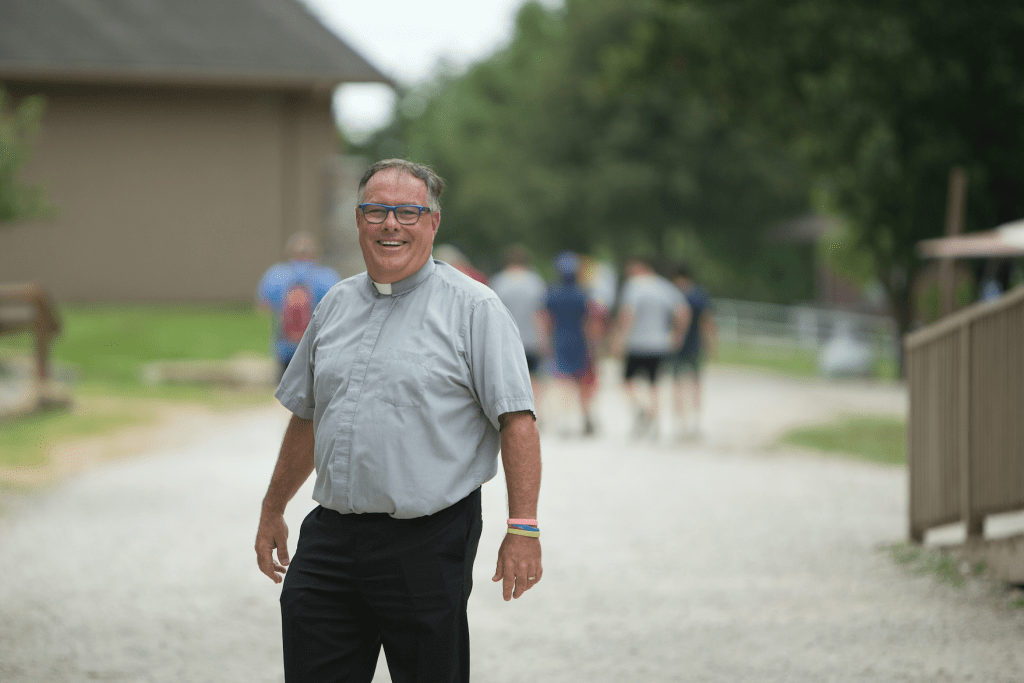 by Deacon Dana Nearmyer
This is such an exciting time to be Catholic! The national Eucharistic Revival is underway!
Each parish is in discernment on how to live out and invite its parishioners into deeper consciousness that Jesus is really present in the Eucharist, and thus with us — day to day, moment to moment.
The archdiocese had an incredible head start on Eucharist Revival, as this has been the deepest desire of Archbishop Joseph F. Naumann, as evidenced in his earliest writing and preaching.
Our priests are steeped in a culture of Eucharistic Revival, so Lee McMahon, in the archdiocesan office of evangelization, has created a world-class podcast, "New Manna," featuring local clergy and lay leaders. The first episode is a heartfelt conversation between Father Joel Haug and Father Luke Doyle.
The "New Manna" podcast seeks to awaken a deeper desire for the holy Eucharist. In every episode of "New Manna," you can expect:
• eucharistic testimony from clergy and lay leaders
• a discussion on a bite-sized section of a recent papal document pertaining to the Eucharist and worship
• encouraging conversation about the power of Jesus in the Blessed Sacrament to bring about eucharistic revival in the church today.
You can listen to "New Manna" on all major podcasting platforms.
Corpus Christi 2023 is the official launch of the parish year of the Eucharist, but many parishes regularly preach on the Real Presence, and many parishes are launching small groups and enhanced catechesis.
Small groups are a critical strategy component of the national Eucharistic Revival. The national website, our local website and social media groups are rich in direction, resources and information about the various approaches that individuals, small groups, apostolates and parishes can adopt to foster deeper relationship through Jesus Christ.
The national website is: www.eucharisticrevival.org/
Our archdiocesan website is: archkck.org/eucharistic-revival/
Our Enflame Facebook group — www.facebook.com/groups/enflame — and evangelization page offer information and interaction with local leaders on Catholic issues and preferentially Eucharistic Amazement. That link is: www.facebook.com/EvangelizedKS.
Local formation and Eucharist experience are key to building up our culture of eucharistic amazement. One great opportunity to be formed in eucharistic amazement is Camp Tekakwitha; our theme this summer is "Emmanuel: God Is With Us." Camp Tekakwitha's zip lines, waterslides, horses, amazing eucharistic faith formation and supercharged fun are welcoming you for the summer of 2023.
Camp Tekakwitha is about fun, faith and friends. For 25 years, camp has strengthened faith and helped campers build lifelong connections to Jesus Christ and the Catholic Church. Camps are offered for 5th-12th graders, and there are three family camps: special needs, Spanish speaking and our original offering.
This is such an exciting time to be Catholic! The national Eucharistic Revival is underway; don't be left behind.