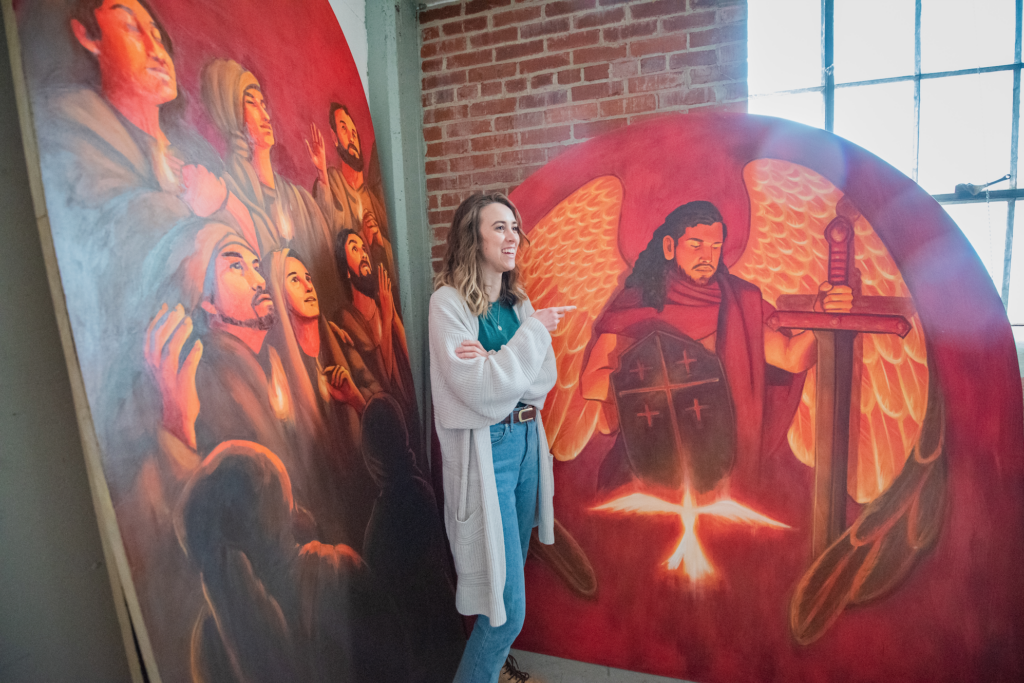 by Moira Cullings
moira.cullings@theleaven.org
KANSAS CITY, Kan. — When Mattie Karr was commissioned to create triptych murals for Holy Name of Jesus Parish here, she decided to use real parishioners as her subjects.
"I was at church looking for inspiration," she said. "I saw this woman at Mass, and I thought she was really beautiful.
"I was like, 'She's Mary.' I just felt it in my heart."
Karr told Father Anthony Ouellette, pastor of Holy Name, that she had someone in mind to portray the mother of Jesus.
"He was like, 'I have someone in mind, too. It's that woman with the really long hair,'" said Karr. "And that's exactly who I was wanting."
It seemed providential for Leticia DeCaigny to represent Mary.
"She said it actually means a lot," said Karr. "[She and her husband] lost their son to cancer [around] 10 years ago, so she said, 'I know what it's like to walk with a suffering son.'"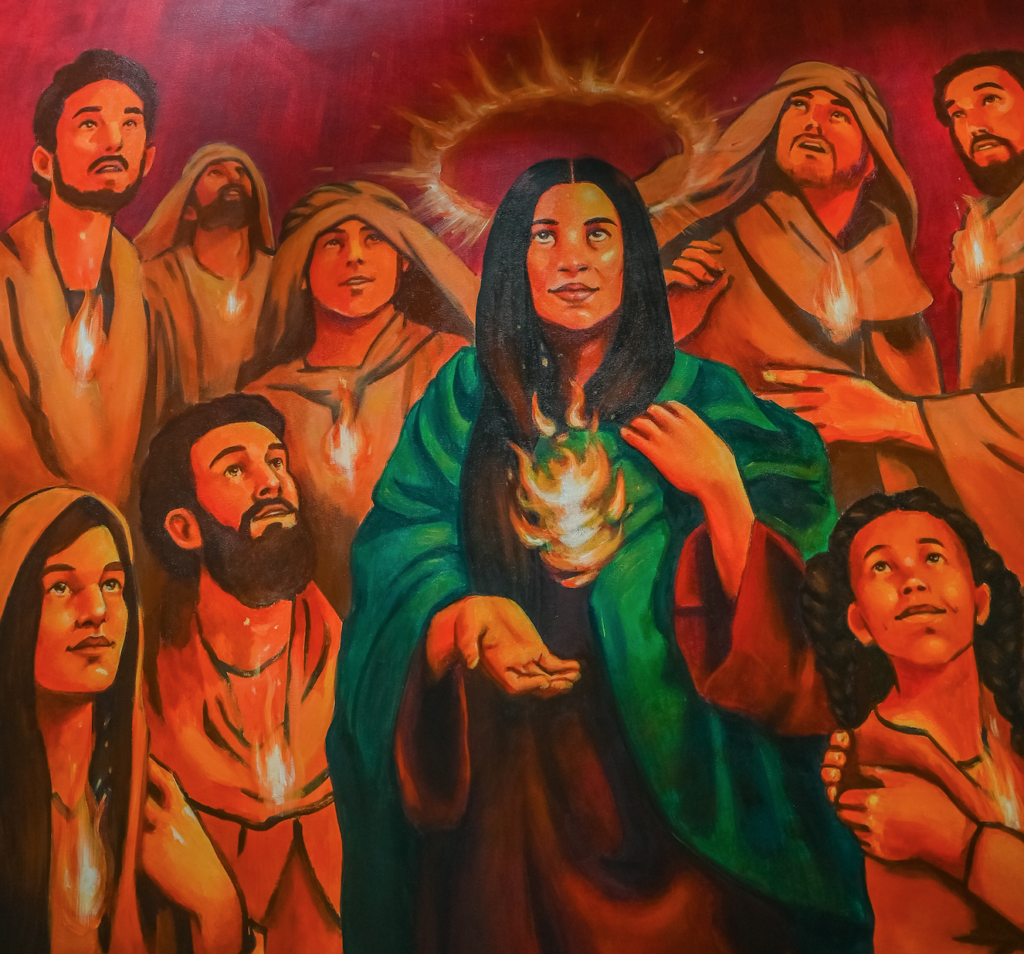 DeCaigny's son was just 8 years old when he passed away after a five-year battle with cancer.
"Toward the end," said DeCaigny, "I was connected even more to God and Jesus and Mary.
"When he passed, I said, 'Look at him! He has a smile on his face.' I think with that smile, it made me think he's in a great place.
"He knows where he's going."
'Time capsule'
The murals already hold a special place in the hearts of parishioners who are eagerly anticipating their installation sometime after May.
Father Ouellette said they'll be a lasting legacy for Holy Name, which will celebrate its 150th anniversary in 2026.
"It's a time capsule in the sense of capturing some of the image and likeness of the people that come to our parish," he said.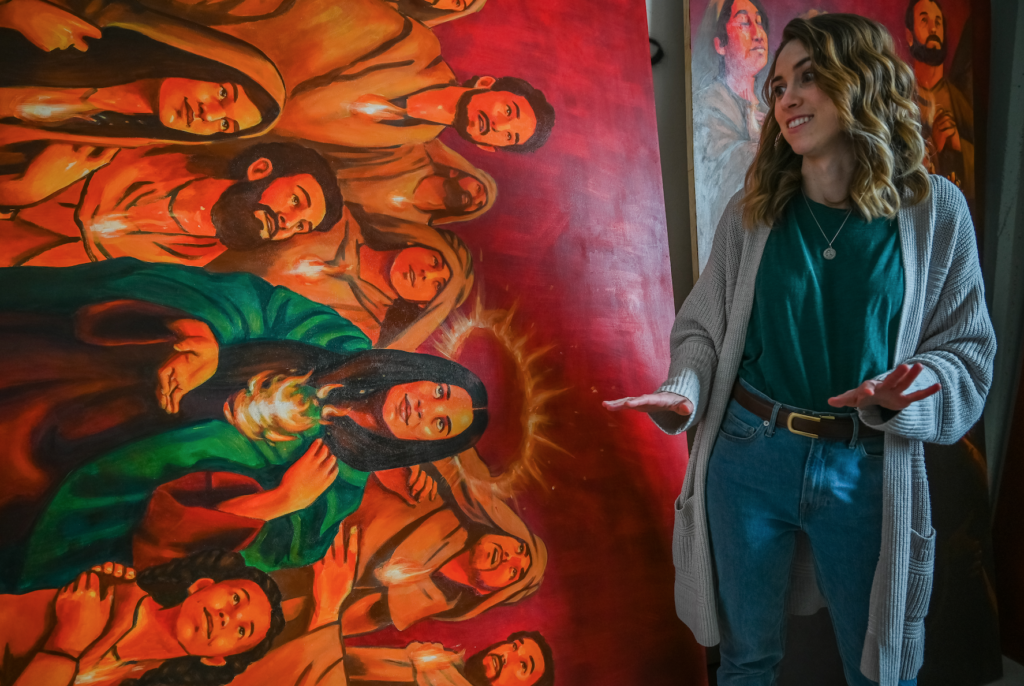 Like DeCaigny, Ernest and Marketta Hickman were thrilled to be part of the project.
Marketta has been a Holy Name parishioner for nearly 60 years, and she and Ernest were married there 40 years ago.
As volunteers, they had their photographs taken at Karr's studio, wearing costumes borrowed from the Little Sisters of the Lamb.
"It was surreal — like we were right there with the Holy Spirit, just feeling it back in that era," said Marketta. "It felt like I was right there at that time."
Marketta described the experience as being "part of history," and she said she was impressed by Karr's work.
"The belief, the love and the spirituality — she captured the right moment and the serenity and beauty of it," she said.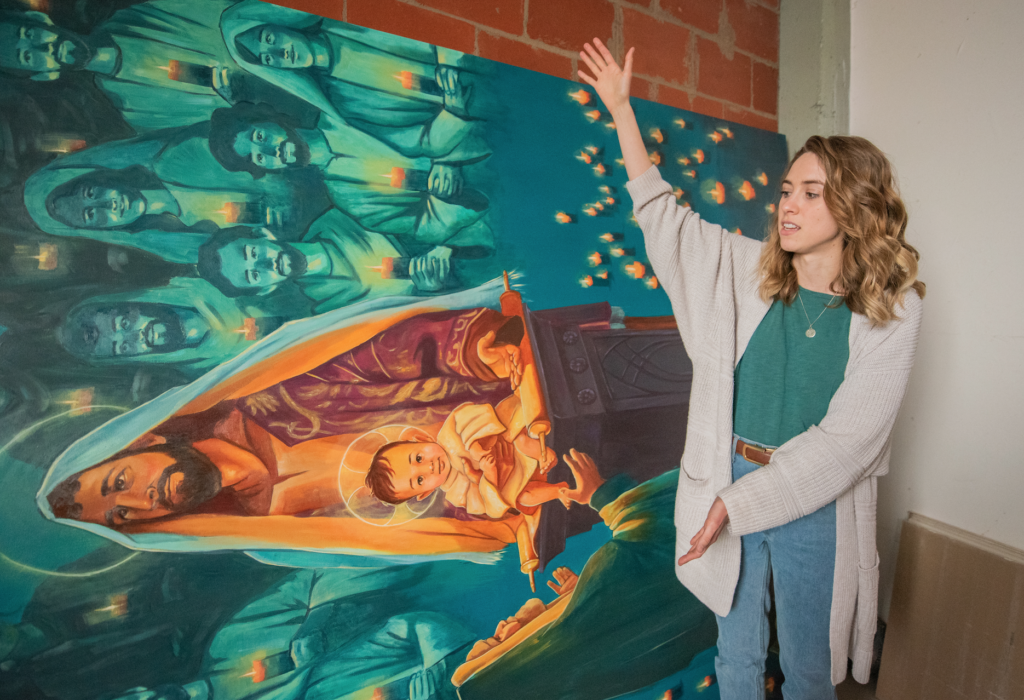 DeCaigny also enjoyed working with Karr.
"Mattie's just a very beautiful soul," she said. "And being able to have a conversation with her and connect with her — I think even that would get [people] to see how strong her faith is."
Shared vision
Father Ouellette took a chance on Karr before seeing her work.
"We had only struck up a conversation because she was faithfully coming to daily Mass," he said. "When I found out that she was an artist, I shared with her what I had envisioned seeing.
"Weeks went by, and I saw her sitting in [eucharistic] adoration sketching what I had described to her."
Father Ouellette offered her the gig.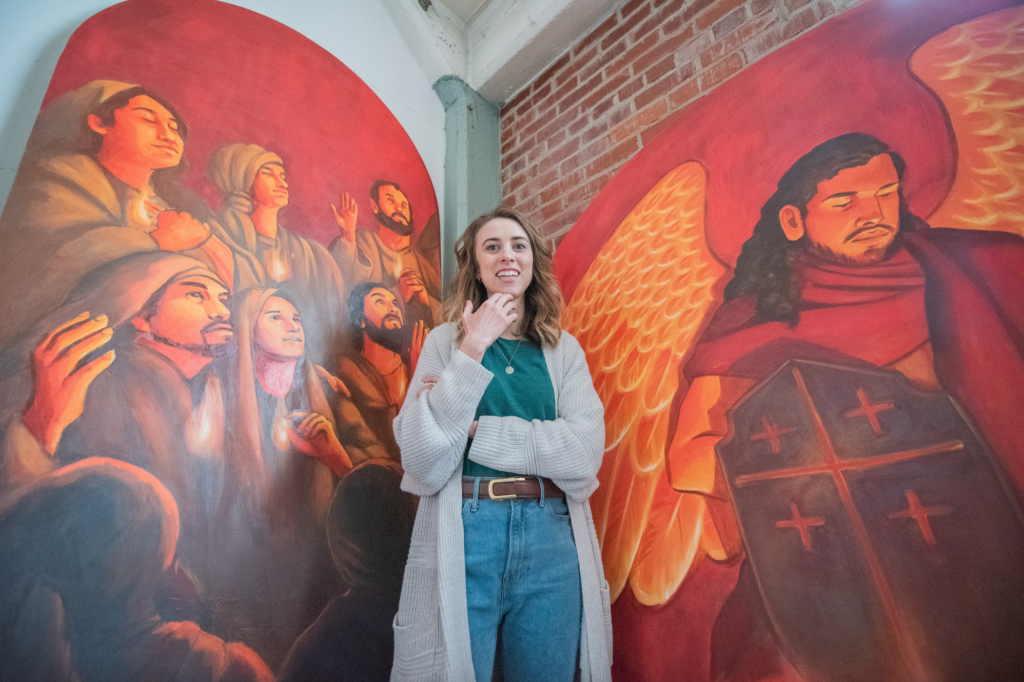 He had decided the time was right to beautify the church after months of sitting in eucharistic adoration before daily Mass.
"I had always seen these two very big blank spots on the wall behind the statue of Our Blessed Mother and St. Joseph," he said.
He wanted murals that would complement the church's stained-glass windows and portray the presentation of Jesus in the Temple and Pentecost.
"The Acts of the Apostles tells us there were 120 gathered in the Upper Room," he said. "Sometimes, [artists] depict only apostles. Sometimes, they depict Mary among the apostles.
"But I haven't seen very many depictions of a larger sampling of people — men, women and children — all gathered around Mary as model of the church."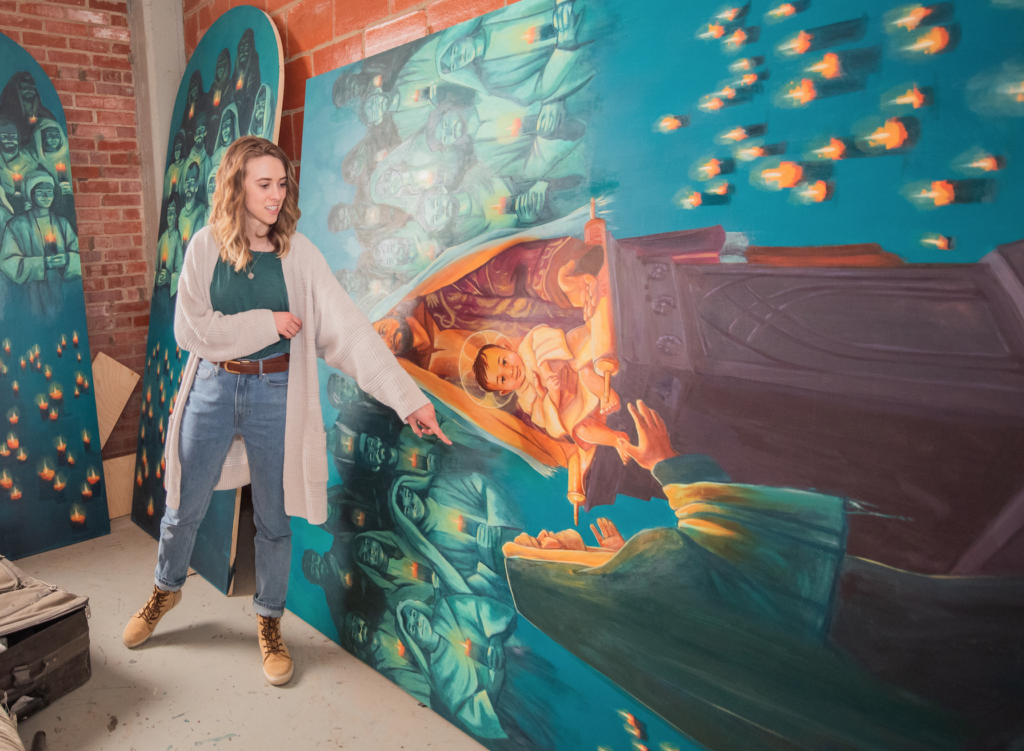 Once the murals are installed, the church's beige walls will come to life with the biblical scenes set amid vibrant blue and red backdrops.
For Father Ouellette, the project has been a treat.
"The recognition [is] that as we continue to do the practical things of caring for these older, beautiful churches that are in need of a lot of tender loving care, that we also don't miss the opportunity that they be beautified as well," he said.
'Leap of faith'
Karr's journey as an artist has been fueled by passion.
She grew up in Olathe, where she attended Prince of Peace Parish, and she graduated from the University of Kansas in 2019 with a degree in illustration and film.
"I wanted to move to Hollywood and do movies," said Karr, "but I didn't have any money. I stayed here and got into business development and sales."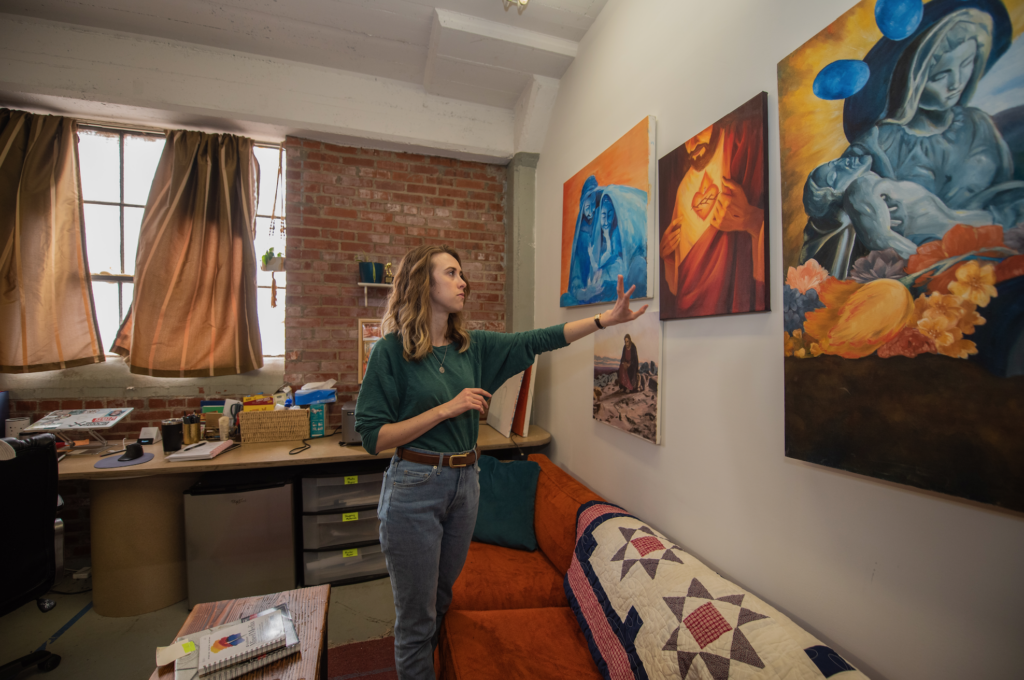 She worked for Swell Spark while doing art on the side, and her boss offered her a studio space at the company's office as a bonus.
"I was there in the mornings before work," she said, "and I was physically upset that I had to go back downstairs and do sales all day."
She wanted more.
"I used to have all these really big dreams," said Karr, "and [here I was] just doing sales. There was a pretty big prayer experience where I felt like God was like, 'What are you waiting for? It's now or never.'"
In 2020, Karr committed to the Holy Name project, and eventually she decided to quit her job to become a full-time artist.
She described the transition as a "big leap of faith."
Her parents were supportive, and her dad's advice poignant.
"'Cast your net over the side of the boat,' that's what he told me," said Karr. "'Let down your net for a catch and see what Jesus puts in it.'"
'Living the dream'
Although she didn't set out to focus on sacred art, many of the projects Karr has taken on have been faith-based.
She's available for commissions for businesses, churches and individuals. She also offers live wedding paintings.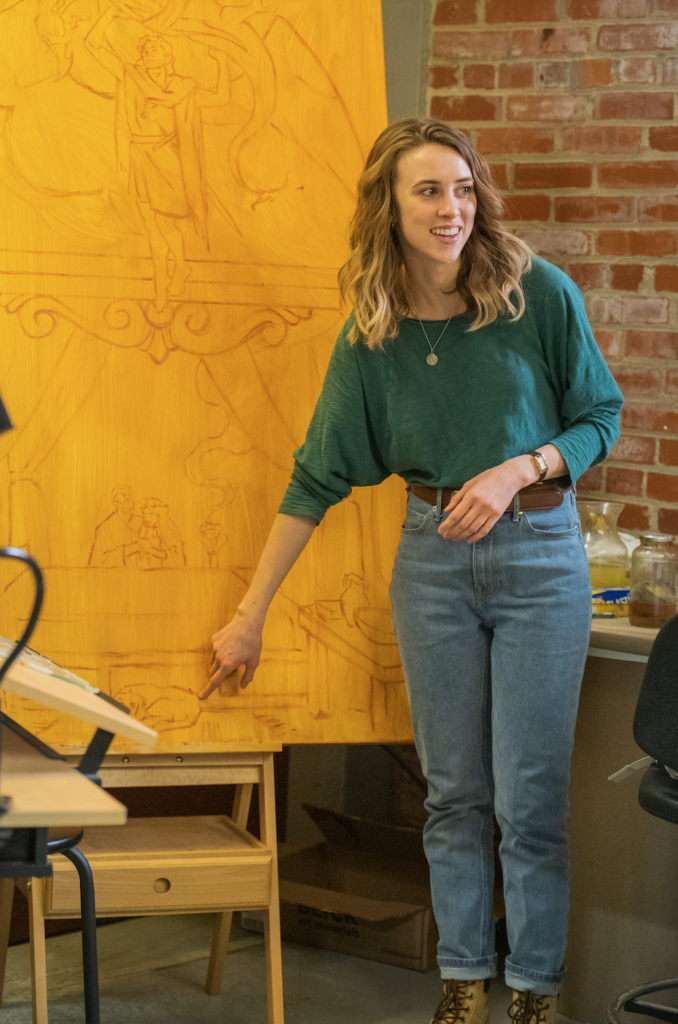 Her life as a full-time artist is just getting started.
"I'm kind of living the dream, honestly," said Karr. "I can't even believe it some days.
"I get to do what I love. And God's really blessing me. He's using it as a tool for evangelization.
"Beauty speaks to everybody."
For a limited time, Karr is offering 4″x6″ devotional art prints from her collection "Healed" for just $5. Find them online here.
To learn more about Karr, visit her website at: mattiekarr.com or follow her on Instagram @mattiekarrstudio.