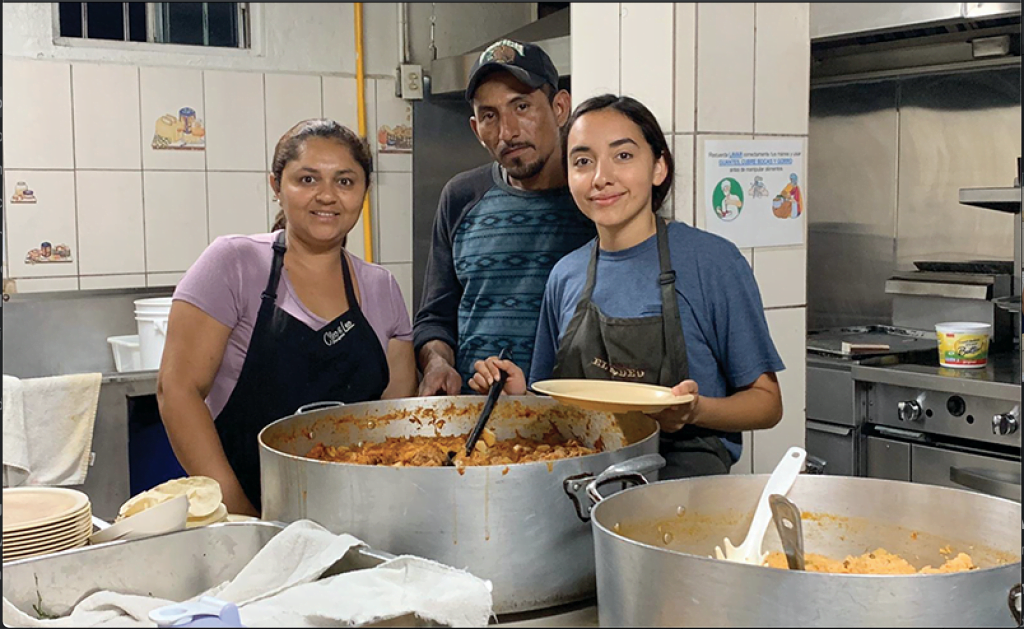 By Jill Ragar Esfeld
jill.esfeld@theleaven.org
TIJUANA, Mexico — Mercedes Caballero's friends thought she was crazy to volunteer on the southern border in the midst of the immigration crisis today.
But five years ago, as a student at Bishop Ward High School in Kansas City, Kansas, she had gone on a mission trip to Casa del Migrante, a shelter for migrants and refugees in Tijuana, Mexico.
She and her classmates were there as the guests of Father Pat Murphy, CS, the former director of Hispanic ministry for the Archdiocese of Kansas City in Kansas. At the end of his assignment to the archdiocese in 2013, the Scalabrinian missionary had been named the director of the men's shelter in Tijuana, and often hosted youth groups and other visitors from the archdiocese.
It was there that Mercedes developed a heart for immigrants and the determination to one day become an immigration attorney.
The first step on that road was getting a degree in political science.
Now a senior at Fort Hays State University, Caballero needed an internship to complete her program.
"And I thought, 'Why not go to the place where my passion for law and political science started?'" she said. "I knew I would get to see something different than when I went before."
Different is an understatement. When Caballero volunteered in 2014, the shelter served mostly men deported from the United States
When she arrived this past August for her two-month internship, she encountered families fleeing from many different countries because of violence and poverty, and to save their children from being coerced into joining local gangs.
"Now it's people from the caravans," she said.
Changes in policy
Because of the Trump administration's Migrant Protection Protocols, commonly known as the "Remain in Mexico" policy, people hoping to request asylum in the United States are stranded in Tijuana while their cases drag through the courts.
The process can take months or years, and most cases will be denied.
"There weren't enough places for them to go," said Caballero. "So [the Casa] opened their doors to women and children."
Father Pat said the shelter has been the face of the Catholic Church for 260,000 migrants that have passed through its doors over the past 32 years.
But the dynamics have changed dramatically in the last few months.
"The 'Remain in Mexico' policy has had a tremendous impact on life at the Casa," he said. "We now have people coming back over and over again.
"We have people who have up to eight appointments for asylum, and in the end, 99 percent will not get asylum."
The problem will only get worse as the Trump administration plans to slash the number of refugee admissions for the coming fiscal year, ordering a new record low of 18,000 refugees.
This action represents a 40% drop from last year's already historic low of 30,000 refugees and has been condemned by the U.S. Conference of Catholic Bishops (USCCB).
In a recent statement, the USCCB said: "Turning a blind eye to those in need with such callous disregard for human life would go against the values of our nation and fail to meet the standards that make our society great."
Waiting game
For Caballero, who has come to know these migrants so well, the situation is heartbreaking.
"They are great people," she said. "Most are fleeing violence in their countries, and it's really difficult to see them with their children.
"They go to their appointment in the United States, and they come back and they haven't made any progress.
"It's really sad."
Since the very beginning of his pontificate, Pope Francis has called for the church to reach out to those living on the peripheries — but Casa del Migrante was already there.
"The peripheries arrive at the Casa every single day," said Father Pat.
The shelter has space for 150 people and, on average, about 95 stay overnight. It provides child care for 30 children each day and evening meals to another 90 people.
The goal of the shelter is to meet the needs of the people at every level.
"If they want to stay here, they have to have a job," said Caballero. "We help them; we have an employment office in contact with different companies around town.
"We have the psychologist here and lawyers, and a person that helps people looking to find refugee status in the United States or in Mexico."
The Casa children's program is new, and Caballero was instrumental in organizing it — an experience that has brought mixed blessings.
"The children can be happy at times and just play," she said. "But then, they become extremely sad all of a sudden and we have to deal with that.
"Especially those that have been held by the United States immigration, it's extremely hard for them because they have bad memories."
Once the children feel safe, they begin to open up to volunteers, telling them about their dreams of life in the United States.
"And that can be really complicated," said Caballero. "Because for some of them, you know they won't make it."
Faith and hope
Caballero's Catholic faith is the constant that gets her through each day.
"Every Sunday, we have Mass with the migrants," she said. "Every day, we have prayer in the morning to kick off the day.
"On Tuesday, we have Mass for the volunteers in the chapel. It's really small; we sit on the floor and gather around."
And that's what keeps hope alive.
"Having hope is one of the main things that pushes me every day," said Caballero. "I have faith that these people will find their way, and that God has a plan for them."
In turn, Father Pat has great hope for Caballero's future.
"Mercedes has learned a lot and her life will be changed forever," he said. "Her experience at the Casa will only fuel her desire to become a great immigration attorney."
Indeed, the difficulties she's witnessed have not diminished her desire to pursue a career in law.
"I think it's pushed me to want that a lot more," she said. "I see that immigration attorneys are needed, and my experience has given me perspectives a lot of people don't have.
"I'll graduate in December, and I'll dedicate through May to studying for [the] LSAT (Law School Admission Test)."