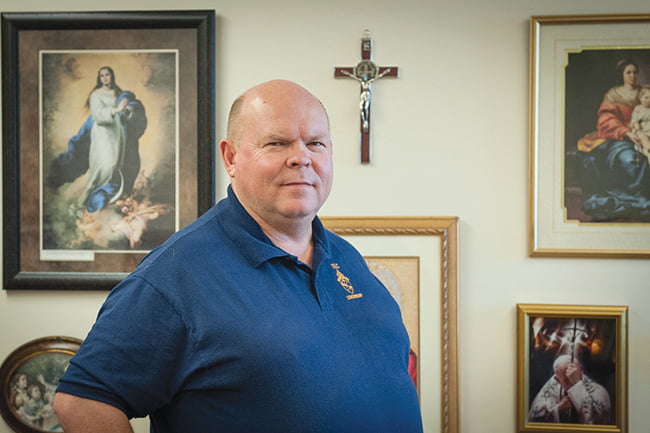 by Rick Cheek
"It is Jesus that you seek when you dream of happiness; he is waiting for you when nothing else you find satisfies you." — St. John Paul II
This is one of my favorite quotes from St. John Paul II from World Youth Day in 1993. While I was not in attendance, I have heard many vocation stories that have come from that experience. That time of pilgrimage confirmed many young men's and women's vocations.
In July of this year, the archdiocese will be taking 90 pilgrims to Lisbon, Portugal, for World Youth Day 2023. We will not be alone; there will be hundreds of thousands — if not a couple million — from all over the world. It will be a time of prayer and discernment for many, but also a time of gathering with the bigger church on an international platform.
In Toronto in 2002, the last international WYD at which he was present, St. John Paul II told the 800,000 pilgrims who gathered with him, "When, back in 1985, I wanted to start the World Youth Days, I imagined a powerful moment in which the young people of the world could meet Christ, who is eternally young, and could learn from him how to be bearers of the Gospel to other young people."
That was my first World Youth Day. It was such a powerful experience for me and for everyone there. My very first time ever seeing Pope John Paul II brought what I call "Holy Ghost bumps" to my whole body, as well as tears to my eyes. I could feel my heart pounding within my chest at the incredible opportunity I had been given.
The evening and morning of the vigil brought a lot of rain. I remember sitting under a poncho with our other group leader wondering why we were there sitting in the mud and muck.
As Pope John Paul II arrived, I witnessed what I would call a miracle of the sun similar to Fatima, as the wind and sun dried out the grounds on which we were sleeping. That was the Holy Spirit at work, putting to rest all the doubt I had about why we were there.
St. John Paul II left an incredible legacy for the young people with his institution of World Youth Day.
Pope Benedict XVI continued and Pope Francis continues this gathering. As many of us in the archdiocese prepare for this amazing pilgrimage, I ask you to keep us, and World Youth Day, wrapped in prayer.
We do not want to go empty-handed either. Please send us your intentions and we will pray for them during our pilgrimage. Send intentions online to: youth2@archkck.org.