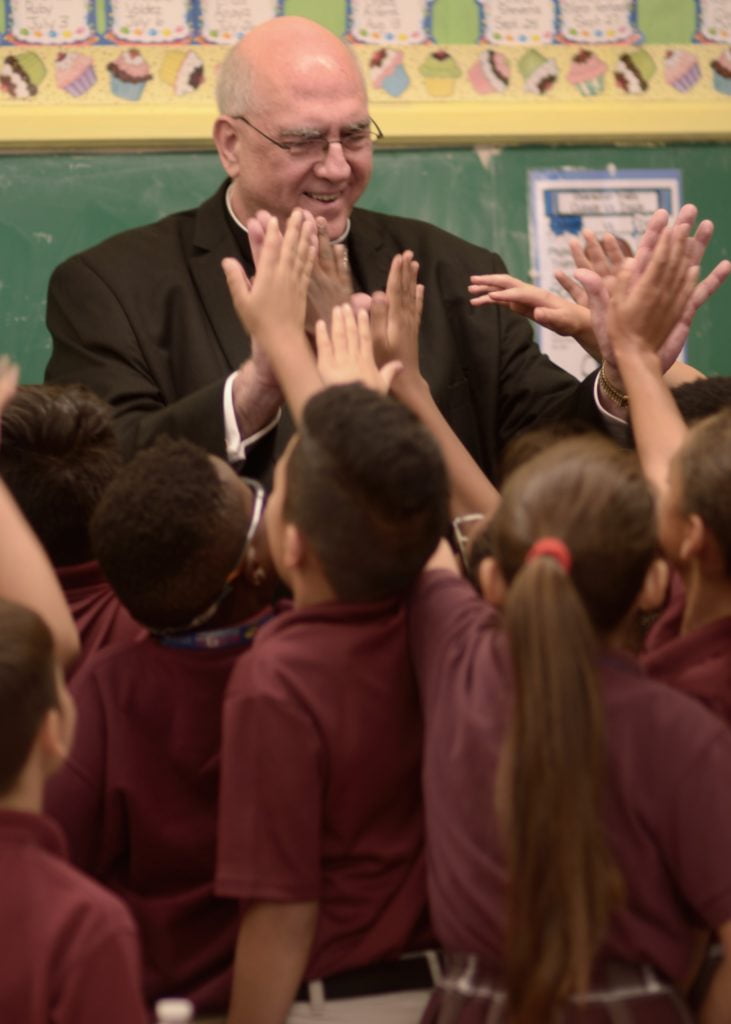 by Jill Ragar Esfeld
"Do you have any children?"
That's a question Archbishop Joseph Naumann probably thought he would never be asked.
But when he recently toured Christ the King School in Kansas City, Kansas, with the Catholic Education Foundation, he invited the students to quiz him about anything.
And when you do that with first-graders, questions can come out of left field.
As a writer and photographer with The Leaven, I have the privilege of seeing our archbishop in many different circumstances, and I'm always amazed at how he can relate to any group with ease.
But my favorite, by far, is watching him interact with children in our Catholic schools.
The day he toured Christ the King, I was assigned to take photographs. I arrived early and waited at the school office.
A second-grade girl was there with her mother. She was being excused for an appointment, but she knew the archbishop was scheduled to visit and refused to leave until she could see him.
He's kind of a rock star with that age group.
When he entered the school, she ran out to greet him, engaged in a little small talk about her First Communion, and then was content to go on to her appointment with his blessing.
It was a sweet interaction — one of many that day.
The archbishop always encourages the students to ask questions and genuinely enjoys bantering with them.
He's a big man, but his size is particularly striking in grade school classrooms. So you can always count on a student asking right away how tall his is: 6'5.
Once the ice is broken with that question, others quickly follow.
The archbishop's favorite color is purple, his favorite candy is M&Ms, and his favorite ice cream is plain old vanilla.
He has a weakness for lemon bars.
He lives in a regular house in Kansas City, Kansas, and his neighbors are very nice and quiet (he lives next to a cemetery).
His birthday is June 4. He has an older brother named Fred, and his mom was a schoolteacher.
His favorite sport is baseball, partly because his dad was a baseball player.
The kids always want to know why he became a priest, and the answer to that question is also related to his dad, who died tragically before the archbishop was born.
Archbishop Naumann tells students that his parish priests were his mentors growing up, filling in where his dad couldn't.
They filled him with faith and inspired him to follow in their footsteps.
And so he has.
There was another sweet interaction at Christ the King as the archbishop squeezed into one of the student desks so he could be on level with the children who had asked him to explain the engraving on his cross – a depiction of Mary's fiat.
He spoke with conviction and passion about his own fiat and you could tell the students were truly inspired by his faith.
So to answer that first question about whether or not the archbishop has any children, from my viewpoint, he has hundreds.
And it is always wonderful to see him take a few hours off from the rigors of overseeing the archdiocese to spend a few hours talking to them about baseball, lemon bars and faith.