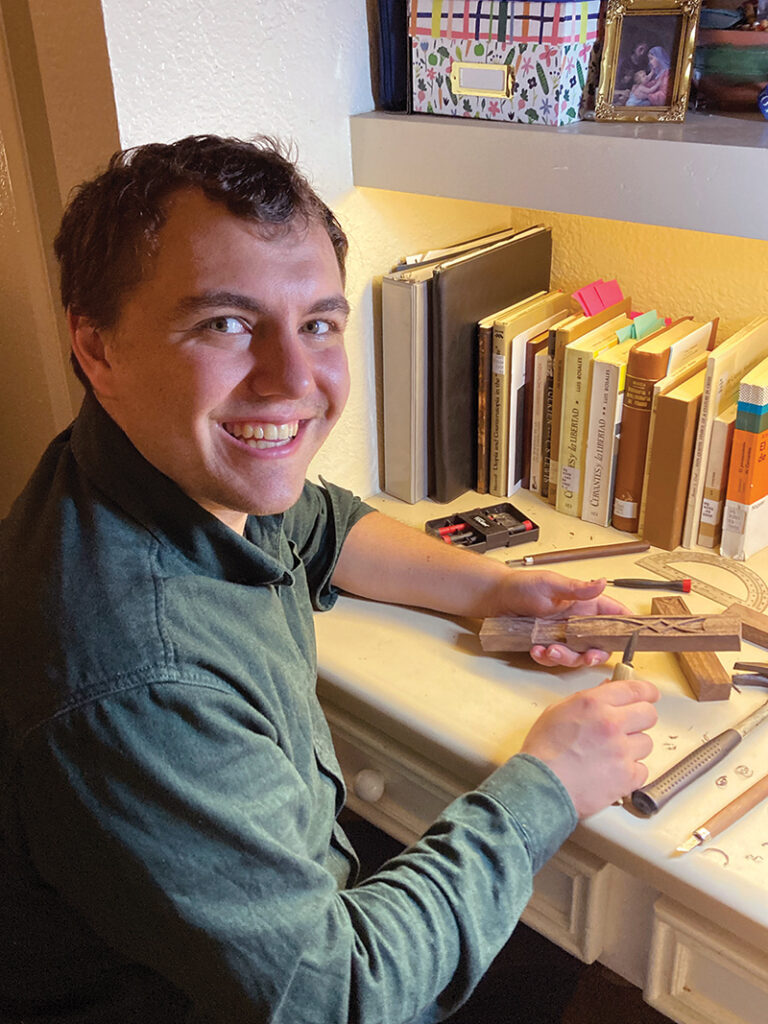 by Jack Figge
Special to The Leaven
ATCHISON — Every time Chris Rziha nails Christ to the cross, the action leads him to reflect on Christ's passion and death through a more personal lens.
"There is something a little unsettling about nailing Jesus to the cross with your own hands," reflected Rziha. "I nail him with my own hands — on purpose. I pray for the person that I am making this crucifix for."
Over five years ago, Rziha started creating handmade wooden crosses; the last step in the process was the affixing of a figure of Christ onto the cross. Although Rziha started carving as a hobby, a year ago it evolved into both a mission and a business.
When he was a sophomore at Benedictine College, Rziha was on vacation with his family. He had free time, some scrap wood, and a knife. By the end of the vacation, he had carved his first cross and found a new pastime.
"I grew up in a family where we do a lot of our own home improvement projects and building renovations on our own. So, I'm kind of familiar with the whole process of working with things with my hands," said Rziha. "When I got home, I tried a couple other designs and found that I really enjoyed the whole process of crafting these crucifixes."
Rziha's production process revolves around simplicity. Selecting the best pieces of scrap wood from his family's wood pile, Rziha will then cut the pieces into a rough outline of a cross. Then, using a chisel, a screwdriver, and an array of knives, Rziha will carve the bare wood into an ornate cross and polish the wood with two coats of varnish.
To finish, Rziha delicately places a figure of Christ at the center and glues on various saint medals per the request of the client.
"Each crucifix has its own unique work and that's the beauty of it," said Rziha. "What makes them high quality is that I spend time with each individual piece and work on them individually."
Shortly after he began his practice of carving crucifixes, Rziha's family and friends started asking him to create crucifixes that they could give as gifts for confirmations, weddings, and other religious celebrations. Soon, even with the requests from family and friends, the crucifixes were piling up, and Rziha decided to open an Etsy shop to sell his surplus crucifixes.
"My house was filling up with crucifixes and I needed another outlet to distribute them," said Rziha. "I found that there was a need for this particular type of crucifix so I started making a crucifix and then placing a saint medal or anything the client wanted at the base of the crucifix, making it a perfect gift for a wedding or for a confirmation."
When he started crafting the crucifixes as a hobby, Rziha never sought to turn much of a profit from his work. The price he does charge, on Etsy, goes towards covering his material costs and turning a small profit to help him justify the time he spends crafting.
"Part of my goal is to keep the prices low," said Rziha. "Enough so, that basically my crucifixes are the best deal on the market. Normally a hand-carved crucifix that's made to order would probably go for it $75 – $80 and I sell mine for $40 to $45. And that's an intentional choice."
As he sets out to carve every crucifix, Rziha contemplates the sanctity of the carving process and that which the object will be used — to foster the spiritual life of another.
"I carve by hand on purpose; it is a very contemplative process. As I carve, I pray for the people," said Rziha. "For me, carving is a matter of contemplating Christ's passion and suffering and its effects on my own life, and then I contemplate how this crucifix will impact the lives of others."
Rziha is currently completing a master's in Spanish at Baylor University with plans to attend Notre Dame this fall to undertake doctoral work in Spanish.
To find Chris' Etsy shop, click here.