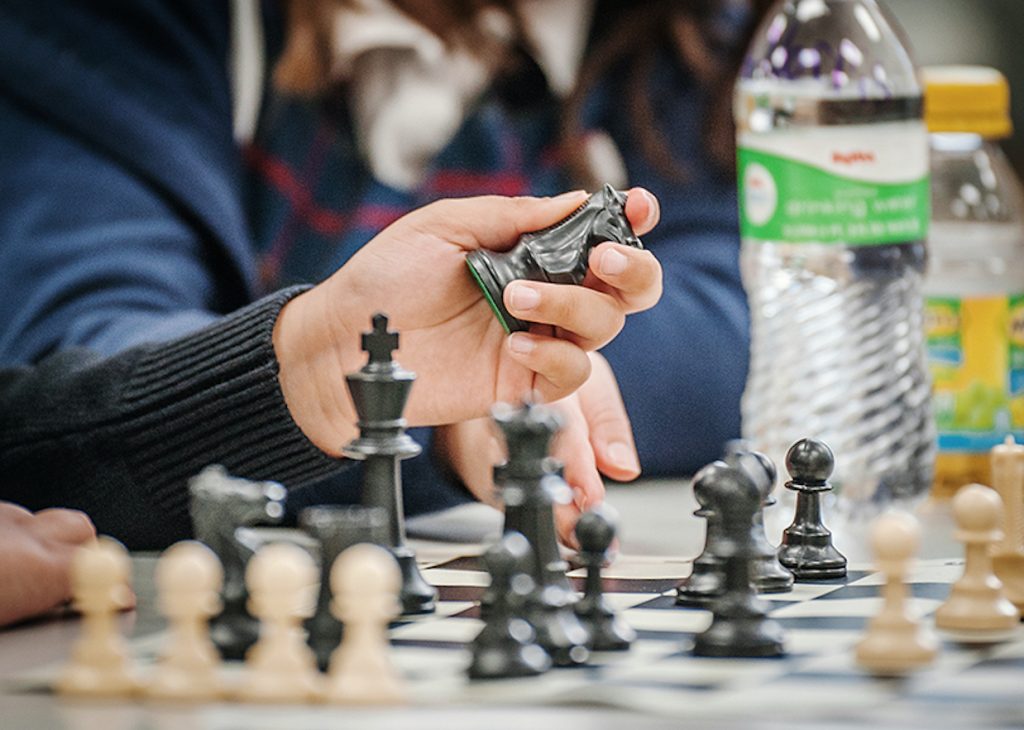 by Olivia Martin
olivia.martin@theleaven.org
KANSAS CITY, Kan. — What is black and white, checkered all over — and 1,500 years old?
The game of chess.
Considered by many to be "the soccer of board games," chess is not only one of the oldest, but also one of the most popular games in the world, played from India to Finland to Kansas City.
In fact, on May 9, over 30 students from Wyandotte County Catholic schools gathered in the library of Bishop Ward High School in Kansas City, Kansas, to flex their mental muscles in a tournament of chess prowess.
Third- through eighth-grade students from Resurrection, St. Patrick and Our Lady of Unity School participated in the tournament.
"Chess is a game of competition," said Judy McGarry, chess club moderator at Our Lady of Unity and tournament coordinator.
In addition to building confidence, teaching strategic planning skills and developing good judgment, McGarry believes that teaching students to play chess helps form respectful human beings.
"It teaches you how to put your best foot forward, how to be Christ-like and show that you can have Catholic virtues while you are playing the game," she said. "And whether you win or lose, it [teaches students] to be a gracious winner and a good loser. It teaches manners."
During the tournament, students are self-refereed, meaning they must rely on communicating clearly and respectfully to resolve any disputes that may arise.
Other than these rare moments of conversation, the games are accompanied by a silence perfect for mind-racking concentration. And there was concentration aplenty.
When the results were in, Resurrection took home first place in overall points with 47, followed by St. Patrick, which scored 32 points. Our Lady of Unity won third place with 31 points.
(A school receives two points for a winning game, one point for a draw and zero points for a loss.) By class, the first-place honors went to Resurrection's eighth, seventh, fourth and third grades; St. Patrick's sixth grade; and Our Lady of Unity's fifth grade.
For Maya Duran, a sixth-grader from Our Lady of Unity, learning new strategies and connecting with others were some of her favorite parts of the tournament — and chess in general.
"I think it's cool . . . because you get to know people with chess and you can learn from their strategies," said Maya.
Sixth-grader Austin Morrow from St. Patrick School agreed.
"It's cool that people in other countries play chess because you don't have to know the language to play them, just chess," he said. "We can learn a lot from others."
For Mike Sosa and Mauricio Ramirez, both eighth-graders at Resurrection School, coming to the tournament was a chance to let the chess skills they'd been practicing online shine.
"I was a bit nervous [for today]," said Mike. "I have to be careful when I make my moves."
Mauricio agreed, adding he likes playing chess competitively but not as much as playing for fun.
And if the tournament teaches students anything, it's precisely that: to have fun with chess.
"The aim of the tournament is to get the students exposed to other students so they can realize they're not in their own fish bowl, that they can have camaraderie and fun," said McGarry.
"I think teaching chess to children, especially in the inner city," she added, "gives them an opportunity to assess their own strengths and gives them the potential to move forward."
Pablo Oropeza, a sophomore at Bishop Ward, remembers his time on the chess team at Our Lady of Unity as one of the best of his life.
"It allowed me to play against many people and see everyone's different strengths and skills and where I needed to improve," he said. "It was much more than a club or a team; we were a family."
Oropeza continues to play chess competitively and also helps out as a chess coach at Our Lady of Unity.
"It's awesome to teach kids what I have learned," said Oropeza. "It has taught me a bit of patience because not every kid is the same — everyone has their own way of learning.
"Coaching has taught me how to be patient and hone my skills and how to correctly extend my knowledge of chess to these children."
And unlike many sports, which can require elite equipment and traveling long distances, in chess the external intimidation factor is low.
"It's a level playing field," said McGarry. "In chess, all of the pieces look the same. It's just your mind versus somebody else's mind."
Better yet, students' time playing chess isn't limited to their youth, said McGarry.
"This is a game they can have for life," she said.