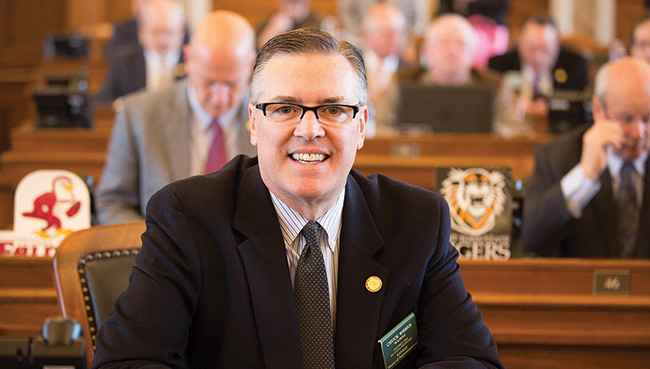 by Chuck Weber
It is an intriguing fact that we name what we do — the Catholic Mass — by its final action: the dismissal.
"Go in peace, glorifying the Lord by your life."
At that moment, we are called to embrace the mission of proclaiming the Gospel in word and deed beyond the doors of the church. We might think of our Catholic involvement in public policy, the political arena and the community-at-large with this "post-Mass" mission in mind.
Public policy advocacy is an extension of the heart of the Catholic Church, expressed through the teachings of our bishops. Initiated by our Kansas shepherds and guided by them, the Kansas Catholic Conference (KCC) seeks public policies reflecting authentic Catholic thinking and priorities. We are greatly blessed to live in a nation where we are not only allowed, but encouraged, to exercise these cherished liberties.
The loss of the "Value Them Both" amendment is but a temporary setback. We will not abandon moms and babies. The parish-based "Walking With Moms in Need" initiative unfolding in parishes throughout the Archdiocese of Kansas City in Kansas (and elsewhere) is powerful and effective.
As Kansas grows as an abortion destination (yes, it's happening), the need for alternatives to abortion will likewise grow. Legislatively, the KCC is exploring ideas to help "moms in need" in Kansas, including greater access to pregnancy resource centers and maternity homes. Our Missouri neighbors are far ahead of us in this regard.
Issues of great interest to the KCC beyond traditional "life" issues include economic realities like the impact of inflation. When family finances are under stress, so is the family. Inflation is brutally real, hitting lower-income Kansans harder than others.
We are grateful for and applaud the recent reduction in the food sales tax. Every little bit helps as household budgets continue to be squeezed.
The Kansas Catholic Conference will continue imploring legislators to seriously take up the issue of unfair predatory lending practices that hurt families and the working poor each day. If one cannot acquire good credit, the harsh alternative for making ends meet is a short-term cash loan loaded with exorbitant fees, interest rates and pay-off options. We do not seek the elimination of the payday loan industry —only a more fair and just structure.
The issues mentioned above are simply a sampling of the many topics addressed by the KCC. Collectively, Catholics have long been intimately involved in the protection, care, education and healing of a great many. We have something important to add for the common good at the Kansas statehouse and beyond.
Thank you in advance for your prayers. Your additional help with the Kansas Catholic Conference begins by signing up for legislative updates online at: kansascatholic.org/take-action.