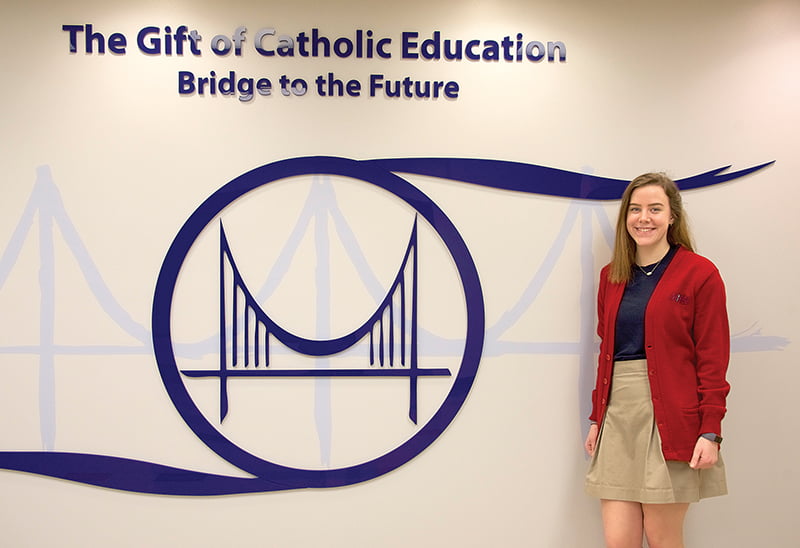 by Moira Cullings
moira.cullings@theleaven.org
ROELAND PARK — Grace Brandl can't say enough about her high school education.
"The friendships and memories, the knowledge I've learned here and the faith that I've built — it's all been incredible," she said. "It's really a blessing."
But the Bishop Miege High School senior might not be where she is now without the Bridge to the Future scholarship program, which started with humble beginnings.
In 2008, Father Ron Livojevich, now retired, gave a financial gift to a St. Joseph School, Shawnee, eighth-grader so she could attend Miege.
Just over 10 years later, Bridge to the Future now sustains more than 30% of the school's student population.
"I always felt that the greatest gift you can give a kid is a chance to educate himself," said Father Livojevich, who is also a big supporter of Bishop Ward High School in Kansas City, Kansas.
"You can never take that away from him," he said. "I feel good that I could give a kid a gift that will never wear out, never tarnish [and] never go away."
Miege has made great strides in opening its doors to students from all financial backgrounds. But John Waldeck, chairman of the Bishop Miege Foundation, said more work must be done.
"The Bishop Miege Foundation is committed to finishing the Bridge to the Future campaign so Miege can provide vital financial assistance for families in need that value Catholic education," he said.
The foundation, which assists the school with fundraising efforts, wants the program's endowment to grow to a level of sustainability that will help hundreds of families annually for years to come, said Dr. Joe Passantino, the foundation's president.
"Because this program supports families who otherwise could not afford full tuition, reaching that goal would have a huge impact on securing a stable enrollment for the long-term, even as tuition costs continue to rise," he said.
And this work couldn't be more pertinent in today's society, according to Miege president Randy Salisbury.
"Our teens today are perpetually bombarded with negative messages and influences that fly in the face of the teachings of the church," he said.
"Catholic high schools provide the culture, climate and setting to help guide our students on their faith journey through those challenging and formational years," he added.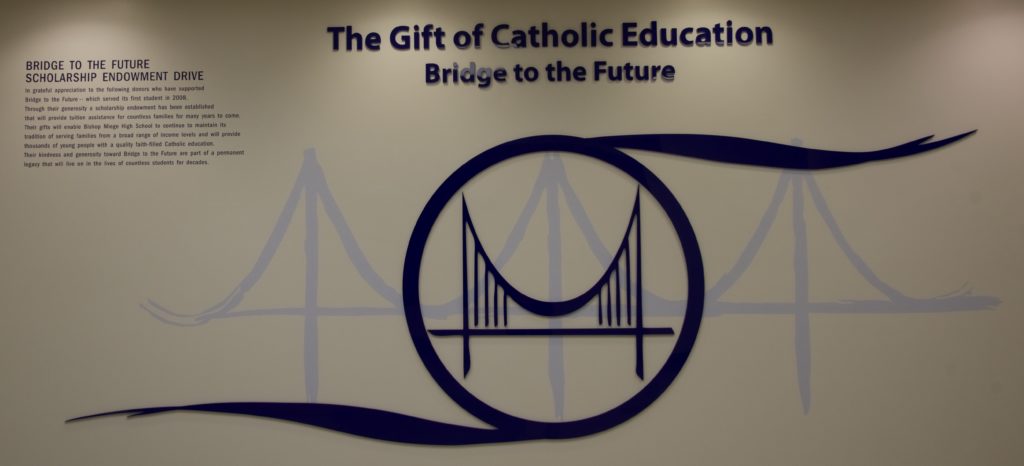 Although the cost of a Catholic education can seem daunting, Miege wants local families to know of its financial assistance through Bridge to the Future.
"Our hope is that all parents will pursue these scholarship opportunities before foregoing a Miege education," said Passantino.
Their children could have opportunities like Brandl, who throughout her time at Miege has taken advantage of mission trips, retreats and friendships rooted in faith.
Brandl couldn't be more grateful for donors who make these experiences possible.
"It's easy for people to spend their money on themselves and their families and what affects them," she said. "So, I'm sure it's a big sacrifice.
"It's heartwarming."
For Karen and Richard, Brandl's parents, being able to send all four of their children to Miege was a gift.
"Passing on the faith to our children is important to us," said Karen. "It starts at home, but it's also nice to know you can be supported by who you surround your children with."I consider all those that donate to the Bridge to the Future to be angels here on earth," she added.