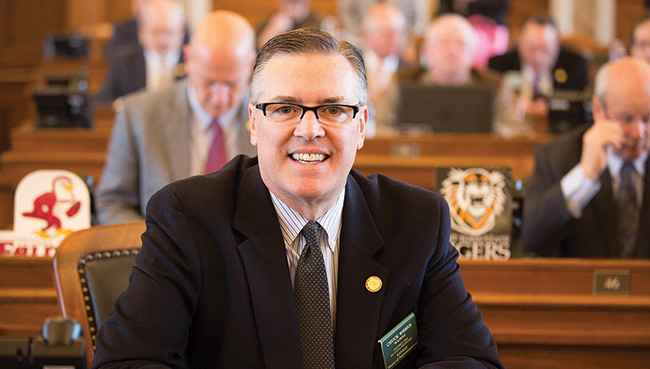 by Chuck Weber
The Chosen" film series depicts Jesus patiently imploring his disciples to live counter culturally, especially in the face of controversy.
Christians already know this defining trait of Jesus, based on Sacred Scripture and Catholic tradition. "The Chosen" helps bring Jesus' divine and sometimes provocative examples to life.
Pursuing policies in the public square reflects the truth of Jesus and his divine mission on earth — the Catholic Church. During the 2023 Kansas legislative session, legislative efforts by the Kansas Catholic Conference on behalf of the Catholic bishops of Kansas are likewise viewed as controversial.
In wake of the defeat of the Value Them Both amendment last August, we've pledged to not abandon moms and babies. Assisting moms in an unplanned pregnancy should not be contentious. Legislative efforts to secure greater support and funding for pregnancy resource centers have been met with intense political resistance and face the threat of a veto by Governor Laura Kelly.
The Born Alive Infant Protection Act, known as HB 2313, should not be a point of contention. The proposal provides legal protection for infants born alive, regardless of the intent of the delivery. Babies born alive due to a botched abortion are guaranteed healthcare like any other child. Legislators face an override vote on the governor's veto.
SB 180 establishes the proposed Women's Bill of Rights and would provide the meaning of biological sex for purposes of "statutory construction." It seeks a legal answer to the question: "What is a woman?"
The measure specifies that for purposes of any state law, rule or regulation, an individual's "sex" is based on an individual's biological sex, either male or female, at birth.
The Save Women's Sports Act is now state law after a successful veto override. It protects all Kansas women and girls engaged in sports competition, ensuring fair competition only against other females. HB 2238 excludes no one — all can play sports based on their sex at birth.
The override vote was needed despite the governor stating last fall during the gubernatorial campaign that "of course men should not play girls sports."
A Kansas Democrat provided the game-changing veto override vote. State Representative Marvin Robinson from Kansas City is enduring spiteful condemnation from Democratic colleagues and legislative leadership for his stand. He deserves our thanks and appreciation.
This is a small sampling of Catholic legislative advocacy action at the Kansas state house during the 2023 session. There have been some successes, while other policy proposals have languished. For example, our efforts to curtail the predatory payday loan industry will have to wait until next year.
Like the TV Jesus from "The Chosen," we strive to persevere as a people of joy for the common good.