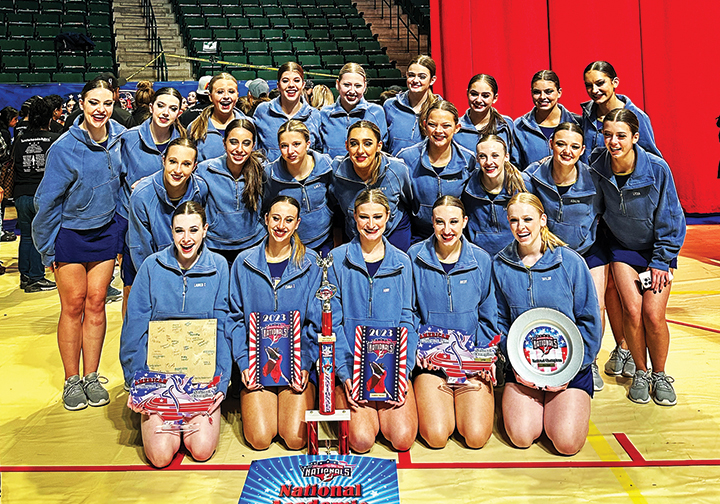 by Moira Cullings
moira.cullings@theleaven.org
OVERLAND PARK — "This competition is one of the biggest stages for dance teams in the country," said Tara Yantis, head coach for the St. Thomas Aquinas Spirits dance team.
"It is absolutely thrilling to perform alongside so many peer teams in the industry that we deeply admire," she added.
The Spirits traveled to Texas for the American Dance/Drill Team National Dance Championship in Denton the weekend of March 24.
They competed against 80 teams and walked away with two national titles, a second place and a fifth place award (see sidebar for more details).
Senior captain Abigail Ballard was thrilled with her team's accomplishments.
"My team has overcome a lot over the past year," she said, "but it is how we handled it all that brought us closer together.
"The accomplishments meant that we were finally seen for how hard we had worked the entire year and being able to bring something we love so much to life and to tell that story."
Senior captain Avery Rudicel is proud of her team's efforts.
"I think what made this year so special is the team dynamic," she said. "It took a lot longer for the team to get bonded this year, but when we got to that moment everything clicked.
"Nationals was when we really clicked as a team."
Yantis was particularly proud that her team earned the top GPA award in its division.
"We also keep a primary focus on our faith," she said, "in constant appreciation of the blessings we have that are nothing short of God-given to be able to chase our dreams as a program.
"On top of that, we have a large group of supportive parents that travel with us to support the team."
This year's senior class chose the theme "Make your mark."
"It was just perfect," said Yantis. "In every way, they fought to show who they were, what kind of hearts they have and that kindness always wins.
"They certainly made a mark to be proud of."
Yantis emphasized the importance of the Spirits' ability to compete at a high level, especially since it can show the girls the possibilities of dancing in college and beyond.
"So many people see 'spirit' teams in high school as just groups that shake poms," said Yantis. "It's so much more than that in this day and age.
"To compete at the level we do, the athleticism, artistry, commitment and focus are just so much more profound. It ignites in them drive and passion they may not have even known was there. It's enriching on many levels."
For Ballard and Rudicel, the opportunity to be captains of this year's team was an honor.
"This year, I've learned how to collaborate with the other captains to lead our team together in the best way possible," said Rudicel.
"We had to discuss together how to fix problems and how to keep the team motivated in hard times," she continued. "The coaches have guided us along the way and have really taught me how to lead a team with grace."
Ballard said the individual personalities that made up this year's team created a special environment for the team to thrive.
"Without these personalities, our team wouldn't be the same," she said. "Those characters bring life to dancing and [are] what it is all about."