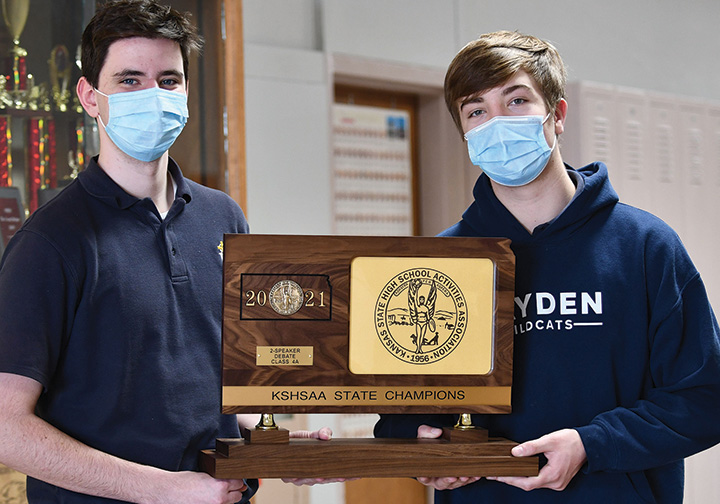 by Jill Ragar Esfeld
jill.esfeld@theleaven.org
TOPEKA — "It feels pretty good," said Hayden High School junior Sean McConnell. "All the hard work is paying off."
Sean and his debate partner senior Marcel Pryor have had some outstanding success this season.
And by outstanding, we mean historic.
The pair won the Kansas Debate Classic and the Kansas State High School Activities Association (KSHSAA) 4A 2-Speaker state tournament, a feat Hayden hadn't accomplished in 24 years.
As if that wasn't enough, last December, they qualified for the National Speech and Debate Association (NSDA) national tournament.
They're the first team in Hayden history to do so.
John Samqua, the head debate and forensics coach at Hayden, is more impressed than surprised.
"I felt like they were going to have success this season," he said. "I didn't know how far it would go"
Sean and Marcel are both members of Most Pure Heart of Mary Parish in Topeka. They've known each other since middle school, but didn't start debating together until the 2019-20 season, when Sean was a sophomore and Marcel was a junior.
Samqua, who debated in high school and has been part of the coaching staff at Hayden since 2013, had an intuition the two would work well together.
He was right. The success of their partnership stems from the way their strengths and talents complement each other.
"Sean is really geared toward the pre-round preparation, evidence gathering and research," said Marcel. "And I'm definitely more gifted at persuading people inside the round, making analytical arguments."
Marcel believes his faith has helped him hone those skills.
"Anytime you take up an ideology like Catholicism," he said, "it entails defense — not just defense from other people you argue with, but internal defense from doubts you may have.
"I think the ability to rationalize and articulate competing arguments has played a role in my ability to skillfully defend my faith."
The debate team also credits its success to the exceptional encouragement it gets from the school and community.
"The administration is very supportive of debate," said Samqua. "This year, we've required a lot of technology because everything is virtual.
"Initially, I was like, 'Oh no, how is this going to work? This is super scary,'" he said. "But it really worked out. Whatever I needed, they were able to get me. They were very supportive."
As the season began and it was clear all the debates would take place online, Samqua put effort into making the experience as normal as possible.
"Because nothing has been normal for like a year now," he said.
Teams meet at Hayden and set up with their partners in private rooms. They debate using platforms like Zoom or the NSDA's Campus.
And there are advantages.
"One of the setbacks for in-person debating," said Marcel, is "since you're in a classroom with the other team and the judge, if you wanted to craft arguments or pick strategies with your partner, you had to whisper really quietly.
"With COVID and the online protocols, you can just mute yourself on the Zoom call and talk normally and strategize.
"That's been a huge help."
Marcel and Sean didn't rest on their laurels for long. They're already hard at work preparing for the national competition. Though the topic is the same one they've debated all year, arguments have to be fresh and up-to-date.
They'll be searching the internet for current information to support their arguments. Then they'll cut, cite and organize key points so they can be accessed at a moment's notice.
"We'll have to do a lot of this," said Sean, "because debate comes down to who has the most and better evidence, coupled with who has the better speaking abilities."
They'll have a few opportunities to fine-tune their strategies before nationals take place this June.
"KSHSAA grants us five spring semester debate tournaments," said Samqua. "So, we'll be doing one or two tournaments a month just to keep fresh with arguments, try to hit some harder completions, test things out."
The boys are confident because they know their own district's reputation.
"The Flint Hills Kansas Debate District is historically one of the most competitive and talented districts across the country," said Marcel. "We've always felt like even low-level competition here is going to be as hard, if not slightly harder, than the pool of competition at nationals."
Samqua's focus is making the experience special despite the fact that the team won't be traveling to a national competition.
"We'll compete from the school," he said. "But we'll try to have some food and a good bonding experience.
"We'll be here to seriously compete, but we'll try to find a way to make it special."
For their part, Sean and Marcel are focused on learning and improving whatever the outcome of the competition may be.
"There have been tournaments we haven't done as well at," said Sean. "And we take the time after to reflect on how we can improve.
"I think that's a crucial point that involves faith, because we just know that no matter what, getting better with debate and being better people just comes over time."