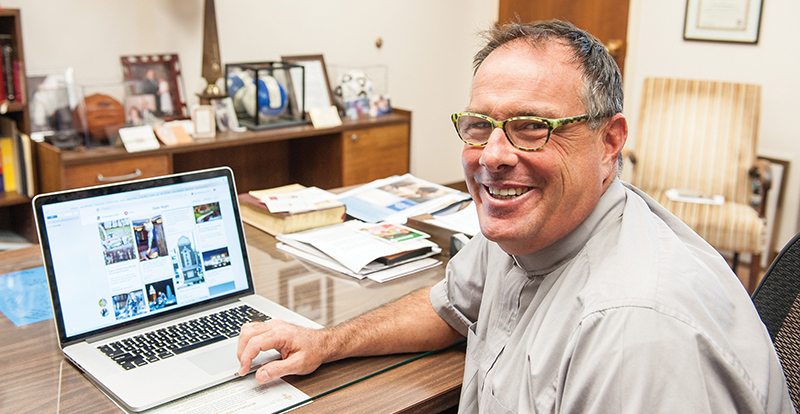 by Deacon Dana Nearmyer
Revival: Eucharistic Amazement is a three-year initiative in which parishes and the archdiocese will offer parishioners opportunities to learn about and experience the  ever-unfolding mystery of the Eucharist.
We all have jobs and important terrestrial tasks to juggle, but each of our primary sacred jobs is to be in a thriving relationship with Jesus and his church and to share the joy of that relationship with others.
Revival: Eucharistic Amazement asks each of us to more deeply understand and experience Jesus in the Eucharist, and to nurture eucharistic faith in our families and friends.
Revival: Eucharistic Amazement kicks off the archdiocesan phase on the solemnity of Corpus Christi, June 19, but you do not have wait until then to dive in. The revival websites, local and national, are up and running. A free course is offered there. The archdiocesan revival site offers many opportunities in the three main areas of concentration:
• formation of the laity
• enhancement of eucharistic zeal in priests, deacons and liturgical ministers
• experiences of eucharistic amazement
We will be offering formation of the laity for all ages. Exciting eucharistic reading and experiences for young people are highlighted on the website.
Camp Tekakwitha's theme this summer is Revival: Eucharistic Amazement! Please sign up your young people and take a look at our three family camps. All are welcome to the camp's annual Echo of Kateri picnic and Mass on July 30; it will be an afternoon and evening of eucharistic learning and experience.
Camp will be celebrating its 25th anniversary this year, as is the Kelly Youth Rally. Both are featuring eucharistic formation. Eucharistic formation and eucharistic processions are being offered in late summer in both the Southern Region and Nemaha-Marshall Region. Many things are planned.
Priests are encouraged to attend a study day on Ars Celebrandi, which involves:
• fidelity to the texts and rubrics of the church
• prayerful understanding of the liturgical texts, feasts and seasons
• reverent sense of the ministers and assembly engaging in an exchange, which is the dialogue of the Father and the Son in the Holy Spirit
• proper preparation for celebrating the liturgy
Deacons will attend a regional workshop on the Eucharist. The archdiocesan office of liturgy and sacramental life will be offering workshops for musicians and liturgical ministers.
Each of our parish liturgies and times of eucharistic adoration are opportunities for us to be amazed by the love of the Lord, through the sacrifice of Calvary and gift of the Eucharist.
In year one, parishes are to plan for what they will offer and implement officially starting on the solemnity of Corpus Christi in 2023. The goal is to create a culture of Eucharist amazement for all ages.
Explore the opportunities to grow closer to our eucharistic Lord.