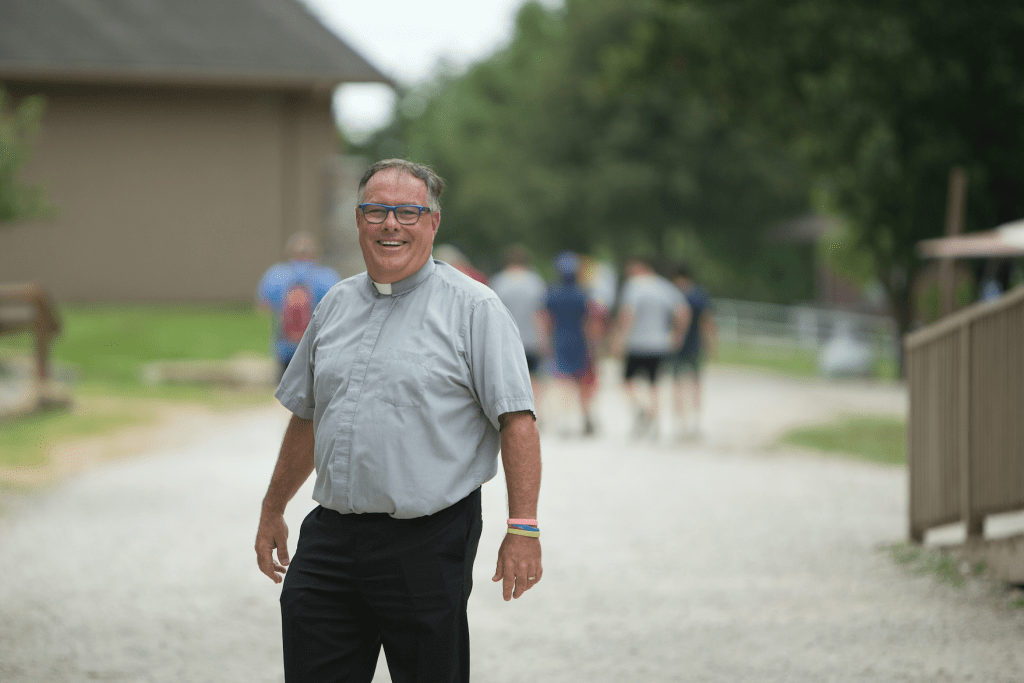 by Deacon Dana Nearmyer
Jesus is close. Jesus is really close. Mass bridges heaven and earth. Eucharistic Prayer I says, "In humble prayer we ask you, almighty God: command that these gifts be borne by the hands of your holy Angel to your altar on high in the sight of your divine majesty . . ."
Jesus wills that we be near him, so near that through the Eucharist he fills us. Each day Jesus gives us himself "so that all of us, who through this participation at the altar receive the most holy Body and Blood of your Son, may be filled with every grace and heavenly blessing."
Archbishop Joseph F. Naumann and the bishops of the United States are calling for a three-year grassroots revival of devotion and belief in the Real Presence of Jesus in the Eucharist. Archbishop Naumann and the bishops of the United States believe that God wants to see a movement of Catholics across the United States healed, converted, formed, and unified by an encounter with Jesus in the Eucharist — and sent out in mission "for the life of the world."
The Timeline
June 19, 2022 — Feast of Corpus Christi.
Launch of the Eucharistic Revival
June 19, 2022 – June 11, 2023 — Diocesan Year of Eucharistic Revival
June 11, 2023 – July 17, 2024 — Parish Year of Eucharistic Revival

July 21, 2024 – Pentecost 2025 — Year of Going Out on Mission
It is your turn to prepare yourself to more fully experience Jesus in the Eucharist.
This Easter season engage in Eucharistic Revival. Here are a few ways to engage.
• Listen to Jesus himself. Go to adoration. Go to: archkck.org/eucharistic-revival/adoration-directory/ for a listing of the regular adoration opportunities in the archdiocese. Sit before the Lord. Be still. Ask questions of Jesus himself. Journal. Amazing things will happen if you give Jesus your attention.
• Go to Mass with the clear purpose of drawing close to the Lord. Try something outside of your usual routine, like a daily Mass or eucharistic retreat. Listen closely to the words. They are said to and for you. Feel the healing and strength of receiving the Lord, like it was your first time. Many youth and families say that Mass at Camp Tekakwitha has drawn them closer to the Lord.
• Another way to form your heart is by listening to the testimony of local priests and lay leaders about the power of the Real Presence in their daily walk by listening to the New Manna podcast: archkck.org/eucharistic-revival/new-manna. Lee McMahon, archdiocesan consultant for evangelization, hosts priests and lay leaders that serve here in deep sharing that will move your heart.
More formation can be found at: USCCB National Eucharistic Revival website: eucharisticrevival.org/ or at our local revival website: archkck.org/revival.