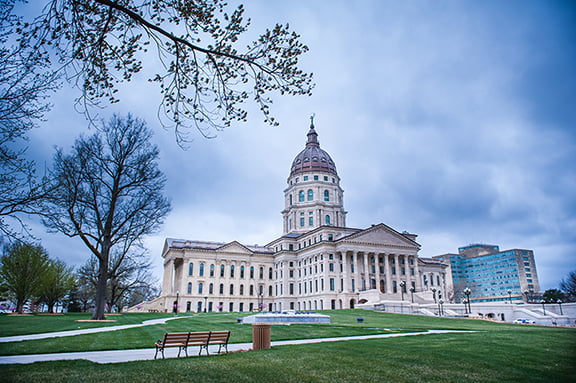 by Joe Bollig
The writer Thomas Wolfe made the melancholy observation that "You Can't Go Home Again."
This means that time in its linear progression obliterates what we love so it can't be revisited. It can only be remembered.
But that's not entirely true.
Sometimes home — which can mean many things — is merely submerged and waiting to be raised so it can be revisited.
If you had been in the rotunda of the state Capitol on Saturday, Jan. 5, you would have witnessed such a homecoming.
At noontime on that day, the ornate rotunda was filled with the sounds of men and women singing. It was a reunion of the Thomas More Prep-Marian High School Folk Chorus, under the direction — once again — of Father Michael Scully, OFM, Cap.
Father Mike came to then-Saint Joseph Military Academy in Hays, Kansas, in 1966. It was a time of change in the church and society, and he decided in 1968 to form a chorus to bring contemporary music to the Mass.
The music was mostly secular in origin, but Father Mike found meaning, message and faith in the music.
The school became Thomas More Prep in 1971, and later merged with St. Francis Seminary of Victoria, and lastly Marian High School in 1981.
The Folk Chorus, however, continued. Father Mike led the chorus until he left in 1984, and from then on it was led by others. When the Folk Chorus ended is a matter of dispute, some saying in 1986, others in the late 1990s.
Currently, Father Mike is pastor of Holy Family Parish in Eudora.
Sometime in December 2018, outgoing Governor Jeff Colyer, M.D., was talking with his good friend Dr. Paul Camarata. Both were TMP-M Class of '78 and Folk Chorus alumni.
"We were talking about Father Mike, and how much he meant to so many people across the state over the years," said Governor Colyer. "He brought a lot of people to faith through music, modern music.
"So, Paul and I thought, 'Wouldn't it be great to get the band back together again? And, what a nice opportunity it would be to do it in the Capitol.'
"Several groups have sung in the Capitol, but to my knowledge the Folk Chorus had never been there, and the acoustics are fantastic. So, we thought it was a great place to do it."
The two contacted Father Mike (who was amused, and didn't think they could make it happen), and handed it over to Troy Ruda '93 and Mary Lang '77 in the TMP-M Alumni office. Governor Colyer reserved the use of the Capitol.
Ruda and Lang only had a couple of weeks to pull it all together, contacting approximately 165 alumni who graduated between 1970 and 1984. Very few of them lived in Topeka, and Ruda wasn't sure how many would show up.
On short notice, 27 singers and musicians from 15 different graduation classes committed. Many more sent their regrets that they couldn't be there.
The Folk Chorus members gathered for some practice, were treated to a pizza lunch by Governor Colyer, and then performed.
As he had before, Father Mike directed.
"There were people who had never met each other because they weren't at the school at the same time," said Ruda. "They never crossed paths, but they were all singing the same songs like they had sung together in high school. They learned songs they never sung before that day. The common thread was Father Mike Scully, who tied everyone together. They were almost like a family, although some of them never met each other."
A few family and friends, and school representatives comprised the audience, as well as a few curious tourists.
"Father Mike helped bring out that we are here to serve and make a difference in people's lives, and that your conscience is important," said Governor Colyer. "There were a lot of messages in popular music [we sang] that many people didn't realize were there. Father Mike brought those to the fore."
Following the concert, Governor Colyer led a tour, and later in the evening some members travelled to Holy Family Parish in Eudora to sing a song for the vigil Mass celebrated by Father Mike.
Father Mike seemed to be absolutely delighted to be directing his former students, and surprised that they remembered the old songs and sang as well as they did.
"As far as I could tell, it went extremely well, given the circumstances we had," said Father Mike.
Later, Father Mike sent a message to the chorus members:
"There are no words that could express how I felt this past Saturday," he wrote. "Thank you for showing up, for singing so well, and for your kind words to me. I was justifiably proud of each and every one of you. It was amazing to me that the songs came back so quickly, and that it sounded as good as it did."