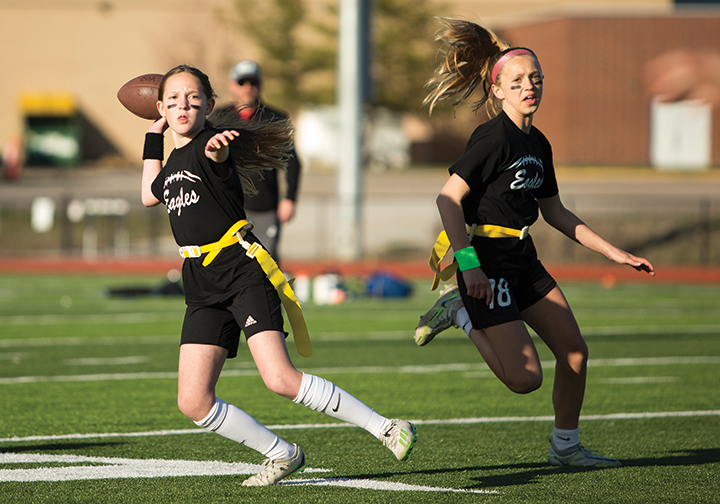 by Moira Cullings
moira.cullings@theleaven.org
KANSAS CITY, Kan. — Organizers call it the "Patrick Mahomes effect."
"With the boys, the participation has definitely increased," said Kevin Neenan. "I don't see any reason why it wouldn't carry over to the girls."
Boys and girls around the archdiocese are eager to follow in the footsteps of their favorite Kansas City Chiefs quarterback and play football.
Thanks to the Catholic Youth Organization of Johnson and Wyandotte Counties (CYO) and coaches like Neenan, both groups now have the chance to do so.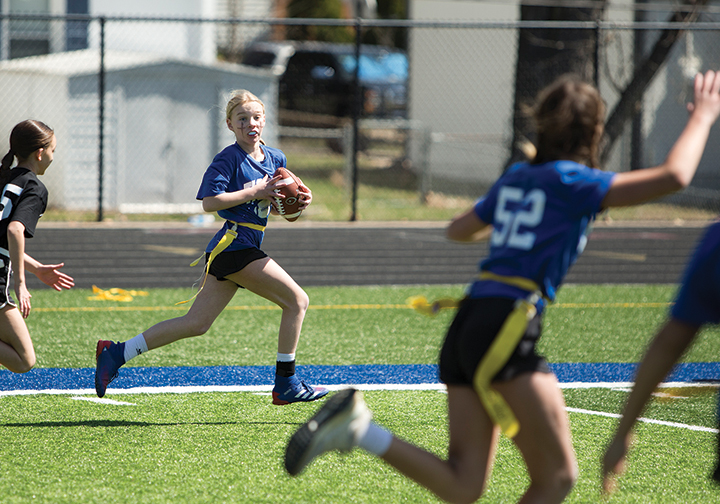 Last year, CYO launched a girls flag football league to an emphatic response — 350 girls signed up for the pilot program.
This spring, more than 450 are taking the field.
'Confidence booster'
The girls flag football league is made up of 43 teams of third through eighth graders on the Kansas side, as well as girls from Missouri's Parochial League of Kansas City (PLKC).
John McGoldrick, executive director of CYO, said starting the league was a no-brainer.
"Flag football is a great confidence booster for young girls," he said, "and it also gives girls the opportunity to become a leader.
"Every team needs someone that can bring everyone together and set an example."
Neenan, who helped the league get off the ground last season, has coached tackle football through CYO for the past 15 years. His sons have gone on to play at Bishop Miege High School in Roeland Park.
Now, he coaches a team of seventh grade girls from St. Agnes School in Roeland Park, including his daughter Kelly.
"They play football at recess," said Neenan. "I knew that they had been doing that for the last several years.
"I think the opportunity to play is what they're most excited about."
'I can also play football'
Girls like Kelly are thriving in a sport they've long appreciated.
"For Kelly, she was so excited when I told her we were going to do it last year," said Neenan. "I coached her brothers all through grade school, so she was always around that. We're a big football family."
Kelly said she was excited to learn more about football and grow closer with her friends through a new sport.
"My favorite things about flag football are scoring touchdowns and the energy and excitement everyone has on the bench and field when someone makes a good play," she said.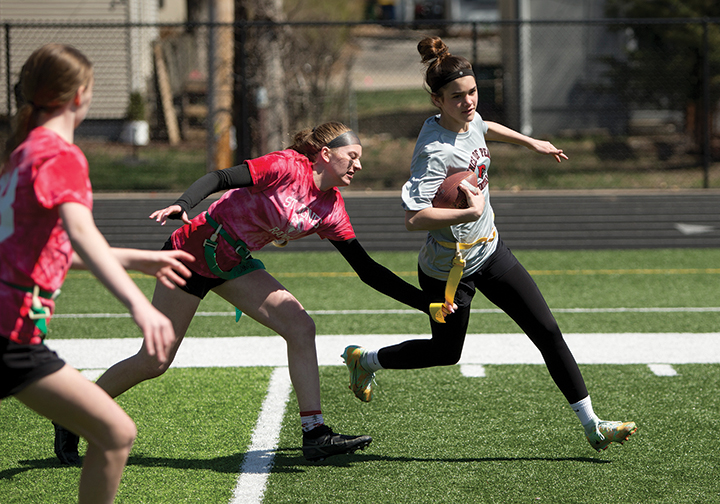 The opportunity to participate in the league has been special.
"It means that I can show off to my brothers that I can also play football," said Kelly. "I also get to learn new things that I did not know about the sport before I had the opportunity to play."
'It's always possible'
The lessons the girls are learning through flag football can be lifelong, according to McGoldrick and Neenan.
"The first thing [I tell them] is they were pioneers," said Neenan. "I stress to them how cool it was that they're the first girls to ever play CYO football."
"If you really want to do something, it's always possible," he added.
Flag football not only teaches basic motor skills, said McGoldrick, but it also instills sportsmanship, teamwork and other Catholic values.
"Flag football is also a great source of exercise," he said. "Players may go from jogging to running to sprinting throughout a game. It is one of the few sports that uses the entire body at once."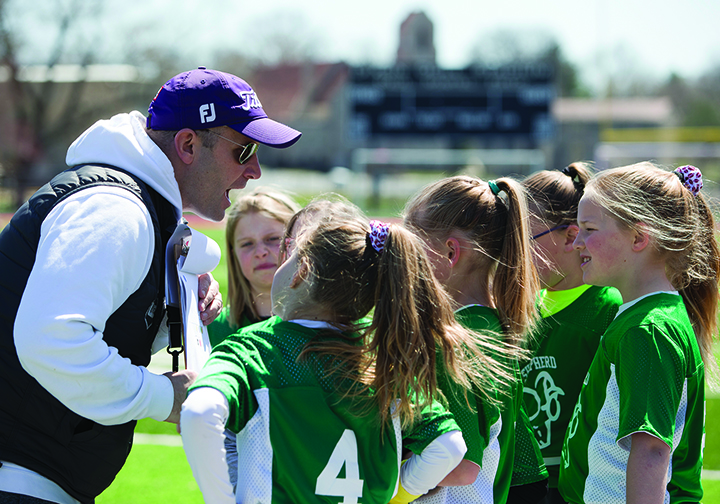 McGoldrick said the sport also has a low risk of injury.
"Playing flag football benefits the health, social skills and athletic abilities of young girls," he said. "Girls will not only enjoy playing but will learn . . . the game of football.
"Across the country, more and more girls are participating in flag football."
Both McGoldrick and Neenan believe the girls will have more opportunities to play in the future, especially as more high schools add it as a club sport.
"This sport is growing," said Neenan, "and it's going to continue to grow."
'Quick learners'
Although the girls were new to the sport last year, Neenan said they picked it up quickly.
"We had a little camp at the beginning for all ages to get them to learn the complete basics, like how to put on your flags and things like that," he said.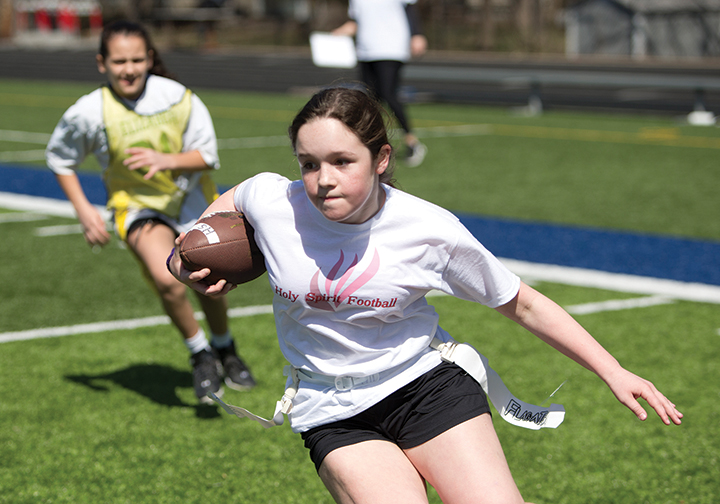 Halfway through the first practice, the girls had already picked up on how to run the offense and were able to move on the next day to learning passing plays.
"Whereas the boys, it takes like a month to do that," Neenan said with a laugh. "This basically took one full practice to install the runs we're going to do and the passes we're going to do.
"They were quick learners."
Neenan said the girls were nervous for their first game, and he witnessed several "deer in the headlights" looks.
"But they're very coachable and picked it up right away," he added. "There are some girls that are really fantastic at it — just complete naturals."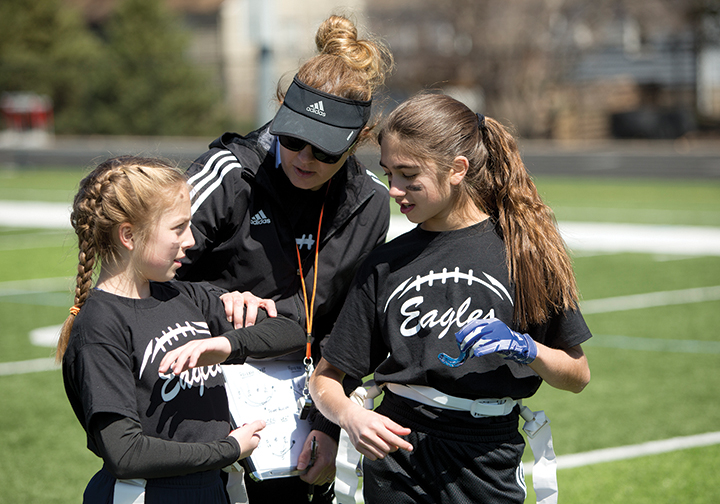 Neenan also said the league is more relaxed and the girls are able to have fun while learning the game.
"They're competitive," he said, "but they enjoy being out there, and they're having fun with each other.
"I would say the most joy comes from getting to play."
'Catholic values'
The opportunity to play a sport within a faith-based organization is something Neenan and his family don't take for granted.
"What CYO offers is Catholic values," he said. "Giving them the opportunity to play the sport, teaching them the sport and doing it within the CYO virtue system is huge.
"I think any time we can keep kids in CYO leagues, we offer something different than a standard league that has no affiliation to religion [or] Catholicism.
"In this, we know that all the coaches share the same values, so we know it's being taught the right way."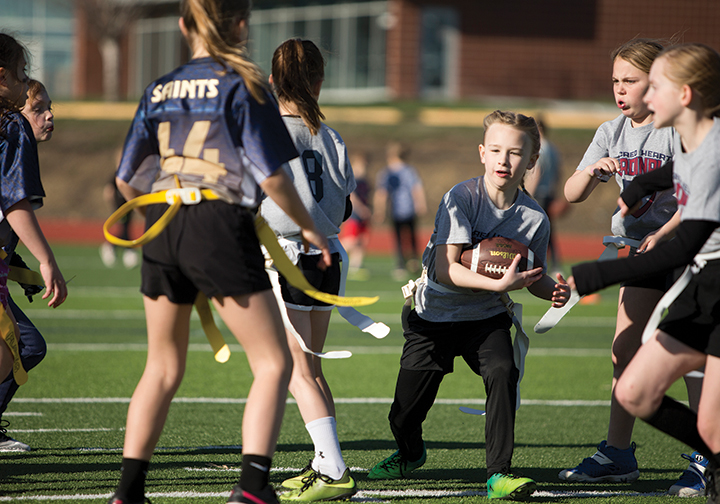 McGoldrick agreed.
"Everyone agrees that sports are a good thing for children," he said, "but CYO makes them even more special."
To learn more about CYO sports, visit the website at: cyojwa.org.