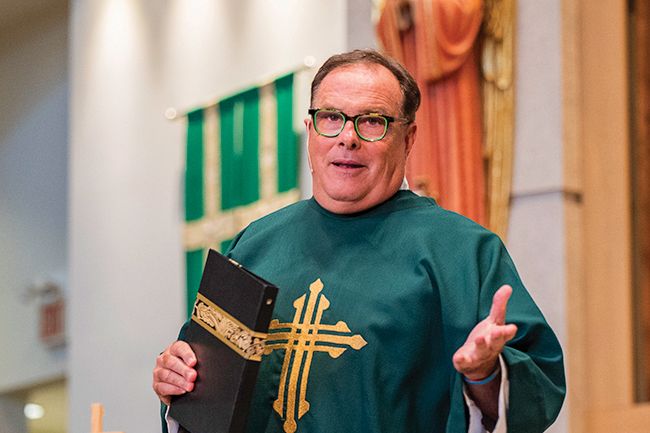 by Deacon Dana Nearmyer
My oldest daughter gave birth recently to a 10-pound, 13-ounce baby boy, her fourth child.
She, my son-in-law and the whole family are thrilled, but we all know that the real work has just begun. I have six grandchildren; their parents work so hard caring for the bodies and minds of their kids, and praise the Lord, they work even harder caring for their eternal souls, passing on the faith. Modeling and mimicking are foundational ways that we all learn, even in spiritual development.
I am so inspired by the parenting example of my married kids, and the tidal wave of young and faithful parents in the archdiocese. Three great opportunities for parents to pass on the faith are:
1. Pray with your kids
2. Worship with your kids
3. Build awe and wonder of Jesus Christ through eucharistic devotion
Bedtime and meals are key times for prayer in the home. Praying both rote prayers and spontaneous prayers with kids models our reverence and intimate access to our loving Lord. The Hallow, Liturgy of the Hours, iBreviary and the Holy Family rosary meditation apps can all be tools that strengthen our prayer life and pass on the faith.
Going to Mass with kids can be tough on everybody, if we don't all have a common understanding of why to take kids to Mass. Mass is a divine, sensory, immersive environment: holy water, incense, bells, kneeling, sacred images, singing, receiving the Eucharist and so many other touchpoints that can engage young believers.
Modeling and mimicking the treasured prayers and Scriptures and experiencing the eucharistic feast imprint eternal memories.
In this year of Parish Eucharistic Revival, let's learn and pass on the meaning and depth of each segment of the Mass. Kids, and many adults, need to be reminded and refocused regularly on how to take deeper advantage of the grace and peace that are offered in each part of the Mass.
Books like "Father Ben Gets Ready for Mass" and the weekly "MagnifiKid" can be helpful resources.
Eucharist Amazement is best experienced in your parish, but additional opportunities are also available. On May 4 of 2024 , "Behold KC" will be held at the Liberty Memorial in Kansas City, Missouri. Both Kansas City dioceses are hosting this free evening of music, Mass and eucharistic adoration for families.
June 25-29, 2024, the National Eucharistic Pilgrimage is coming to Atchison, Topeka, Leawood and to the Cathedral of St. Peter in Kansas City, Kansas. All are invited for Mass, eucharistic adoration, testimony, fellowship, and to enkindle greater love of Jesus.
On July 17-21, 2024, the National Eucharistic Congress in Indianapolis will bring 80,000 pilgrims together to grow as missionary disciples.  Extensive information is available online at: https://archkck.org/eucharistic-revival/.
Let us pray that our kids and grandkids love Jesus, his church and spread the Gospel!