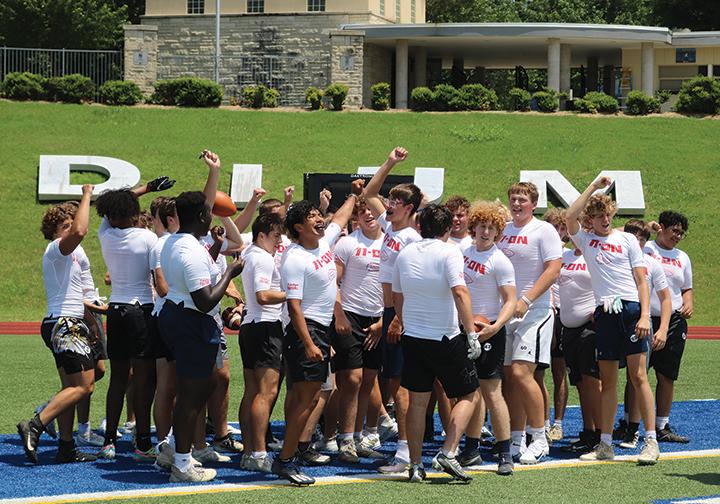 by Marc and Julie Anderson
mjanderson@theleaven.org
TOPEKA — It's too soon to tell if Joe Otting, headed into his senior year at Hayden High School here, will play football professionally.
But he and his teammates got a chance to do something no other Hayden football players have. On June 24, teammates competed in what's known as "11-On" at Washburn University's Yager Stadium, a first-of-its-kind event in Topeka hosted by the Kansas City Chiefs in partnership with Nike.
"Nike brought this to the Chiefs," said Gary Spani, a former Chiefs linebacker and member of the Chiefs Hall of Fame. Spani now serves as director of community engagement for the organization.
"I think 16 professional teams are now doing it around the country," he said. "We started it last year. We just did it in Kansas City last year."
The half-day experience "supports scholastic high school football team competition" and "focuses on building character and life skills along with team foundations." The day consists of 7-on-7 games and position drills. Teams were specifically invited to participate in what Spani said he hopes will become an annual event within the Topeka community.
"We think high school football is all about community," he said. "So, it's a chance for us to go out and engage with the high schools. . . . We love football, but we love doing [the event] because it's really about community."
In addition to Hayden, other Topeka teams included Shawnee Heights, Seaman and Washburn Rural, with teams from Center, Junction City, Manhattan and Olathe West rounding out the rest. Spani said two similar events were held earlier in Kansas City and Wichita.
Bill Arnold, who serves as Hayden's head coach, said he was thrilled with the invitation.
"I didn't ask questions," he said of the invitation. "I'm happy for the kids to come and experience something like this."
As part of the activities surrounding the competition, the Chiefs organization also brought the Lombardi trophy from Super Bowl LIV for photos and set up a kids camp with USA Football on the practice field for ages 5-14.
Prior to their drills and games, a trio of Hayden seniors expressed their thoughts about participating in the unique, first-ever event.
"It's really cool. You know, we've never experienced anything like this, especially with the Lombardi trophy being up there," said Jameson Kennedy.
Senior JC Cummings agreed.
"We're kind of a smaller school, playing these bigger schools," he said, "so it's nice to have some competition to start the year."
The 6-foot-4, 270-pound Otting, who signed a letter of commitment to play football at Notre Dame University after graduation, said, "It's exciting to be here. It's something new. It's a chance to build this team up, build some chemistry. It's going to be fun."