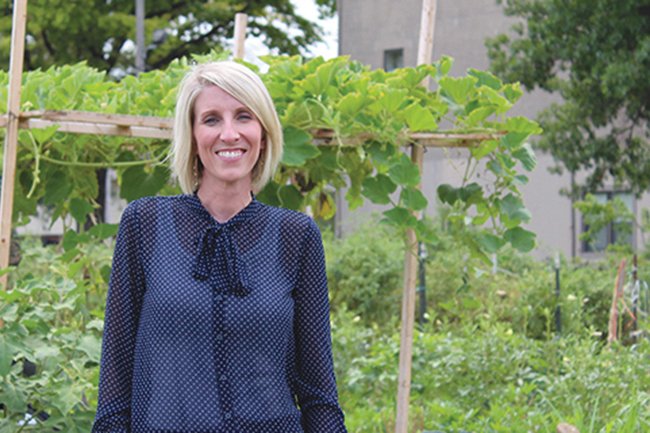 by Lauren Solidum
"If a brother or sister has nothing to wear and has no food for the day, and one of you says to them, 'Go in peace, keep warm, and eat well,' but you do not give the necessities of the body, what good is it?" (Jas 2:15-16)
The ministries of Catholic Charities of Northeast Kansas are designed to strengthen families by providing a pathway out of poverty.
Hunger is a challenge brought on and provoked by poverty. If a family is food-insecure, they are roughly 80% less likely to participate in any other program offered by Catholic Charities. It limits our ability to move people into programming that increases their skills and education, financial fluency and housing stability.
Being food-insecure oftentimes includes the inability to prioritize and attend work, finish school and participate in community activities like sports and recreation.
It is also no surprise that those experiencing hunger are more likely to experience chronic health conditions related to malnourishment, and therefore incur chronic health expenses.
Food-insecure families, and pantries that provide help to them, have been rocked by the rising costs of food due to inflation, continued supply chain disruptions, labor shortages and increased demand for food.
Inflation surged at a 7.5% annual pace in January. As just one example, the price of chicken has jumped 10% year over year.
As food costs rise, organizations like Catholic Charities experience two things: food donation shortages and increased costs from local food pantry suppliers like Harvesters — The Community Food Network.
Due to lower donations, Catholic Charities and other local food pantries will be forced to purchase, at higher prices, food from local and national food suppliers to ensure healthy options, equal quantities and culturally appropriate foods. For context, to keep up with the growing need, Feeding America's nationwide network of food banks purchased 58% more food in 2021 compared to 2020.
In addition, rising transportation and packaging expenses climbed more than 20% last month from the year prior (Barron's Streetwise Podcast).
The rise in food prices disproportionately affects low-income households because these low-income households spend more of their overall income on food. The lowest 20% of wage earners spend roughly 27% of their income on food, whereas the highest income quintile spends only 7% of their income on food (2020 Department of Agriculture/ Institute for International Economics).
The rising costs of food leave families with fewer financial reserves to absorb the increased expense, especially in Kansas where the sales tax rate on food is among the highest in the nation.
This past January, Catholic Charities served the largest number of families in need of food since January 2020. Families who otherwise would not seek food assistance are now at our doors due to this trifecta. Many are left pondering the purchase of food or paying their mortgage or rent.
This Lenten season, let us pray for those experiencing hunger physically and spiritually. Also, join us in advocating for the elimination of the food tax. Together, let's help families out of poverty.