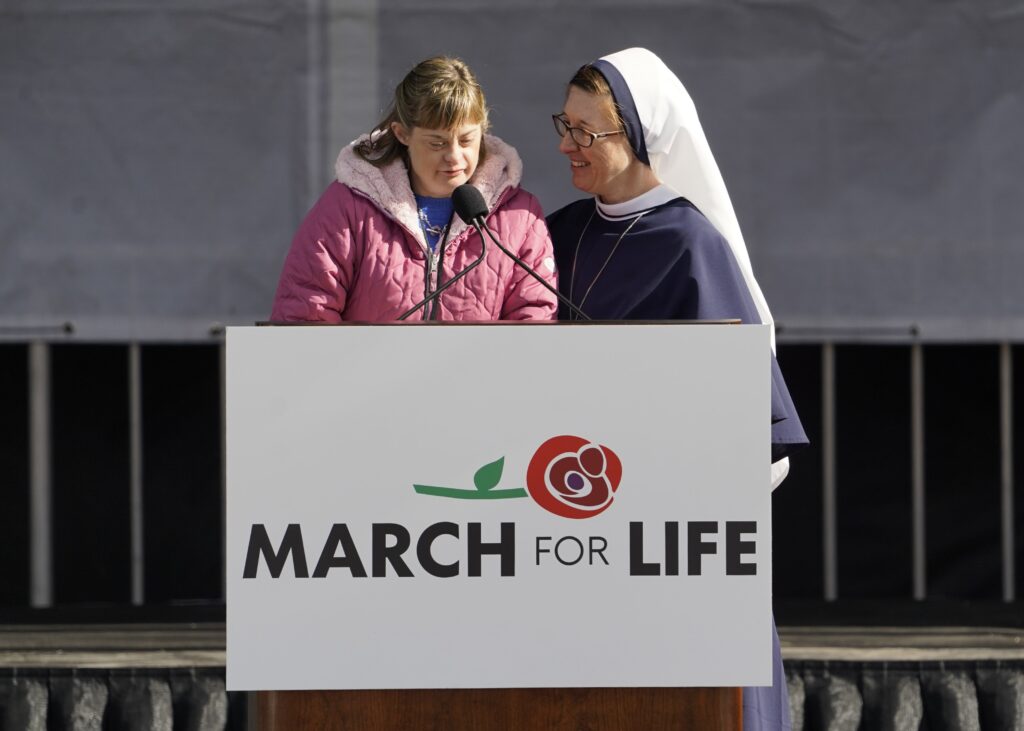 by Jack Figge
Special to The Leaven
Using my 6-foot-3-inch build and the press pass draped around my neck to my advantage, I navigated the dense crowds gathered at the 2023 Rally for Life and forced my way to the very front. My sole intention: to capture the essence of the rally to the best of my abilities.
But I walked away with so much more than video and photographs of the rally. I left with the powerful image of a couple weeping with joy as their daughter with Down syndrome spoke to the thousands gathered forever embedded in my memory.
Directly in front of me stood the parents of the speakers — Sister Mary Casey O'Connor and her twin sister Casey Gunning. Both 39 years old, Sister O'Connor joined the Sisters for Life in 2015, adopting the last name of the order's founder Cardinal John O'Connor, while Gunning, who has Down syndrome, works as a teaching assistant and a longtime Special Olympics athlete.
As Sister Mary Casey led her twin to the podium, both of their parents — Jim and Cindi Gunning — waved their arms ecstatically from the crowd, catching the eyes of Casey and providing visible comfort to their child merely through their presence.
Three minutes later, after Casey testified to the value that her life — and all life — has, the crowd gathered at the Rally for Life erupted in applause, chanting the name, "Casey! Casey! Casey!"
With tears streaming down their faces, the women's mother and father turned to the teenagers packed around them. Unable to speak through the emotions of proud, joyful parents, they simply mouthed "thank you," over and over and over.
Surrounded by thousands of marchers from across the country, the human element to the pro-life movement often becomes overshadowed during the March for Life. Media outlets become more concerned with numbers and the political ramifications of the event, losing the human stories that distinguish the pro-life movement.
As a young, ambitious reporter, I too became caught up in trying to capture the big picture. But witnessing the emotion in the parents of Casey Gunning, it forced me to slow down — to stop zooming out and start zooming in.
It is the individual stories, the individual reasons for why people are marching, why they are bearing witness, that make the pro-life movement so powerful.
Hearts will only be transformed, minds will only be changed and lives will only be saved through showing love, and love is best expressed through individual encounters.