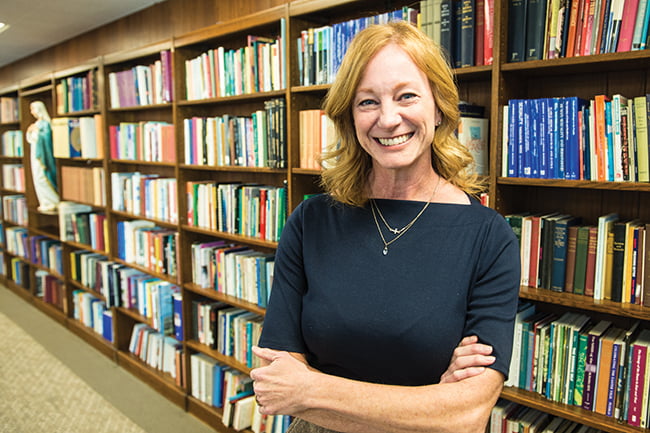 by Debra Niesen
"More people need to hear about this."
Over the past several months, I have had the privilege to visit many parishes across the archdiocese, sharing about the defining moment we're facing in Kansas with our "Value Them Both" amendment vote on Aug. 2. This statement is what I most often hear after the presentation.
Once people understand that a 2019 Kansas court ruling makes us vulnerable to becoming a destination state for nearly unlimited abortion, they feel compelled to protect both babies and women by stopping this from happening.
However, too many people do not yet know what we are facing. Many more need to hear about the "Value Them Both" amendment, which will restore our constitution and protect our existing laws.
With just over three months until the vote, we are mobilizing the largest grassroots effort Kansas has seen to do just that.
What can you do to help?
Pray. We must ask Our Mother for her intercession. It is not too late to join the "Memorare Army" for the successful passage of the amendment. Visit the website at: archkck.org/VTBMemorareArmy to join.
Become informed. The vast majority of Americans believe there should be limits on abortion. "Value Them Both" will safeguard our existing commonsense laws that protect both unborn children and women.
Visit the website at: archkck.org/ValueThemBoth to learn about the amendment and also about the many pregnancy help organizations that help women facing unplanned or difficult pregnancies.
Take action and spread the word. Too many good people in our families and neighborhoods do not yet know about "Value Them Both." Gather a group of friends or people from your parish who are willing to be trained to share the "Value Them Both" message with others. Contact PeteC@valuethemboth.com to schedule a training.
Calling the pro-life generation! This generation of students and young adults has embraced the "Gospel of Life" message and responded in amazing ways — in public witness during marches and Walks for Life, in service at pregnancy help centers and in prayer before the Blessed Sacrament for those who have been hurt by abortion. Their energy, compassion and faithful example will change the hearts of many.
We already have many students from our Catholic high schools and college campus centers engaged with the "Value Them Both" effort but we need more. If you are a student, young adult or a parent of one, please spread the word about this opportunity to make a profound difference for the lives and dignity of Kansas women and babies. We are currently training summer volunteers to share the message with others. Visit the website at: archkck.org/ValueThemBoth to get involved.
The good news of Easter — that Our Lord has triumphed over sin and death — gives us the confidence we need to proclaim the "Gospel of Life" and "Value Them Both" messages with great hope and joy. Christ died on the cross because every life matters to him. He rose again because of his merciful love for us.
Yes, more people do need to know about this.